CHICAGO — With summer weather here and school soon out, parents across the city are eager to take their kids to the park to cool off and be outside — but have been disappointed to see many of the park's splash pads still off.
Samantha Perez, of Dunning, wanted to take her 2-year-old daughter to one of the two parks close to her home, but both spray features have not yet been turned on there yet, she said.
Usually, water spray features at the parks open Memorial Day and last through Labor Day, according to parents and several mom blogs about water fun in the city.
"It's really frustrating, especially with wanting to go on a walk and cool off at the park," Perez said. "In the suburbs, they have all their stuff on already [and] Crown Fountain Downtown is already on. … They should be on here."
Michele Lemons, spokesperson with the Park District, said Friday crews began activating spray features last week, but that turning them all on takes about three weeks.
"All spray features and splash pads will be activated by June 23, when outdoor pools are scheduled to open," Lemons said in a statement.
The schedule is consistent with previous years of the features opening, she said. Parents said the date was later than usual, however.
More than 200 parks have spray features, but most remain off across the city. While some turned on in recent days, it's unclear why some are being turned on and others not, parents said.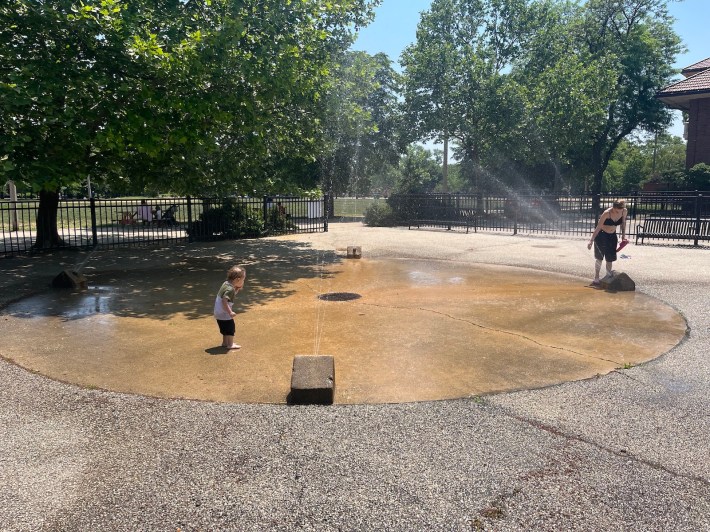 Perez asked managers at parks close to her house and was told they didn't have information nor the authority to turn them on, she said.
No transparency from Chicago Park District supervisors or signs explaining when the splash pads will be turned on has parents further angered, and many have taken to Facebook mom groups to air their complaints, get answers on which splash pads may be open and offer alternative ways to cool off.
Moms have called their local parks to get answers to no avail.
Jefferson Park resident Abigail Corrigan, a mother to two young children, is frustrated at the lack of communication and coordination from Park District officials, especially since the pools don't open until June 23. And with small children getting out of school early in the day, the splash pads should be turned on by now to accommodate the community, she said.
"This is always a big issue and it doesn't get the attention it needs," Corrigan said. "We should know when they are being turned on. … It's a simple solution: When the pools are not going to be open, make up for it by opening the splash pad. These are investments so they should be used." 
RELATED: When Will Chicago's Pools Open? Park District Says June 23, If There Are Enough Lifeguards
Megan Backes, an Albany Park mom, noticed a few Northwest Side spray features turn on last week, but they are sporadic and seem random, she said.
"On the face of it, it seems that the Chicago Park District missed an easy win for delivering value to the community, since beyond the initial turning on of the splash pads, they do not require paid staff to actively manage," Backes said.
She took her toddler to Independence Park's splash pad in Old Irving Park at 3945 N. Springfield Ave. Thursday, one of the few in the area that is on, she said.
Having access to splash pads and water features is also an issue of equity, Corrigan and other parents said. For people who do not have air conditioning in their homes or easy access to the lake, these public amenities provide relief and necessary outdoor activities.
"We wait all year to get outside and now it's too hot to be outside so we need splash pads," Corrigan said. "The powers that be have a total disregard for people that use the facilities."
Watch our "On The Block" TV show on The U, CW26 and MeTV.
Listen to "It's All Good: A Block Club Chicago Podcast":