ANDERSONVILLE — After nearly a decade on Clark Street and three years in its current space, boutique shop Winifred Grace has doubled in size after expanding into the neighboring storefront.
The clothing, jewelry and home goods boutique at 5632 N. Clark St. has expanded into the next-door storefront left vacant after antique shop Roost closed earlier this year.
The expansion comes after nine years in business for Winifred Grace, which has anchored the northern end of Andersonville's business district. After years of successful business in its tight corner storefront at Clark Street and Olive Avenue, owner Winifred Gundeck said she is happy to have the extra space.
"We were bursting at the seams," Gundeck said. "We don't have that much more stuff [in the expanded store]. It's more space for people to shop."
Winifred Grace opened in 2014 at 5642 N. Clark St. in the storefront now occupied by Skin Care For Gents.
After five years in that spot, Winifred Grace moved a few storefronts south, opening the in the corner store at Clark Street and Olive Avenue in 2019. The corner was vacated by Roost, which had consolidated its home decor and antiques shop into the neighboring storefront.
Gundeck received a heads up that Roost would be closing earlier this year, saying she jumped at the chance to expand into the space. The newly expanded store has kept some pieces from Roost that are now used as display tables for merchandise.
A wall separating the commercial spaces has been knocked down, expanding the corner storefront that gives Winifred Grace a significant amount of natural sunlight.
New features in the store include a dedicated station for its "Love Linked" line of permanent jewelry.
The jewelry line, which is custom-made and does not come with a clasp for easy removal, debuted last year and has been "wildly popular," Gundeck said. Since the jewelry needs to be custom-fitted, it made sense to create a station dedicated to the product line, she said.
Winifred Grace also now carries vintage designer clothing called WG Found.
New seating sections help the store achieve a long-held goal of being a place neighbors can come and hang out as well as shop, Gundeck said.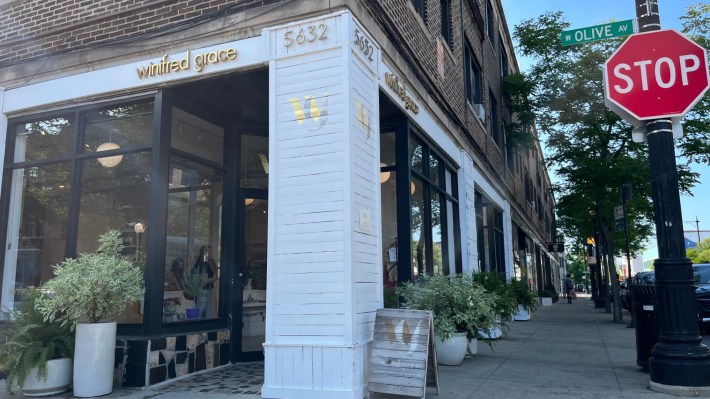 Winifred Grace was closed for 10 days at the end of April and early May before reopening in the larger space. Gundeck said she is excited to be expanding in place in the resurgent northern end of Andersonville.
"I really loved being on the corner, so I jumped at the chance to stay," she said. "It's already better than I would have imagined."
Winifred Grace is open 10 a.m.-5 p.m. Sunday through Wednesday and 10 a.m.-6 p.m. Thursday through Saturday.
Watch our "On The Block" TV show on The U, CW26 and MeTV.
Listen to "It's All Good: A Block Club Chicago Podcast":