DOWNTOWN — The Chicago Loop Alliance is expanding its street ambassador program for the summer and early fall, the group announced Wednesday.
The Loop Alliance's street ambassadors primarily patrol State Street in the Central Loop area from Dearborn Street to Canal Street and Ida B. Wells Drive to Wacker Drive.
The number of street ambassadors will double from 20 to 40 with funding from the Chicago Recovery Plan. The program expanded last summer through the same efforts.
The additional 20 ambassadors will patrol the corridor afternoons and evenings five days a week June 5-Oct. 7, while the year-round ambassadors will continue to patrol daily.
Street ambassadors are also used in 11 other community areas, including Back of the Yards, Greater Chatham, and the Magnificent Mile. This year's effort from the city will include new partnerships in Austin, Chicago Lawn, Chinatown, Englewood, and Rogers Park.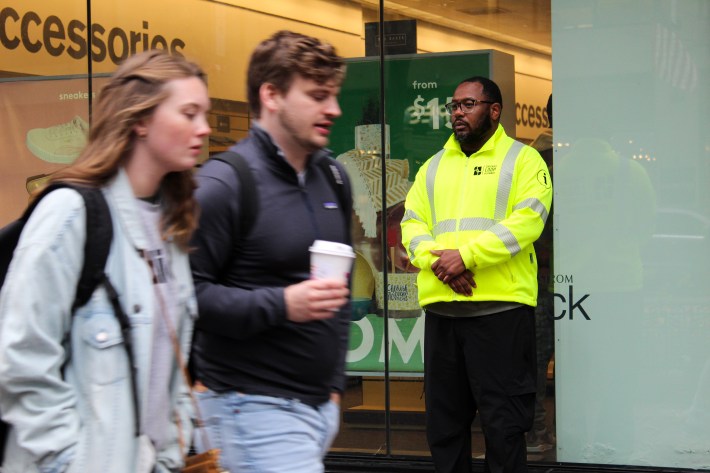 "The Corridor Ambassador program is a successful example of preventative, community-based, safety efforts," Mayor Brandon Johnson said in a media release. "Chicago Loop Alliance's initiative served as a model for the expansion of the Corridor Ambassador program to other communities in the South and West sides of Chicago, and we are pleased to support the program again this summer."
The street ambassadors greet people and offer help to tourists while providing assistance and resources to people experiencing homelessness.
The street ambassadors wear yellow and black uniforms. They are unarmed and have been professionally trained in how to de-escalate situations.
The Chicago Loop Alliance ambassador program launched in 2014 and is contracted through Streetplus. The Loop Alliance has used private security since 2018 to patrol the same business corridors in the evenings. Private security guards are unarmed but have the ability to detain people if necessary.
Watch our "On The Block" TV show on The U, CW26 and MeTV.
Listen to "It's All Good: A Block Club Chicago Podcast":