BRONZEVILLE — A Black-owned brewery run by a family of South Siders is preparing to open its flagship taproom in a Bronzeville café later this year.
Turner Haus Brewery plans to open a taproom at Sip and Savor's location in the landmarked Rosenwald Courts apartment complex, 78 E. 47th St. in Bronzeville.
The shop would sell coffee during the day and transition to a taproom in the evening, Turner Haus co-founder Blair Aikens said. A opening date has not yet been finalized, she said.
"We wanted to have a brewery on the South Side of Chicago," said Aikens, a Woodlawn resident. "The vast majority of breweries in Chicago tend to be on the North Side. We definitely wanted to bring a brewery closer to where we live, since all of us live on the South Side, either in Bronzeville or Woodlawn."
Turner Haus officials felt "our branding really aligned" with Sip and Savor, "another staple in the community" which Aikens frequents, she said.
Plans for the taproom's opening at Sip and Savor were announced in 2021, and City Council approved plans for the taproom in May 2022.
"It's definitely challenging, all the steps and processes of opening our taproom," Aikens said. "It's taken much longer than we anticipated."
Turner Haus would be the first Black-owned brewery with a physical location in Chicago since Rep. Curtis Tarver II's Vice District Brewery in the South Loop shut down in 2019, according to the Sun-Times.
Five "flagship" beers, all named after women in the extended Turner family, will be offered out of the Bronzeville taproom on opening day, Aikens said. The company's slogan is, "They poured into us, now we pour pints of them."
Aikens' grandmother, Helen, was honored with the brewery's first beer, a grapefruit lager. It's a recipe that's been refined in the decade since co-founder Steven Turner homebrewed his first beer from a kit, Aikens said.
"The day the beer was finished was the day that our grandmother passed away," Aikens said. "He packed up the beer, since he was living in Nashville [at the time], and brought it to Chicago for the funeral.
"We started doing this hypothetical: 'What if we did a brewery?' … Time goes on, and it's not until 2018 or '19 where Steve and I are both [living] here in Chicago. I'm like, 'Hey, let's revisit that,' as he had become a much more experienced homebrewer by this time. In 2019, we officially decided this is something we're going to do."
Other beers Turner Haus has perfected in the years since its founding honor the family's matriarch, Eliza; an aunt Lola; a cousin Marlene; and Aikens' maternal grandmother, Hazel, Aikens said.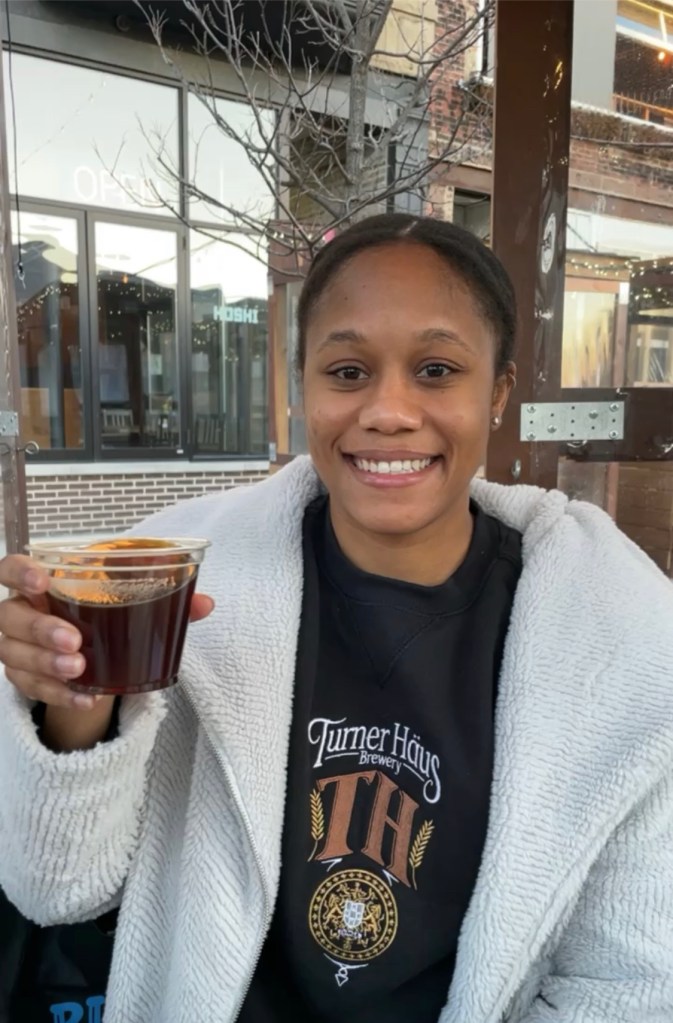 "It's great getting to work with my family — my cousin, my husband, my brother and another cousin — in putting this together, in honoring our family members through the beers that we make," Aikens said. "We're creating with their personalities and likeness in mind."
Aikens was one of two winners of this year's Diversity in Brewing scholarship from the Illinois Craft Brewers Guild. The honor will help her improve her skills and advance in "an industry that has been predominantly a white male space," she said.
The scholarship pays for an ongoing brewing technology course offered by the Siebel Institute of Technology, a vocational school for brewing science on Goose Island, and the World Brewing Academy.
The course has "really deepened my understanding of the brewing process and everything that goes into it," Aikens said. "I hope to bring that back to Turner Haus to be more knowledgeable and assist more in the brewing process going forward."
Jay Westbrook, the "Black Beer Baron" who along with Turner Haus and several other Black brewers completed a Haymarket Brewing residency last year, was one of the scholarship's inaugural recipients.
The collective of Black brewers that were part of the residency will come together again to brew Chicago Uncommon Ale this year, though the details of the release are still being worked out, Aikens said.
The Haymarket residency helped build "a great community" among "the few Black brewers and breweries we have here in Chicago," Aikens said. "We're definitely a minority — a growing minority, but a minority nonetheless. … We learn from each other and help each other along the way."
Watch our "On The Block" TV show on The U, CW26 and MeTV.
Listen to "It's All Good: A Block Club Chicago Podcast":