HYDE PARK — Promontory Point lovers will gather this weekend to celebrate the Point's birthday, its recent landmark designation and the anniversary of its designer's birth.
The second Point Day is 9 a.m.-3 p.m. Saturday at Promontory Point, 5491 S. DuSable Lake Shore Drive.
"We're celebrating three things," said Debra Hammond, treasurer of the Promontory Point Conservancy. "Obviously, getting the Point designated a Chicago Landmark was a huge hurdle, but it's also the 86th anniversary of the opening of Promontory Point to the public as a park … [and Friday] happens to be [architect and designer] Alfred Caldwell's 120th birthday."
For a full schedule of Point Day events, click here.
The day kicks off 9 a.m. with a synchronized "land and sea swimming performance" to the music of the Pointer Sisters at the Point's southeast end. The open-water Point swimmers are the subject of "Swimming Through," a short film screening at the Mountainfilm Festival in Colorado.
Visitors can paint a temporary mural 10 a.m.-2 p.m. on the underpass below DuSable Lake Shore Drive, as organizers raise awareness about plans for a new mural on the underpass to be completed next year.
A walking tour of more than 450 carvings in the park's iconic limestone steps made by Point visitors over the decades starts 11 a.m. Bill Swislow, who co-authored a book about the lakefront carvings at the Point and beyond, will lead the tour.
Sculptors Roman Villarreal and Joel Cardenas will host a stone-carving workshop 10:30 a.m.-2 p.m. in which attendees can add to the carvings documented by Swislow and co-author Aron Packer.
At 2 p.m., Promontory Point Conservancy President Jack Spicer will lead a walking tour and history lesson about the Point's now-landmarked landscape.
Other Point Day events include a pointy hat-decorating workshop, croquet and badminton matches and kite-flying, if the wind allows.
Free cupcakes made by Elisa's Cake by the Pound, firewood and Save the Point merch will be available while supplies last.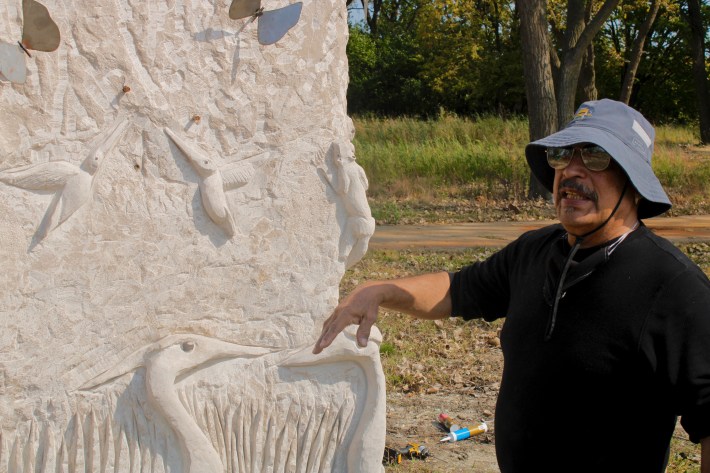 The first Point Day, held last year, drew more than 100 people, Hammond said.
This year, "we got 150 cupcakes to celebrate the Chicago Landmark status, and we're hoping they're all gone" by the end of the day, she said.
Between the stone carving workshop, mural painting and other creative activities, art dominates the lineup for this year's Point Day.
That's because the Point is "a safe place and a comfortable, peaceful place," Hammond said. "We're doing low-key, peaceful stuff — and art sort of lends itself to that."
The conservancy is working with the Hyde Park Art Center to create a permanent mural for the 55th Street underpass next summer, Hammond said.
Another art project potentially in the works is a large-scale carving on the Point's lakefront, Villarreal said. He's a prolific urban artist who sculpted a mermaid for the Park District in the '80s, a piece for Big Marsh Park in 2020 and a work that's set to be dedicated at Beaubien Woods next month.
Villarreal plans to pitch his idea to use an entire limestone step as the medium for a new sculpture. He could cover the limestone in carvings or use it to create a relief sculpture, he said.
Whether that idea becomes reality is up to the conservancy members, the Park District and the community. But "if they're interested, we could start making plans and even get something started this year," Villarreal said.
Villarreal and Cardenas — who is a musician, painter and sculptor — will supply chisels and safety glasses for the workshop. Visitors can drop in any time during the workshop, Villarreal said.
About a dozen carvings were added to Promontory Point's limestone at last year's Point Day. While most people carved initials or names, others surprised Villarreal with their creativity — like an architect who "right away started carving some beautiful-looking flowers," he said.
"Last year, I did a relief of a horse; we got a fish on there. It's unlimited, the things that we can do," Villarreal said.
Listen to "It's All Good: A Block Club Chicago Podcast":