ROSCOE VILLAGE — When 10-year-old Meryl Kellogg was assigned to write a persuasive essay in school, she didn't implore her parents for video games or toys or her teacher for extra recess.
The Roscoe Village fifth-grader instead had a simple but detailed request for her alderperson: Can you repave my alley?
"Dear Alderman Waguespack," her letter begins. "I live on a tiny street in the heart of Roscoe Village called Bell. But recently we have been experiencing some issues."
Over the course of 500 words, Kellogg outlines how potholes and debris are scattered around the alley, making it difficult and sometimes dangerous to ride a bike or play basketball with other kids.
It would be a lot safer — and a lot more fun — if the city came in and resurfaced the alley, Kellogg wrote. She's hoping Ald. Scott Waguespack (32nd) can do just that, she wrote.
"If you move here, I don't think anyone would really want to play in our back alley because it's full of giant rocks and potholes," Kellogg said in an interview last week. "Repaving our alley, it's not going to make a huge impact on the world. But I know that it will for my street."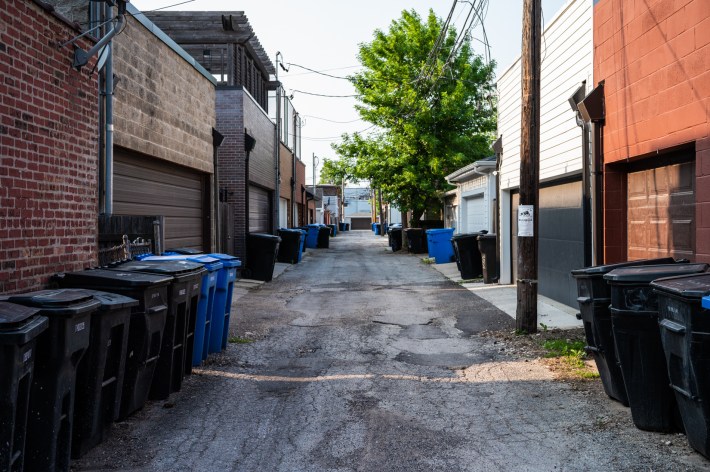 Kellogg's alley woes began a few years ago, when she was 7.
Kellogg was riding her bike behind her house when the back tire got stuck on the edge of a pothole and popped. Until then, Kellogg hadn't really thought about the alley's condition — or that there was anything she could do about it.
"I think that was a key aspect of this, it was something that happened to me, in my life, and I definitely wouldn't want it to happen to anyone else," Kellogg said.
While pretty minor, the saga proves the alley's condition has been a "huge dilemma" for years, Kellogg wrote in her letter. And it's not just the Kellogg family that's feeling the pain.
The alleys potholes have been the talk of the neighborhood for years, said Kellogg's parents, Nat and Ellen Kellogg. Every once in a while, a neighbor will send around a petition to try to marshal support to get it repaved. But nothing ever seems to get done about it, they said.
Things get even worse after it rains, the younger Kellogg writes in her letter. Kids who want to play in the alley have to dodge potholes "filled to the brim with dirty sandy water making it way less fun and way more wet to play," she writes.
The result is that in bad conditions, things can get pretty dangerous — or at least pretty annoying, she said.
"You could twist your ankle on something," Kellogg said Friday. "Or you could — this is not something that's like terrible — but like something could happen to the ball you're playing with too, which is like a couple extra dollars that you have to pay."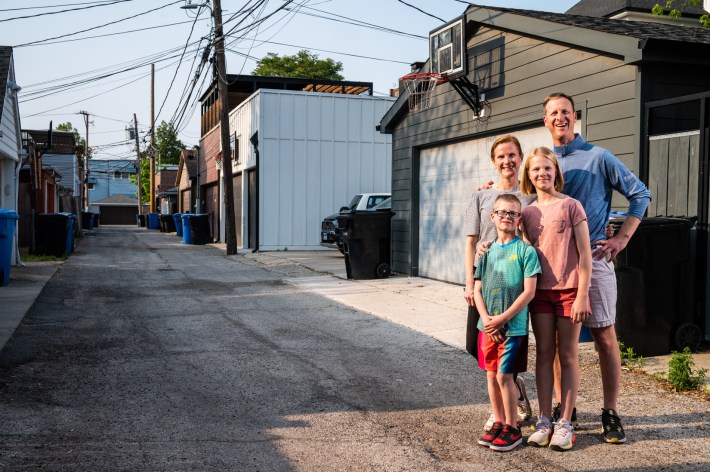 The Kelloggs have lived in Roscoe Village since 2014. Ellen Kellogg said there's been a lot of construction on their street, which could have quickened the pace of the alley's deterioration. But she doesn't remember it getting repaved in the almost decade they've been there.
"It would be a safe space for kids to go play and ride their bikes, rollerblade, whatever they want to do," Ellen Kellogg said. "But it's just not accessible."
And while Kellogg addressed her letter to Waguespack, he's actually only been her alderman for about a week and a half. The Kelloggs' street was redistricted into the 32nd Ward from the 47th Ward in last year's remap process, which went into effect May 15.
In an email, Waguespack confirmed his office received Kellogg's letter and he is looking into the issue.
But if the 32nd Ward office does choose to target the Kelloggs' alley for resurfacing, it won't exactly be cheap.
Alley resurfacings are one of numerous projects City Council members can spend portions of their $1.5 million in annual "menu money" on. The dollars are earmarked for infrastructure projects like speed bumps, sidewalks, protected bike lanes and more.
The estimated cost to repave one alley in 2023 is $39,425, according to Chicago Department of Transportation spokesperson Erica Schroeder. That number can vary depending "on the size and condition of each alleyway," she said.
A majority of alley resurfacings occur through the aldermanic menu program, Schroeder said.
With hundreds of alleys per ward, the costs add up pretty quickly: If an alderperson decided to spend their entire menu budget on just repaving alleys, they wouldn't even be able to resurface 40 in a year.
Kellogg said she realizes her own alley isn't exactly special, as it's one of thousands around the city that could probably use an overhaul.
But when the 10-year-old thinks about its condition, she feels a "little disappointed," especially when she visits friends or family whose alleys are in pristine shape.
"I went to my friend's house and we played in their alley, and … theirs was newly repaved and it was super smooth and perfect," she said. "I think sometimes it's like, that touch of jealousy. And I think if this was paved, a lot of people would probably go spend more time outside, because the summer is coming up."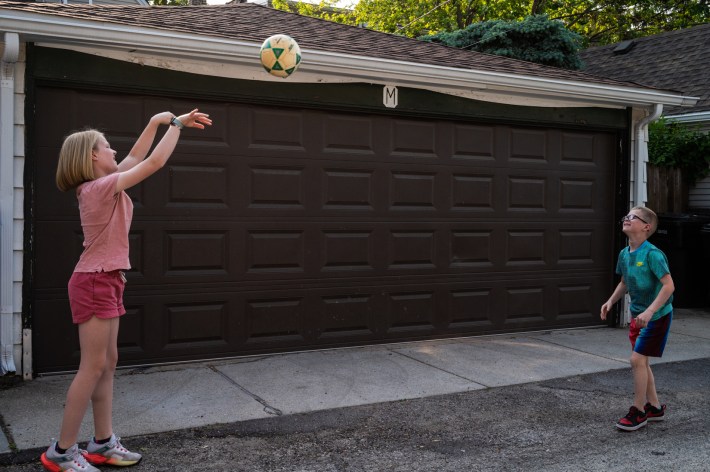 The Kelloggs said they're not sure if Meryl's letter will make a difference for their alley, but that's not entirely the point. They're proud of their daughter for taking the initiative to try and make a change in the community, they said.
And while they get there are bigger issues in the city, that doesn't mean their alley should be ignored.
"It's focusing on positive change, not just complaining about something. And, you know, part of being active citizens in democracy is engaging with your elected officials," Nat Kellogg said. "So, I think it's cool. I think it's part of living in Chicago."
Ellen Kellogg said if Meryl's letter is what finally gets the alley repaved, her daughter will be the hero of neighborhood. But even just the act of writing it "speaks a lot to who Meryl is," she said.
"She's someone who likes to help out others and support others, too," Ellen Kellogg said. "She's having fun if others are having fun."
As for Meryl, she's looking forward to sleep-away camp this summer and turning 11 next week.
But she hopes the powers that be take her seriously enough to finally fix up the alley so she and her brother, Charlie, can play back there.
"If a 10-year-old girl is writing a letter to you about this, you know it's a problem," she wrote in her letter. "So just put this into consideration, but do know, our neighborhood has been waiting for this for a long time, and you have the control to make it happen."
Listen to "It's All Good: A Block Club Chicago Podcast":