CHICAGO — Officials hope to make permanent rules that allowed restaurants, bars and breweries to expand their outdoor seating options during the COVID-19 pandemic.
In spring 2020, the city put in place temporary regulations that allowed for the expansion of sidewalk patios, many of them taking over parts, or in some cases all, of nearby streets. Businesses were also allowed to serve customers on private property, such as on makeshift patios in parking lots.
Those expansions proved crucial to keeping restaurants and bars in business when indoor dining was deemed unsafe as the virus spread, business owners and industry leaders have said.
The expanded outdoor dining rules lapsed at the end of 2022, leaving some restaurant owners to worry they might lose a vital revenue source during the summer.
After some delays, the city now hopes to bring those measures back and keep them for good.
A measure introduced Wednesday by Mayor Brandon Johnson to City Council would create a permanent Outdoor Dining Street Permit that would allow restaurants and bars to once again set up tables in the curb or parking lane outside their business.
Groups of three or more restaurants on the same block would also be able to apply for full street closures for their outdoor patios.
Taverns and breweries are eligible for the permit, but they must have a "food partner" to qualify, said Elisa Sledzinska, Business Affairs and Consumer Protection spokesperson.
"This means tavern licensees will need to select a food partner and allow patrons to order food to the establishment," Sledzinska said.
If passed by City Council, the program will be administered by the business department and the Department of Transportation. A business's alderperson will need to sign off on any outdoor dining street permits.
"These outdoor dining options will allow for restaurants and hospitality establishments to make the most of the Chicago summer season," business Commissioner Kenneth Meyer said at a Wednesday news conference.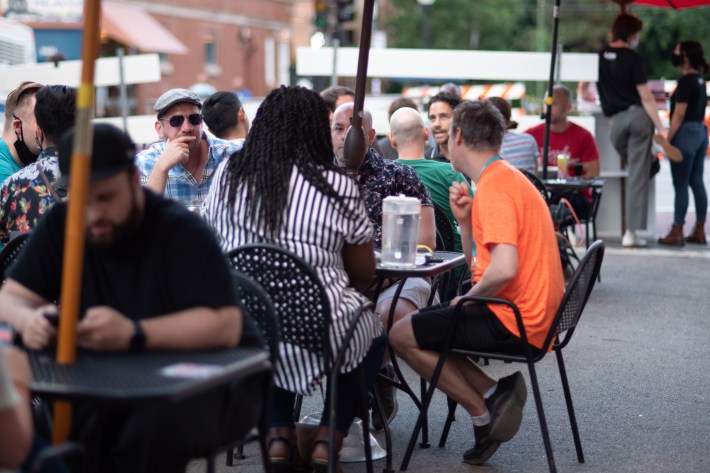 The measure would also allow businesses that constructed patios on their own property, like parking lots, to resume outdoor service.
"Those businesses who held permits to operate on private property under the Expanded Outdoor Dining Program in 2022 may apply for new permits and, if granted, operate with those permits until October 31, 2023," the ordinance reads.
Midwest Coast Brewing, 2137 W. Walnut St., has served beers on its parking lot-turned-patio since 2020. Co-owner Suzie Compton said permanent outdoor dining rules are needed for her business and others like it, especially in light of the program's success during the pandemic.
Midwest Coast has yet to reopen its patio because of uncertainty over the permitting process, she said.
"It definitely saved us during COVID," Compton said Thursday. "It was such a massively positive program for us, and I know for so many businesses in our area it really helps build the community."
Compton said Midwest Coast is still "digging out" from the damage of the pandemic, and resuming outdoor seating would be a huge boon to the independent brewery. Plus, she keeps getting messages from customers asking when the patio is going to reopen, she said.
"As a consumer, I absolutely love being able to sit outside on someone's sidewalk patio area in the summer," she said. "This seems like such a no-brainer."
While only introduced to City Council this week, the outdoor dining ordinance could be approved by the end of the month, officials said.
That's because a special City Council meeting has been scheduled for Wednesday to vote on $51 million in city funds to aid newly arriving migrants after an initial vote was stalled by three alderpeople this week.
Newly appointed council floor leader Ald. Carlos Ramirez-Rosa (35th) said one "silver lining" of the funding delay means the outdoor dining ordinance could get a vote Wednesday instead of waiting until the next full City Council meeting in June.
For that to happen, the ordinance would first need to be passed out of the Committee on License and Consumer Protection, where it was introduced. That committee is set to meet 1 p.m. Tuesday.
Listen to "It's All Good: A Block Club Chicago Podcast":