WEST TOWN — West Town's first recreational pot dispensary is opening its doors Sunday after statewide delays held it up for years.
OKAY Cannabis, 1914 W. Chicago Ave., is located next door to West Town Bakery and Roots Pizza. Owners include Scott Weiner and Greg Mohr, co-founders of the Fifty/50 group, which operates West Town Bakery, Roots Pizza and other local restaurants, as well as former 47th Ward Ald. Ameya Pawar.
Other OKAY partners include George Chiampas, medical director for the Chicago Marathon; Nikki Hayes, a restaurant owner and former union official; Northwestern professor Charlesnika Evans and political consultant Hanah Jubeh.
The group first presented plans for the project to neighbors in 2019. The dispensary's opening, like other social equity dispensaries, was held up by a series of lawsuits that delayed the issuing of almost 200 social equity licenses across Illinois.
After years of limbo, the first of those dispensaries finally began coming online last fall, including Ivy Hall in Bucktown and Green Rose in River North.
OKAY Cannabis launched its first location in suburban Wheeling this February. It's building out an Evanston store to open later this summer.
And after almost four years, the dispensary is finally ready to open on Chicago Avenue in West Town.
"To do it here with the original Roots, the original West Town [Bakery], it's special," Mohr said Friday. "It brings a little bit more to this neighborhood and this street. We've been here for 12 years or so, we've seen it kind of come up, it's been pretty awesome."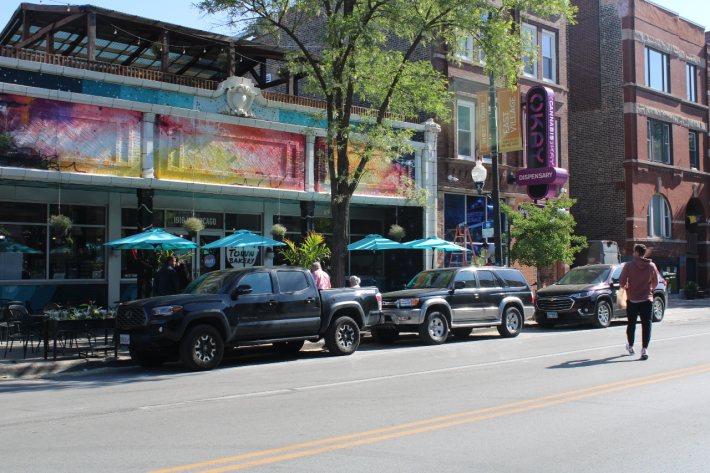 OKAY Cannabis will offer products found in all major dispensaries, including flower and edibles.
Mohr and Pawar said they hope the dispensary's location next to West Town Bakery and Roots will lend itself to customers grabbing a coffee, pizza or beer before or after buying weed.
Owners want to provide more than just the "Apple store" experience customers often find at dispensaries currently open around the city, they said. They're also planning to hold a series of events with cannabis growers and others in the industry.
"Right now when you go to a dispensary, you're kind of just waiting in line, you're ushered in and you're ushered out," Pawar said. "But we want to be able to offer that transactional experience and pair it, integrate with the hospitality. And that's where food and beverage is such a big differentiator."
That emphasis on approachability has also informed the company's bright, colorful branding and even its name, Pawar said, as owners try to create a laid-back vibe comfortable for both regular pot smokers and curious first-time users.
"It's OK to be you. It's OK to come as you are. It's OK to come to cannabis as a regular consumer, as a new entrant. It's just OK. And cannabis is OK. It's legal," Pawar said. "That was sort of the original ethos."
While OKAY Cannabis will have popular products found at other dispensaries, owners also want it to become a hub for craft weed growers in Illinois as they begin to roll out unique strains and other products. They also hope to start a line of OKAY-branded products at some point.
"It's kind of like when the craft beer boom happened. Those really, really good craft brewers, they only had so much product and they wanted to give it to specific bars that were helping them, or were the cool place to go," Mohr said. "That's what we're [going for]."
As other dispensaries across the state struggle to get off the ground after years of delays, Pawar said the success of OKAY's launch in the Chicago area is in large part thanks to Mohr and Weiner, who brought their years of restaurant experience to the business.
"Without the Fifty/50 restaurant group, there is now way we could have pulled this off," Pawar said. "They figured out how to make money in a very low-margin business, that being restaurants. And so I think they bring a unique perspective as an operator."
OKAY Cannabis' West Town location will be open 8 a.m.-9 p.m. Monday-Thursday, 8 a.m.-10 p.m. Friday and Saturday, and 9 a.m.-8 p.m. Sundays.
Customers must be over the age of 21. Pre-orders are available on the company's website.
Listen to "It's All Good: A Block Club Chicago Podcast":