AVONDALE — An East Coast developer is transforming part of the former Marshall Field's campus at the Logan Square-Avondale border into a sprawling film production studio over the objections of some community leaders.
Construction is underway on The Fields Studios, a $250 million project that will bring nine sound stages, creative and production offices and more retail to the 21-acre Fields campus at Diversey Avenue and Pulaski Road.
New York-based developer Knickpoint Ventures bought the site at 4000 W. Diversey Ave. in 2018, then secured City Council approval in 2021.
The company began construction in November and expects to open the film studio next spring, officials announced at a "topping-off ceremony" this week.
The Fields Studios, what Knickpoint Ventures bills as the city's first purpose-built film studio, will be the latest addition to the 1.5-million-square-foot Fields complex, which is already occupied by 123 loft apartments and Cermak Fresh Market.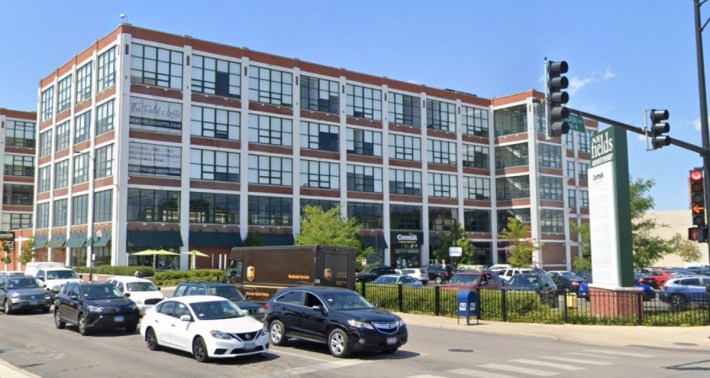 The film studio has been hailed by development officials and city leaders, including local Ald. Felix Cardona Jr. (31st), as a transformative adaptive reuse project that will give Chicago's film industry — and the Northwest Side — a significant economic boost.
Officials said the studio will create up to 12,000 quality, high-paying jobs and breathe new life into small businesses in the area.
Zain Koita, founder and managing partner of Knickpoint Ventures, said his company is launching a workforce development nonprofit to provide people in the community with proper job training that will prepare them to work at the film studio.
"One of the things that we're excited about with the film business is that this an industry that promotes equity and inclusion. There's a lot of workforce training that goes into it," Koita said.
"While we hear the big names, 75 percent of the businesses involved in the film industry are smaller with 10 people or less. … There's transportation, caterers, hair and makeup, props and costumes, dry cleaners, etc."
In a statement, Gov. JB Pritzker said the film studio — and Knickpoint's workforce development program — will generate an estimated $1.5 billion in spending and "help cement our place in the national film and TV scene."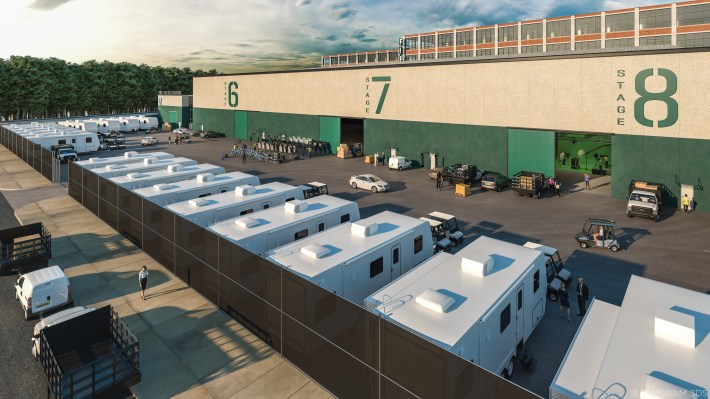 Crews are at work building the sound stages, where Knickpoint hopes to have three productions running at one time once construction is complete, Koita said. The project includes a 36,000-square-foot sound stage, which will be the state's largest.
The Fields Studios will be a smaller version of Cinespace Chicago Film Studios in North Lawndale, which has 36 sound stages.
The project is coming to fruition despite pushback from community leaders.
Leading up to the City Council vote in 2021, Rep. Will Guzzardi blasted the developer and Cardona for a lack of transparency around the project.
And a coalition of local community organizations — including Palenque LSNA, formerly Logan Square Neighborhood Association; Center for Changing Lives and Latin United Community Housing Association — launched a petition in opposition, arguing the project will accelerate gentrification.
The site sits in the middle of Logan Square, Avondale and Hermosa, three communities that have seen rapid displacement of longtime residents in recent years.
Christian Diaz, director of Housing for Palenque LSNA, said his organization is worried the $250 million investment won't benefit the many Latino families that have called the area home for decades.
Especially troubling is the Class 8 incentive Knickpoint inherited, a Cook County tax break designed to spur economic development in languishing areas, Diaz said.
Former Mayor Lori Lightfoot recertified the tax break in 2020, city records show, essentially transferring it from a previous property owner to Knickpoint.
Diaz said his family, which owns a property nearby, saw their property taxes go up $8,000 the last tax cycle.
RELATED: Longtime Residents In Gentrifying Areas Battle Huge Property Tax Increases: 'We Don't Want To Leave'
"They're expected to pay the county $8,000 in new property taxes, but their wages haven't gone up," Diaz said. "Knickpoint Ventures benefitted from a property tax handed to them by the Lightfoot administration. At the same time, residential property taxes went up."
Diaz said the arrangement clearly demonstrates that "gentrification is not natural."
"It requires a collaboration between the city, financial [institutions]. This is yet another example of development that solely prioritizes investors to the detriment of people of color," he said.
Asked about Diaz's concerns, Koita said Knickpoint isn't benefitting from the tax break — the building tenants are. The developer said their taxes have tripled since buying the property, while tenants like Crate & Barrel have seen a reduction in their bills.
"I can understand the sentiment, but I think it may be misdirected because it's not us that's the beneficiary," Koita said.
More broadly, Koita said he agrees "property taxes are consistently too high," which is a problem negatively impacting people across Chicago, residents and landlords included.
Cardona, whose support helped Knickpoint win City Council approval, said vocal opponents like Diaz "aren't even part of the community." The alderman said many neighbors have voiced support for the project because it will bring more economic vitality to the area.
"This project is not going to displace anybody," the alderman said. "This is an economic engine that's going to be helping the city and helping our neighborhoods. All of the small businesses around this corridor — their business is going to increase because you're going to have a lot of foot traffic coming through."
Listen to "It's All Good: A Block Club Chicago Podcast":