NORTHALSTED — A late-night restaurant serving penis- and vagina-shaped waffles with suggestively placed frosting and toppings opens Friday in Northalsted.
Willies 'n Waffles, 3706 N. Halsted St., is a sex-positive restaurant that started as a pop-up last year. The shop will celebrate all weekend with a raffle for two pairs of tickets to the Aug. 4 "RuPaul's Drag Race: Werq the World" tour and a surprise drag host Sunday evening.
Willies 'n Waffles specializes in penis-shaped "d–k waffles" and vagina-shaped "t–t waffles," which come in a variety of flavors and have flirtatious and raunchy names.
The Blue Balls waffle comes with blueberry sauce and sprinkles, for example, while the Aunt Flow waffle is adorned in raspberry sauce and sprinkles. The full menu is online.
"We wanted to have something that's first and foremost really fun — a concept you could come into and immediately feel joy," said Charles Jacobs, chief of branding for Willies 'n Waffles.
Willies 'n Waffles is owned by Ramesh Ariyanayakam and Gisiger, owners of the nearby Kit Kat Lounge & Supper Club. The operating managers are Michal Papierz, director of operations, and Charlie Jacobs, chief of branding.
Papierz said he was inspired to create Willies 'n Waffles after watching TikToks of similar businesses in Europe. This sparked a trip to Barcelona, where Papierz and Jacobs visited multiple "d–k waffle" shops to see what the buzz was all about.
"We checked out the concept there and some concepts in other cities, like in Brussels, and the main idea was to create them in Chicago because it's such a sexually liberating concept," Papierz said. "It's very fun."
Willies 'n Waffles will roll out an expanded menu in the coming weeks with savory items like chicken wings, tenders and sandwiches, Papierz said.
The menu is led by chef Gabe Babcock, who recently opened Sausage King in Logan Square.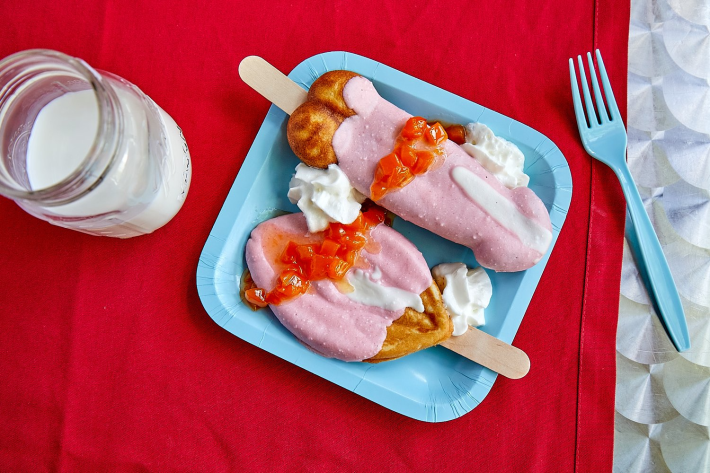 Willies 'n Waffles also has a liquor license to sell to-go alcoholic beverages, including "slutty slushies," which will come in four or five rotating flavors, Papierz said.
The restaurant will be open until 4 a.m. Fridays and Saturdays and will serve brunch Sundays, Papierz said.
"We're not necessarily a bar, but it's a great place to hangout," Papierz said.
Willies 'n Waffles opened in May 2022 as a pop-up shop within Sundae Stop, an ice cream parlor near the Belmont CTA station. Sundae Stop closed in October.
"It feels amazing to have our own storefront where we have full control of every decision that's made about it," Papierz said. "It will be amazing to feel the excitement of making Willies for people again and remember why we're doing this in the first place: because it's all about delivering that joy and giving people that energy."
Listen to "It's All Good: A Block Club Chicago Podcast":