FULTON MARKET — A security-focused community group has formed in Fulton Market, and it's looking for $800,000 a year to hire a private security firm to patrol the booming neighborhood.
The Fulton Market District Improvement Association was formed in November, according to public records. It's headed by Donnie Madia, owner of One Off Hospitality, the parent company of acclaimed Fulton Market restaurants The Publican and avec.
The organization's board also includes some of the area's biggest movers and shakers: developer Jeff Shapack; BoKa Restaurant Group partners Kevin Boehm and Rob Katz; Kivvit founder and CEO Eric Sedler; Sterling Bay's Managing Director of Security Erin Belknap; Dan Dorfman, partner at Fox, Sibel, Levin & Carroll; and Jay Stieber, executive vice president and general counsel of Lettuce Entertain You Enterprises.
The group made its debut Wednesday night during a town hall at 167 N. Green St. in front of a room of area restaurateurs, corporate leaders and business owners. Those in attendance were invited by the organization's leaders and members.
They want to hire P4 Security Solutions, a private security firm, to patrol Fulton Market to deter crime, which would cost $800,000 annually, according to the group's presentation.
The money would pay for 24-hour patrol, with three or four patrol cars deployed in an area bounded by Washington Boulevard, Hubbard Avenue, North Ogden Avenue and North Halsted Street. Group leaders are asking building and business owners to help pay for the patrol, asking for sponsorships ranging from $1,000-$100,000.
The near-$1 million price tag would be the largest service area patrolled by P4 in the city, according to the company. They also provide private security in Lincoln Park, Bucktown and soon the medical district in Streeterville.
Greektown also has private security funded by its Special Service Area.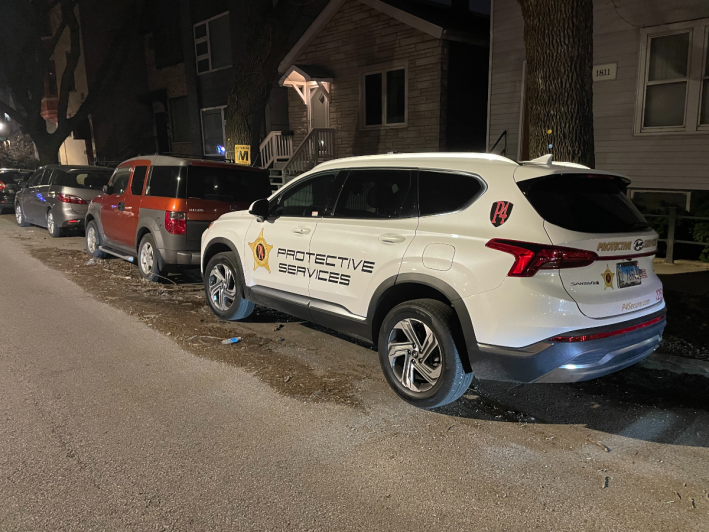 Madia told the crowd the group has worked on the proposal for more than a year and said they believe the private security will make the area safer for residents, tourists and workers.
"What's really important here is that we, as a community, band together and figure out what we need to do in the next few months to deploy P4," Madia said.
P4 is known for hiring off-duty and retired police officers as well as retired military personnel.
Last year, former Mayor Lori Lightfoot expressed concern over neighbors hiring the private security company, saying patrolling Chicago's streets is the "sole province" of the Police Department. Some Bucktown and Lincoln Park neighbors told Block Club they were skeptical of the company's ability to deliver results.
RELATED: With Wealthy Neighborhoods Turning To Armed Private Security, Questions Raised About Accountability
At Wednesday's meeting, officials from P4 reiterated that their job is not to replace police officers but to get police involved and let "police do what police do."
P4 officials also revealed statistics for the first time that its representatives say show crime decreased in some areas it patrols or increased at a slower rate compared to areas outside of its patrols.
From 2021 to 2022 in parts of Lincoln Park P4 patrols, crime decreased 25 percent versus unpatrolled areas to the north, where it increased 16 percent, and unpatrolled areas to the south, where it decreased 4 percent, company leaders said.
In Bucktown, crime in patrolled areas increased 15 percent compared to an increase of 21 percent and 32 percent in areas north and south of the patrol area, according to a crime analysis by the company. Block Club could not immediately independently analyze the numbers the company provided to verify P4's findings.
"Our job is really to observe, report, determine. We're not out here to take a look at anybody. Our job is to be a liaison for this community, share information in real time with the police," said Steve Vitale, principal for P4.
P4's security officers are armed and carry handcuffs. The officers can and will detain someone if the situation is in line with the company's "use of force continuum," leaders said.
The continuum is a set of policies that guide how and when officers can use their weapon. Vitale said no P4 officer has shot a gun during a neighborhood patrol.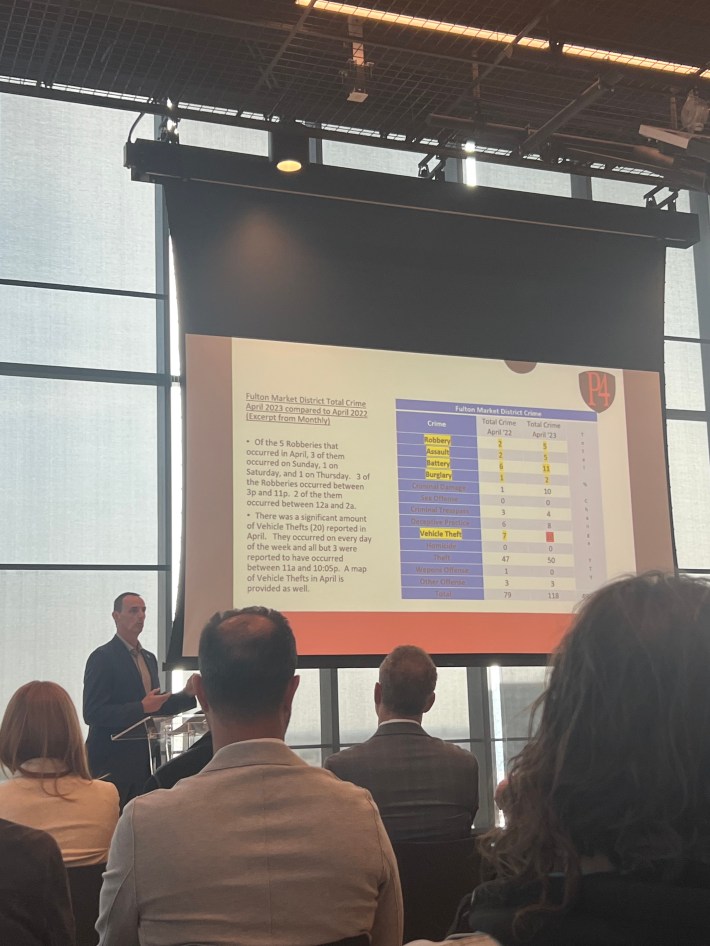 Security officers also drive branded vehicles decked out in technology that includes cameras on the inside and outside of their cars. The company uses geofencing technology to monitor if guards leave the designated patrol area.
Part of a patrol officer's job is to report problems like potholes and dimmed street lights to 311, Vitale said.
Fulton Market and the West Loop, which are in the 12th Police District, have experienced an increase in crime year over year, including carjackings, robbery and theft, according to police district data.
Through May 21, the 12th Police District reported 838 carjackings, up from 306 in 2022 and 224 in 2021. Robberies have also dramatically increased, with 228 reported so far this year compared to 175 by May 21 in 2022 and 137 by May 21 in 2021.
Overall crime in the 12th District has increased continuously since 2020, according to police district data.
P4 localized data from the Police Department's publicly available data and mapped out how many of these crimes happened in Fulton Market. According to its assessment, 49 carjackings have occurred so far this year in the neighborhood, compared to 26 during the same period of time last year.
In total, 474 incidents of crime have occurred in Fulton Market so far this year compared to 376 incidents during the same period of time last year, according to P4's analysis.
Ald. Walter Burnett Jr. (27th), who represents Fulton Market, said he fully supports the community group's push to hire private security.
Burnett has said in the past he would support new security measures in the area, but he lacked a way to pay for it.
The Kinzie TIF District — which spans parts of Humboldt Park, West Town, East Garfield Park and the Near West Side — collects incremental property taxes to be used for neighborhood projects such as public infrastructure, schools, parks, leveraging private investment and more, according to the city's Department of Planning and Development. But tax-increment financing dollars can't be used to pay for private security or enhancements like additional police cameras, although some neighborhood organizations have tried to challenge that.
"It's very noble of you to try to do what you're all proposing here. I think we do need to put more skin in the game," Burnett said at the meeting.
The Fulton Market District Improvement Association's focus right now is to fully fund its P4 proposal, Belknap said. After annual funding is secured, the association wants to host security-focused town halls and encourage information sharing among business owners and residents in Fulton Market.
"If we can get the buildings and the restaurants and even some of the residents together, sharing all of that information, it's another part of the solution," Belknap said.
Listen to "It's All Good: A Block Club Chicago Podcast":