ENGLEWOOD — Leaders at an early learning center received a boost in city funding this month, helping them cover final costs to bring their multimillion-dollar development to Englewood. 
Little Angels Learning Center, a preschool and infant center with decades-long roots on the South Side, received a $250,000 community development grant to build its campus. 
The nearly 12,000-square-foot project at 6704 S. Emerald Ave. will allow the center to triple the number of children it serves, furthering the goal to "invest in the future of our children," leaders said in a statement.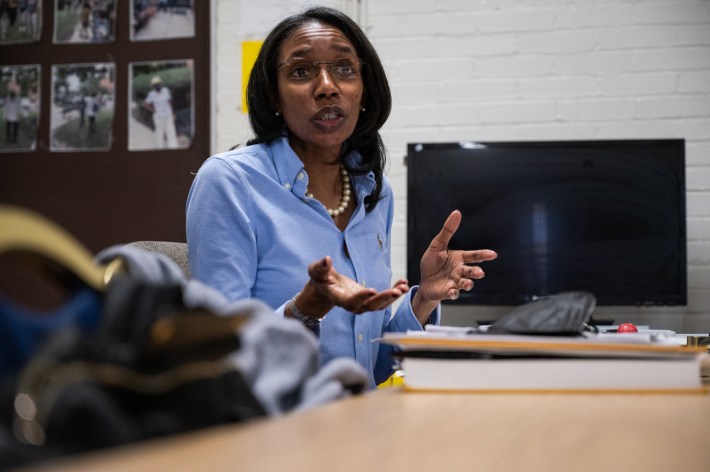 For years, Little Angels Learning Center has operated in a single room at Alpha Temple Church, 6701 S. Emerald Ave., in a tight space across the street from the upcoming development. The center serves children from newborns to 6 years old. 
Leaders needed $5.9 million to transform nearby vacant lots into a state-of-the-art center, said Nashone Greer-Adams, founder of Little Angels Learning Center. 
Between 2019 and 2020, they received $2.4 million in grants from the city and another $1.5 million in grants from the state, Greer-Adams said. For the past two years, they also hosted fundraisers with hopes community partners and donors would help them reach their goal, Greer-Adams said.
After three attempts at receiving a community development grant, leaders at the learning center finally secured the funding they needed to "close the construction costs" this month, Greer-Adams said. They hosted a groundbreaking ceremony for the daycare Saturday. 
"It was a blessing of a blessing times 10," Greer-Adams said. "We don't know how we would have closed the gap without it."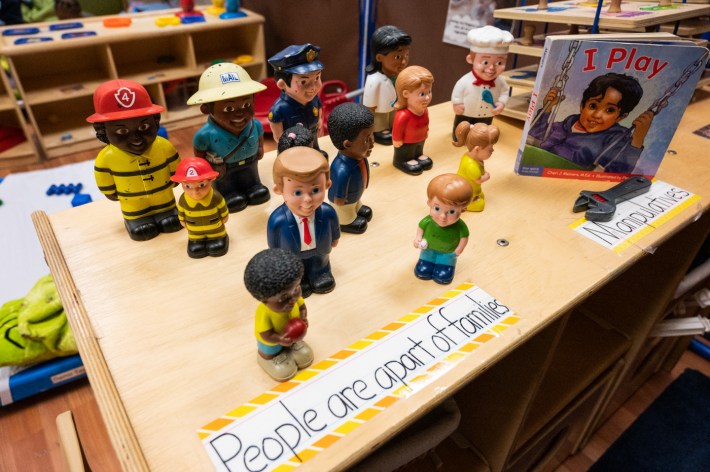 Efforts to build the Englewood center have been years in the making. 
Greer-Adams opened Little Angels in 1994 on the east side of the Parkway Gardens apartment complex on 64th Street and King Drive. Years later, she relocated to the Englewood church, where she built a reputation for operating a thriving early learning center.
Mayor Rahm Emanuel awarded Greer-Adams $1.4 million in 2018 to expand Little Angels and serve more children on the South Side. The funding was part of the city's efforts to boost access to early learning across the district. 
But in a surprising blow in 2019, the city cut Little Angels' funding by more than 30 percent, devastating leaders at the care center who, months prior, welcomed leaders to celebrate their years-long success. An extension was put in place but ran out in June 2020.
Little Angels faced another setback in July 2020 when the city's Department of Family and Support Services forced the center to shut down after failing to meet the academic requirements necessary to remain open.
Families and staff camped outside of Mayor Lori Lightfoot's home, demanding answers. The center reopened and continued to serve families in the heart of the pandemic by 2021.
It took years of hard work and faith to make the new Little Angels Learning Center a reality, but "God aligned the path," Greer-Adams said. 
Next, Greer-Adams must work to build a contingency fund that will cover extra costs, like the equipment construction crews might need, she said. 
If all goes as planned, Little Angels Learning Center could open its new doors as soon as spring or summer 2024, she said. 
"This is an assignment on God's journey that we're on," Greer-Adams said. "We're changing the trajectory in Englewood through early education. It's a huge undertaking, but once God aligns a path, He'll see it through." 
Listen to "It's All Good: A Block Club Chicago Podcast":