SOUTH CHICAGO — An affordable housing development on the Southeast Side with space for small businesses is advancing after alderpeople approved a zoning change for the project during the new City Council's first meeting.
The Galleria 89 development would bring 58 affordable apartments to one new building and one existing structure at 8840-8854 S. Commercial Ave. The City Council on Wednesday approved a zoning change for the site from a commercial zone to a Residential Business Planned Development zone.
The new, five-story building would replace city-owned structures at 8848-8854 S. Commercial Ave. with 46 one- to three-bedroom apartments and two shops. The new building's design will reflect "South Chicago's history as the epicenter of the steel industry," city officials said.
A three-story brick building at 8840 S. Commercial Ave. will be rehabbed to house 12 apartments and 1,900 square feet of retail for two shops.
All apartments will be affordable to residents making 60 percent or less of the area median income, or $66,180 for a family of four.
The buildings will be connected by an open-air, public courtyard with art installations. The development team, led by 548 Development, consulted with South Chicago institutions SkyART and Nine3 Studios to showcase murals and sculptures by local artists inside and outside of the building.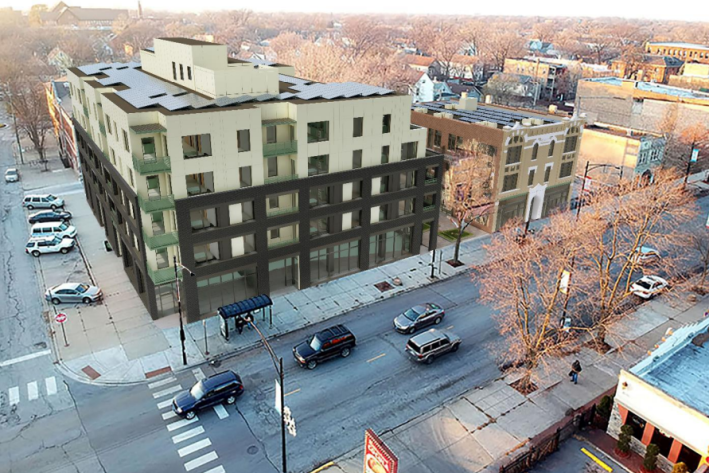 Galleria 89 is a transit-oriented development next to a bus stop and within a 10-minute walk of the 87th Street Metra Electric stop. Officials also plan to build a Divvy bike station as part of the development.
Twelve parking spaces, including one accessible space and two for electric vehicles, will be created for the project. Space for 90 bikes is also included in the plan.
The Chicago Plan Commission approved Galleria 89 in April after city planners recommended the project to advance, as it will not negatively impact nearby developments and aligns with the community's pattern of development, officials said.
To view the plans as presented to the Plan Commission, click here.
Project costs were estimated at $36.4 million in November, up from an estimated $23.5 million when the proposal was selected as an Invest South/West initiative finalist in 2021.
The developers are pursuing Low-Income Housing Tax Credits to help fund the project, according to city officials.
Galleria 89 coincides with a $43 million project to upgrade Commercial Avenue and 92nd Street in South Chicago with street resurfacing, raised bike lanes, curb extensions to shorten street crossings and more over the next few years.
Listen to "It's All Good: A Block Club Chicago Podcast":