CHICAGO — The City Council looks very different for the next four years, with more than a dozen members taking office for the first time and serving their first full terms to represent all corners of the city.
There are 50 alderpeople — one for each of the city's wards. They have significant power, as they play a key role in decisions about zoning, business licenses, local developments and more.
Several longtime council members resigned, retired or gave up their seats to run for mayor in 2022 and 2023. The unprecedented number of open seats drew dozens of hopefuls into the election, bringing more openly LGBTQ+ people, progressives, first-time politicians and younger elected officials into the fold.
Learn more about them:
Lamont Robinson: 4th Ward
Robinson made the jump from the state legislature to succeed Ald. Sophia King, representing parts of South Loop, Bronzeville, Kenwood and Hyde Park.
As a state legislator, the Clark Atlanta University alumnus focused on jobs, housing and other resources for the LGBTQ+ community, securing $15 million in state funding for a community center on the South Side. He has said he will prioritize economic development, public safety and education as an alderman.
"I would like to have a more immediate impact on the needs of my neighborhood," Robinson said when he announced his run for office in the fall. "It's hard to focus on localized issues on the state level and really bring the targeted support that my community needs. I would like to do that as the next 4th Ward alderman."
Robinson is the first Black, openly gay man on City Council, joining a growing LGBTQ+ caucus.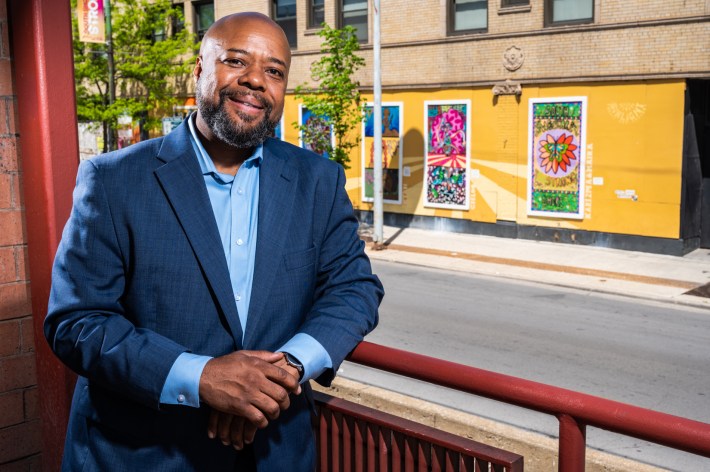 Desmon Yancy: 5th Ward
As a South Side high schooler, Desmon Yancy learned firsthand what it's like to be mistreated by police.
That experience helped spark his work as a community organizer. He advocated for the city's first civilian-led board overseeing the Police Department, which in turn fostered some of the political and community connections that supported his successful bid for City Council.
Yancy defeated 10 challengers and edged out Martina "Tina" Hone in the April 4 runoff to succeed longtime Ald. Leslie Hairston in the 5th Ward.
Hairston, who retired after 24 years in office, endorsed Yancy to be her replacement.
Yancy said he will draw on his activism around police accountability, his experience helping South Side neighbors bring needed resources to their community and the music of Stevie Wonder in his first term.
Yancy also takes over a ward where housing affordability and displacement are central issues with the development of the Obama Presidential Center in Jackson Park.
"This is a momentous victory — this is the first time the 5th Ward has elected a Black man to represent it," Yancy said as he declared victory. "I'm just honored more than anything to represent the 5th Ward."
Click here to keep reading Yancy's interview with Block Club.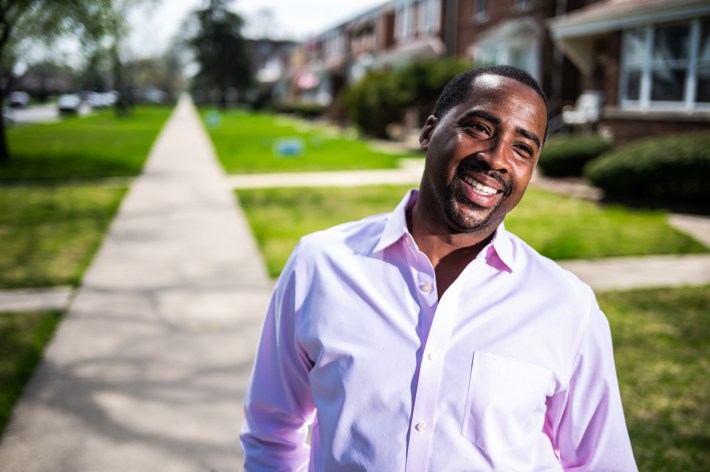 William Hall: 6th Ward
William E. Hall grew up riding his bike and scuffing his knees on the sidewalks on 84th and Wabash. Curving on a neighbor's lawn was a Chatham offense. 
As a teen, he cruised the neighborhood with his "curious and cool" friends, threw out trash for elderly neighbors and stacked boxes of donated food at church.
As a man, he served at Chatham's St. James Community Church, where he's been senior pastor for nearly a decade. 
Now, Hall is committing to the grandest task for his community yet: serving as its alderman. 
Hall emerged from a crowded field in February to beat Richard Wooten in the April runoff and secure the 6th Ward seat vacated by Ald. Roderick Sawyer after three terms. The ward includes parts of West Woodlawn, Chatham, Park Manor, West Chesterfield, Auburn Gresham and Englewood.
Hall has vowed to work to restore public safety, economic opportunities, equitable city services and quality neighborhood schools. He's also advocated for adequate mental health services and youth programming, following in the footsteps of Mayor Brandon Johnson, 
After 38 years living in the community, Hall is ready to "build a new ward alongside great residents" — many of whom he's known his entire life, he said.
"I hope to build a ward that we can all be proud of and raise our kids in," Hall said. "I want an intergenerational, thriving, safe community. I don't think that's too much to ask for, but we're going to fight like hell to get it. It's going to be worth it when we do."
Click here to keep reading Hall's interview with Block Club.
Peter Chico: 10th Ward
A resident of Hegewisch, Chico is a police officer working in the South Chicago (4th) District.
He defeated organizer Ana Guajardo to replace Ald. Susan Sadlowski Garza, who announced in September she would not seek a third term.
The 10th Ward includes East Side and Hegewisch and parts of South Chicago, South Deering and Riverdale.
Chico received his master's in public service from DePaul University. He's the grandson of John Chico — a former South Works steelworker who was an early supporter of Sadlowski Garza's father, Ed Sadlowski — and a cousin of 2019 mayoral candidate Gery Chico.
He is a community representative on George Washington High School's local school council. He promised at a January forum he would push to keep schools and school programs open in the evenings and on the weekends if elected.
He campaigned on boosting economic development, increasing police presence, more funding for education and streamlining city services.
He also pledged to take on "so much work to include our friends in Altgeld Gardens into the 10th Ward," he said. The public housing complex on the Far South Side was drawn into the new ward map that will soon go into effect.
"To those of you who voted for me — and there were a lot — thank you. I will work hard for you every day," Chico said during his victory speech. "To those of you who didn't vote for me, I will be your alderman too, and I will work with you every single day."
Click here to read more about Chico and the 10th Ward.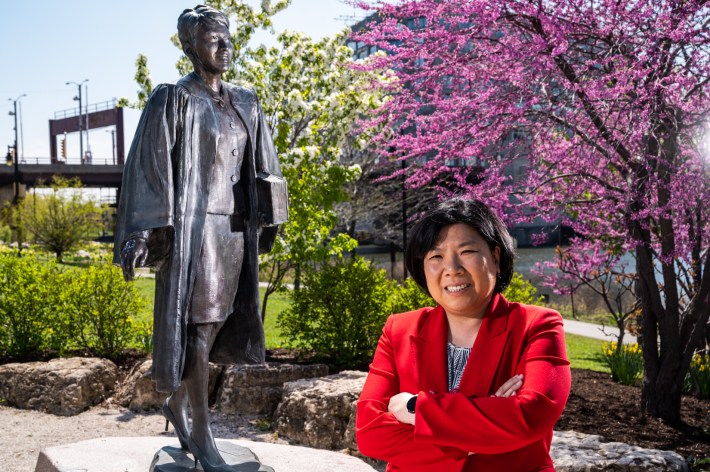 Nicole Lee: 11th Ward
Lee, the city's first Chinese-American alderwoman, was appointed in early 2022. Born and raised in Chinatown, her family has deep ties with the Daley family, which endorsed her first election bid.
She easily won the April 4 runoff against challenger Anthony Ciaravino to keep her seat and ensure an Asian representative for the city's first Asian-majority ward.
Lee spent her first year as alderwoman laser-focused on uniting the ward, which encompasses parts of Chinatown, Bridgeport and Armour Square, she said. Her goals were to build rapport with old-school residents and new transplants, she said.
Lee said she wants to continue that work in her first full term. She also plans to get neighbors more involved in ward government, boost business along Halsted Street and bring the Near South Side high school to fruition.
The $150 million project has been controversial, with Chinatown and Bronzeville organizers uniting to oppose building it on former public housing land. Lee has continued to support it as part of her mission to deliver Chinatown its own neighborhood high school.
As the mother of two enters her first full term as leader of a ward known for its kingmaking, she told Block Club she's "ready to roll up her sleeves."
Click here to read more on Lee's interview with Block Club.
Julia Ramirez: 12th Ward
Julia Ramirez is ready to make her mark as the new leader of the 12th Ward, drawing from her experience as a Southwest Side native, years of community organizing and a willingness to work with anyone to help her constituents.
Despite being the apparent underdog, Ramirez beat Ald. Anabel Abarca in the February election.
The Latino-majority ward includes most of McKinley Park and Brighton Park. 
Ramirez centered her campaign on holistic public safety strategies and implementing a "community-driven process" to vet industry and businesses. She also highlighted her deep roots in Brighton Park, promising to be a champion of the neighborhood.
The new 12th Ward aldermanic office is a few blocks away from the Brighton Park home where Ramirez was raised. She still lives there, with family members on both her father's and mother's side living just around the corner.
In March, Ramirez sat down with Block Club in her uncle's home and looked through old family photos. There were pictures of Ramirez in her quinceañera dress and posing with her parents for portraits. Ramirez also shared pictures of her younger brother, Nicholas, who was fatally shot when he was 19.
Her ties to the community and ability to understand neighbors' shared struggles helped her launch a successful campaign, Ramirez said.
"People voted with love," she said. "They're seeing themselves with us."
Click here to read more of Block Club's interview with Ramirez.
Jeylu Gutiérrez: 14th Ward
Jeylu Gutiérrez's election marked the end of Ald. Ed Burke's five-decade reign running the ward.
Burke, elected in 1969, opted not to seek another term.
The 14th Ward includes Gage Park, Archer Heights and parts of Brighton Park and Chicago Lawn.
Gutiérrez worked as the district director for county Commissioner Alma Anaya and previously worked as a counselor and in other positions at several Chicago Public Schools.
Backed by mayoral candidate and Rep. Jesús "Chuy" García, Gutierrez is the first Latina to represent the 14th Ward, which is 86 percent Hispanic.
"I just want to thank every single one that came out to vote," Gutierrez said in an interview after she was elected. "I'm going to be the alderperson that will serve every single one the same way. I'm not going to make a difference between undocumented, permanent residents or citizens. They all deserve the same type of treatment. They all deserve an equity of services."
Read more about Gutiérrez and the 14th Ward here.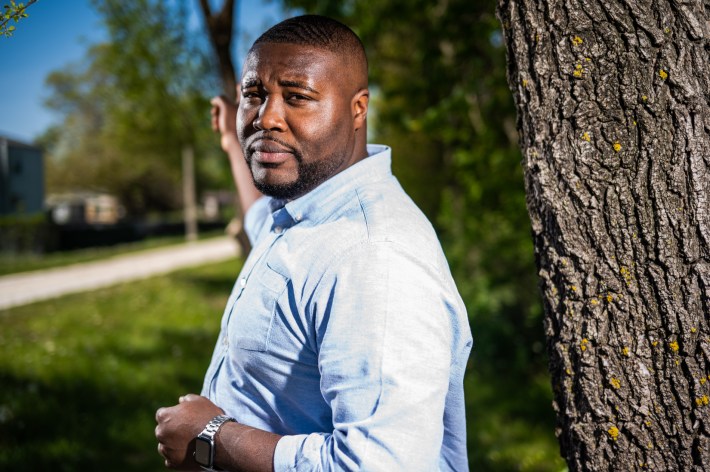 Ronnie Mosley: 21st Ward
At 31, Mosley is the youngest member of City Council.
Mosley joined six hopefuls in the race for Ald. Howard Brookins Jr.'s City Council seat. Brookins announced his retirement in September after nearly 20 years serving the South Side ward. 
Mosley made it to the April 4 runoff against lifelong Morgan Park resident Cornell Dantzler, narrowly claiming victory with 52 percent of the vote.
He'd long rebuffed the idea of running for office.
As a student at Simeon High School in Chatham, Mosley organized protests against gun violence following the death of a close friend, earning him the nickname "Mr. President." At Morehouse College in Atlanta, he helped the Service Employees International Union unionize cafeteria workers. 
He worked for Ald. Michelle Harris' (8th) office and former Mayor Rahm Emanuel's 2015 reelection campaign. Shortly after, he founded a consulting firm to aid the likes of Gov. JB Pritzker and the Obama Foundation.
The redrawn 21st Ward, which merged with the old 34th Ward on the Far South Side, offered a rare opportunity to advocate for more people, Mosley said. 
He's ready to give back to the "village that raised him," he said.
"This is a big job, but I'm prepared, and that fills me with so much excitement," he said.  "I don't take this job for granted. I'm getting up each and every day with people's trust, knowing that they're expecting me to do not just a job but a good job."
Click here to keep reading Mosley's interview with Block Club.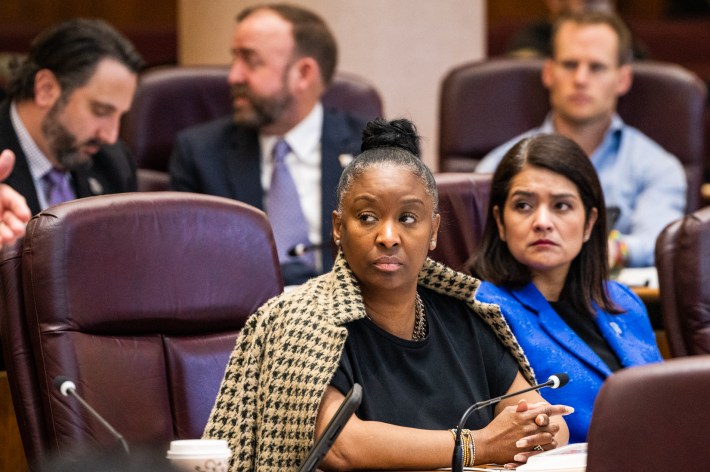 Monique Scott: 24th Ward
Monique Scott was appointed to the aldermanic seat in June by Mayor Lori Lightfoot after her brother, Michael Scott Jr., resigned to take a private sector job at Cinespace Film Studios.
She won the April runoff against Creative Scott, no relation, to keep her seat representing North Lawndale and a section of Little Village. 
The Scott family has been influential in Chicago politics for decades. Her late father, Michael Scott Sr., served as president of the Park District and president of the Chicago Board of Education. He was considered an influential ally of former Mayor Richard M. Daley.
Monique Scott formerly worked for the Park District as the supervisor for Ellis Park. Before that, she worked as a health consultant for North Lawndale Christian Health Center. She also coached the North Lawndale Eagles cheerleading team.
She campaigned on improving public safety in the ward and provide higher-quality education, better housing options, employment opportunities and economic development, she said. 
At her election night party, she pledged to revive the 24th Ward.
"On this day in 1968, Martin Luther King Jr. was assassinated and a day later, we burned the West Side to the ground," she told supporters. "We have been disinvested in ever since. Starting today, we are going to reclaim and revive this community."
Click here to read more about Scott's journey to her first full term.
Jessie Fuentes: 26th Ward
Jessie Fuentes made history when she won Feburary's election.
Fuentes is the first woman to lead the 26th Ward. The 32-year-old community organizer will also be the ward's youngest leader and the first queer Latina to step into the role. She replaced longtime Ald. Roberto Maldonado, who retired after 13 years in office.
The 26th Ward "has always been run by men, and never by an LGBTQ candidate. We literally broke glass ceilings last night," Fuentes told Block Club.
"I believe that this win is an accomplishment for every woman, every LGBTQ individual doing groundbreaking work across the city of Chicago. To be able to have our interests and needs represented in City Council is a huge win for us."
Fuentes also joins the burgeoning coalition of LGBTQ+ alderpeople.
"Given the family and upbringing that I come from, being in a place where I'm the first queer Latina elected to the 26th Ward is a win that I will never forget for sure," Fuentes said.
Click here to read more of Block Club's interview with Fuentes.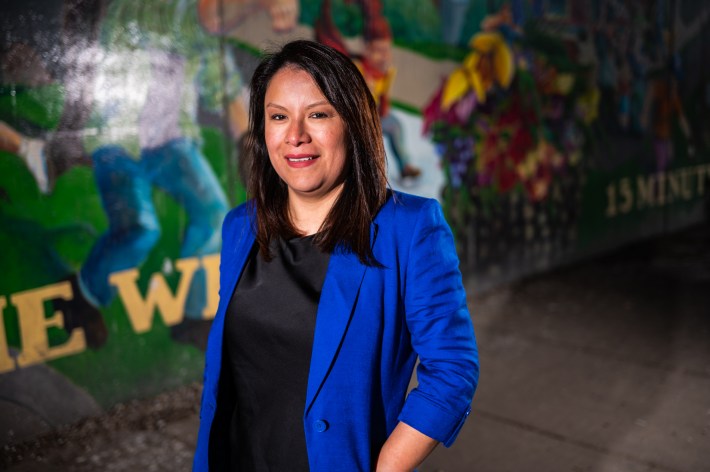 Ruth Cruz: 30th Ward
As a child, Ruth Cruz didn't want to leave Mexico for Chicago. After five years, she fell in love with the city.
Cruz, who grew up in Logan Square and Avondale before moving to Belmont Cragin as an adult, beat Jessica Gutiérrez in a close April 4 runoff to replace retiring Ald. Ariel Reboyras.
The newly redrawn Northwest Side ward includes portions of Belmont Cragin, Irving Park, Portage Park and Avondale.
Some of her goals for her first term include reducing crime, boosting support for local businesses, increasing affordable housing and bringing a library and a youth center to the ward.
"People typically go outside of our ward to find what we need, so that's something that I will be fighting hard for. Making sure we can talk to state and federal leaders to make sure that we find funding to bring a library," Cruz said. "I think the library and youth center will be my main priorities in the first term. Something tangible that we can have and take advantage of."
As alderperson, she also faces a critical decision on whether to support a controversial music festival in Riis Park.
Click here to read more of Block Club's interview with Cruz.
Bill Conway: 34th Ward
Bill Conway has been an investment banker, Cook County assistant state's attorney, Navy intelligence officer, small business owner and finance professor. Now he leads the city's newest ward.
Rebounding from an unsuccessful bid for Cook County state's attorney in 2020, Conway, the son of a billionaire, easily beat commercial real estate broker Jim Ascot in February's election.
After losing to incumbent Kim Foxx in 2020's primary, Conway thought his political career was over. He shipped off to Germany for a year-long deployment later that year.
But Conway, the son of a billionaire, changed course after returning to Chicago in fall 2021. He started noticing more crime in the area, then the following year, ward redistricting moved the 34th Ward from the Far South Side to Downtown and West Loop.
He knew the new map meant major economic opportunity.
"I thought, geez … if the 34th Ward doesn't thrive, Chicago is going to be in big trouble," he said.
Click here to read more of Block Club's interview with Conway.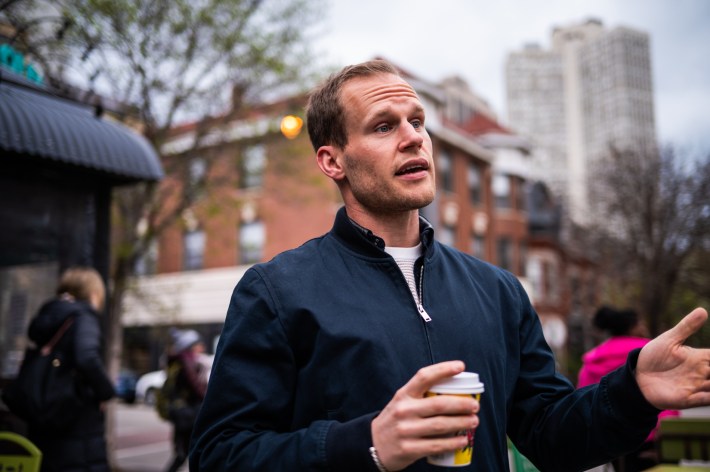 Timmy Knudsen: 43rd Ward
Ald. Timmy Knudsen collected his first signatures to run for the 43rd Ward office in August at the corner of Clark Street and Deming Place in Lincoln Park.
With a drink in hand from the nearby Colectivo Coffee, Knudsen propped up a foldable sign and started greeting potential voters. It quickly became his favorite spot to meet constituents as he campaigned for a full term after being appointed alderman in September when former Ald. Michele Smith resigned.
The area, known as Park West, is where Knudsen generated the strongest support in the April 4 election to defeat Sheffield Neighborhood Association President Brian Comer in one of the city's hottest races.
Knudsen returned to the Colectivo in a Block Club interview in April to share his priorities in office, which range from environmental issues to public safety.
"It's fun coming back here, especially knowing how well we did," Knudsen told Block Club. "This area is a good mix of ages with a strong senior community and a strong young community. We had all these conversations about how to register to vote, problems with the CTA … crime and empty storefronts. All of that helped me."
Click here to read more of Knudsen's Block Club interview.
Bennett Lawson: 44th Ward
Ald. Bennett Lawson has ties to Lakeview going back to his childhood.
Lawson, who grew up in a White Sox-loving family in suburban Rockford, first visited the neighborhood in seventh grade when his friend took him to a Crosstown Classic game at Wrigley Field.
Lawson and his college friends would spend Saturdays taking the train down from Loyola University to Belmont Avenue, stopping for haircuts, piercings or shopping as they strolled toward Fullerton Avenue.
But the significance of the neighborhood didn't hit home until Lawson attended a 1998 vigil for Matthew Shepard, a 21-year-old gay man who died after two men brutally attacked him and tied him to a fence in a Wyoming field. Lawson, who had recently come out as gay, was around the same age as Shepard and went to the rally with his first boyfriend.
"That was the first time I realized how important this neighborhood is," Lawson said. "It's about more than just baseball, the lake and the excitement — it's that things happen here, and there's a strong sense of community."
Lawson ran unopposed to succeed Ald. Tom Tunney as 44th Ward alderman. He spoke to Block Club in February and April about his goals in office and what the area means to him.
His goals include ensuring that the LGBTQ+ services and support well known in his ward will be available to queer people everywhere, he said.
"We need to work together to take those services that I host in Lakeview that are welcoming, affirming and culturally competent and make sure people have access to them throughout the city," Lawson said. "Having a council that is truly citywide and multiracial will help with that mission."
Click here and here to read Block Club's interviews with Lawson.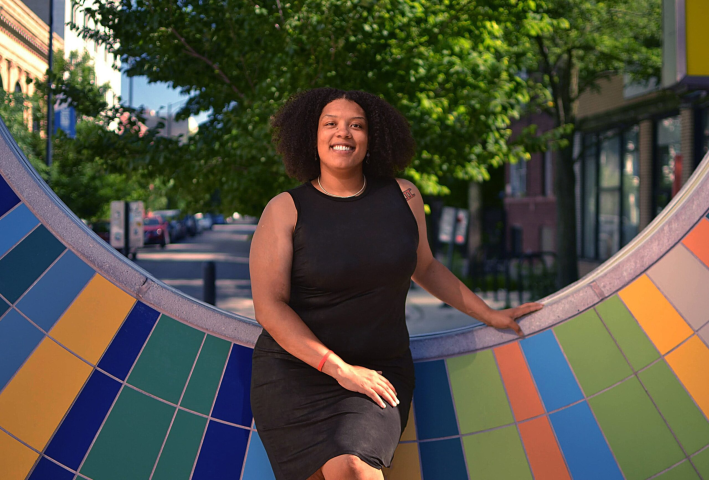 Angela Clay: 46th Ward
Angela Clay spent years as a community organizer before jumping into a hotly contested race to become Uptown's next alderperson.
That experience proved critical, as Clay prevailed over stiff opposition and heavy spending to win the 46th Ward seat in City Council.
Clay, making her second run for office, beat out five rivals to replace retiring Ald. James Cappleman. At her election night party, she praised supporters for rejecting outside influence and seeing through the noise. She will be the first person of color to represent Uptown on the City Council.
"I've just been consistently making sure that I'm in front of our neighbors so that they don't think that, now I'm in this office, we just get to frolic off into the sunset," Clay said in a recent interview.
Clay's years spent building community will also serve as the ethos behind her time in office.
"Just showing people that this is a title that comes from the people," she said. "I don't ever want to feel like I, as alderperson, am the queen of this castle, because it's not like that."
Click here to read more of Block Club's interview with Clay.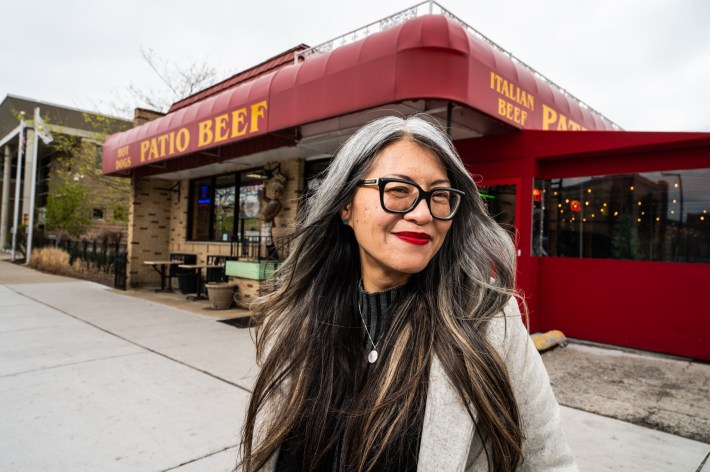 Leni Manaa-Hoppenworth: 48th Ward
Leni Manaa-Hoppenworth defeated candidates with deeper pockets and higher-profile backers by building a grassroots coalition of change-minded voters.
Manaa-Hoppenworth won one of the city's most hotly contested races to replace Ald. Harry Osterman and represent Edgewater and parts of Andersonville and Uptown.
It was an effort years in the making, fueled by former President Donald Trump's 2016 election, Manaa-Hoppenworth told Block Club.
"I just got really, really mad in 2016 sitting on my couch on Election Day with my family and watching the TV turn from blue to red and just [being] completely outraged," she said.
The next year, Manaa-Hoppenworth co-founded Indivisible Illinois, the state chapter of the national progressive political organization. She also founded the group's Andersonville-based chapter.
Manaa-Hoppenworth was also director of operations for the Chicago edition of the 2016 Women's March on Washington and helped found ILVOTE, a non-partisan voter registration group.
The organizing helped channel Manaa-Hoppenworth's anger over Trump's election toward positive change in her community, she said. It also gave her a foundation when decided to run for 48th Ward alderperson.
"I never dreamed that I would be here," she said. "But it goes to show that individuals, if they notice something and they're passionate about standing up for what's right and bringing other people with them, we can make a difference."
Click here to read more from Block Club's interview with Manaa-Hoppenworth.
Listen to "It's All Good: A Block Club Chicago Podcast":