IRVING PARK — An Irving Park artist and business owner used her vintage embroidery machine to customize a pair of jackets to celebrate Taylor Swift ahead of the pop star's stop in Chicago for her "Eras" world tour.
Vichcraft owner Jenna Blazevich documented her project on TikTok as she created one blue and one red jacket. She said she made them to thank her sister, Krista, for surprising her for Christmas with tickets for Swift's Soldier Field show next month.
The sisters bought the jackets from a thrift store. Blazevich spent January and February designing the custom pieces, with illustrations symbolizing each of Swift's 10 studio albums, she said.
"My main inspiration for the style of illustration and how I'm actually applying the chain stitching is nudie suits — the kinds of suits that were made by Nudie Cohn in the 1950s and '60s for country stars like Tex Williams," Blazevich said.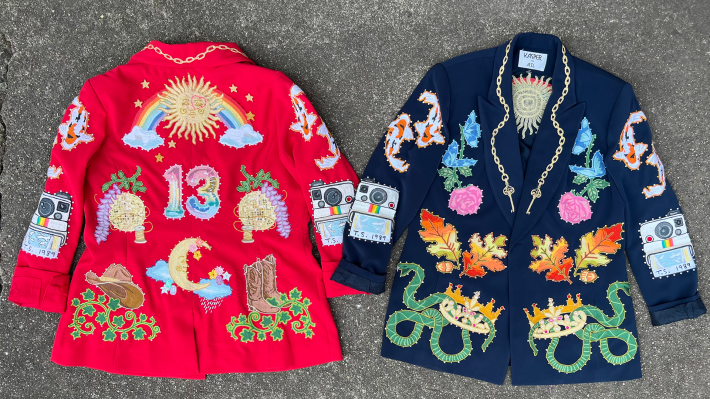 The style is partly an homage to Swift's origins in country music, Blazevich said.
"… Nudie did them by using the same kind of machine that I have, a chain stitch machine," Blazevich said.
Blazevich said part of the fun of the project has been collaborating with her sister about what symbols should be used represent a Swift album, song or lyric.
"Because my sister thinks differently, it was fun to be able to toss ideas back and forth," she said. "It's been really fun."
The jackets have a koi fish that represents Swift's "Speak Now" album, the first for which the performer wrote her own material, Blazevich said.
"Her discography is so extensive. There are so many different ways to enjoy her music. But for me, as an artist and visual person, I wanted to make outfits for us to wear that kind of represented the symbolism and the fun little Easter eggs in her music in a visual way," Blazevich said. 
As Blazevich created the jackets with her crank-and-wheel Cornely A chainstitch machine, she posted her progress on TikTok and was surprised by how many people were enjoying her videos, she said.
Blazevich is on track to complete the jackets before Swift's June 4 performance, which the sisters are attending.
"It's been a nice exercise for me to get more comfortable with sharing projects while they're still in progress," she said.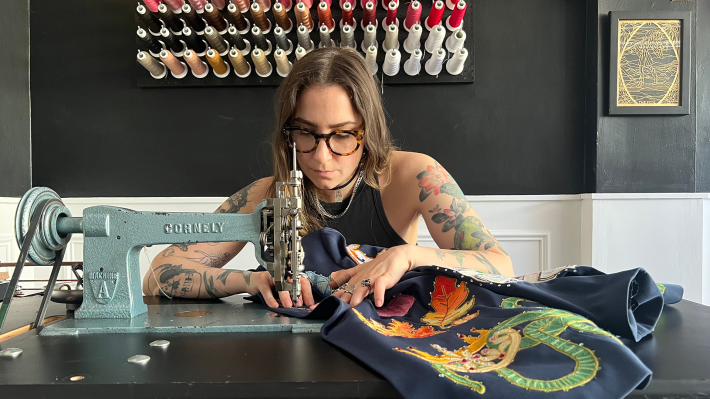 Commenters have praised Blazevich's work — with more than one saying the jackets belong in a museum — and fellow Swifties have asked if the artist can make a jacket for them.
"I tried noting on some videos that the jackets took me 100+ hours each, so I can't really start churning out ones this detailed for people," Blazevich said. "But yes, it's generated interest and awareness about the store and getting simpler things stitched there, so that's fun."
Listen to "It's All Good: A Block Club Chicago Podcast":