AVONDALE — A store carrying a wide selection of board games, roleplaying games and games that celebrate diversity and inclusion is the latest addition to Avondale's blossoming small business corridor on Milwaukee Avenue.
Prism Games opened over the weekend in a former luggage retailer at 2874 N. Milwaukee Ave. The 5,000-square-foot shop is open noon-9 p.m. Wednesday-Monday.
Prism's shelves are lined with a mix of popular and indie games, from widely popular "Settlers of Catan" to "Thirsty Sword Lesbians," a roleplaying game revolving around queer romance and power. The shop also carries LGBTQ+ Pride-themed dice and other gaming products.
The store is owned by 25-year-old DePaul University graduate Cullen Clancy.
An avid gamer and a former employee at a local game shop, Clancy, who is bisexual, said he was struck by the lack of representation in games. Most popular board games and roleplaying games reinforce traditional gender roles and stereotypes, he said.
Yet the game industry is making strides toward becoming more inclusive, with more new games that reflect diverse backgrounds and experiences, Clancy said.
Clancy wants Prism to be a hub for games designed by LQTBQ+ people, people of color and others who have been historically shut out of the industry, he said.
The store carries games like "Spirit Island," where players fight off colonizers, and "Rapa Nui," which is centered around "Pacific Islanders building amazing structures," Clancy said.
"A lot of board games are lacking in that representation, or if it has that representation it's not always culturally sensitive or accurate," Clancy said. "I'm seeing a push toward [inclusivity], and I'm hoping to follow that trend and support that trend with what I buy."
Prism Games celebrated its grand opening Saturday with giveaways and game demos. Clancy, a resident of nearby Wicker Park, plans to host game nights and other regular events to bring the Avondale community together around games, he said.
"We're trying to build a community first and foremost," Clancy said. "I worked at a lot of small businesses over the pandemic, and a lot of them would launch big social media marketing campaigns, and it brought in a ton of people. But a lot of people would come in once, buy something and never return.
"The people who really got those businesses through the pandemic were the people in the neighborhood who came by all of the time, and I really want to pay it back."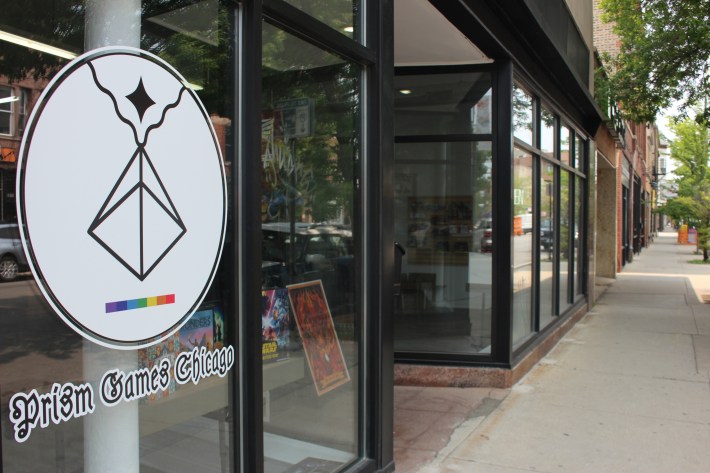 Clancy's love of games stretches back to middle school, when he started building miniatures with his dad and playing Dungeons and Dragons with friends, he said.
Prism Games came into focus earlier in the pandemic after Clancy graduated from DePaul with a degree in acting.
Clancy struggled to find acting jobs, so he worked at a string of small businesses, including Chicagoland Games Dice Dojo, which inspired him to open his own game store, he said.
"As an actor coming out of the pandemic, I found that so much of my creative passion was going into my D&D games. It was just super fulfilling and taking on that creative role in my life," he said.
In back of Prism, there are tables where people can sit and play games. Open play costs $5 a day, except on Sundays, when customers and neighbors can play for free, Clancy said.
The Avondale store stocks dozens of games, from party games "you can play while chatting" to "heavier strategy" games that can take hours to play, Clancy said. Clancy and his employees help customers decide by asking, "What kind of night in are you trying to have?"
All of the games provide a refreshing break from screens, Clancy said.
"A lot of people are tired of digital products. You don't really have ownership of it; they're always trying to sell you some kind of subscription or extra thing that should be included in the base thing," Clancy said. "Here you can get something you know out of the box is going to be a full experience. You're going to own it forever, it's a beautiful piece of art that you can put on a shelf somewhere. I think now, more than ever, people want that."
Prism Games is the newest small business on Avondale's Milwaukee Avenue, a strip exploding with mom-and-pop shops after years of languishing. Loaf Lounge, The Brewed and Kone Ranger are just a few additions.
Listen to "It's All Good: A Block Club Chicago Podcast":