WOODLAWN — Woodlawn residents called for a $48.4 million development planned for 63rd Street to prioritize community-building, safety and quality services during a public meeting this week.
The Woodlawn Social project was selected this month by the city's Department of Planning and Development as the winning proposal to redevelop land in the 900 and 1000 blocks of East 63rd Street.
Woodlawn Social will include 60 affordable apartments in a six-story building. At least 18 would be affordable to "very low-income" households under a 2020 ordinance requirement to boost Woodlawn's affordable housing stock.
A neighboring four-story building would have 10 townhomes for sale. Seven townhomes would be market-rate, while three would be affordable through the City Lots for Working Families program.
Developers Preservation of Affordable Housing and KMW Communities are behind the project.
Several dozen neighbors at a Tuesday meeting at Harris Park, 6200 S. Drexel Ave., told city staff and the developers they'd like to see the project encourage relationships between new and longtime residents, improve public safety and bring diverse amenities to Woodlawn.
The proposal calls for 36 one-bedroom apartments, 16 two-bedrooms and eight three-bedrooms. Each for-sale townhome would have three or four bedrooms, officials said.
Residents called for the affordable apartments to have amenities similar to market-rate units, like dishwashers and on-site laundry rooms. The developers must still finalize the apartments' designs, they said.
The quality of the property management, which will be led by Preservation of Affordable Housing, "will make or break any type of rental unit" and is just as important as the project's aesthetics and amenities, said Avis Gaddies, a Woodlawn resident of 36 years.
The company's track record is admirable, as they've "done some pretty sustainable work in Woodlawn," Gaddies said. She was pleased to hear the company will manage the apartments, she said.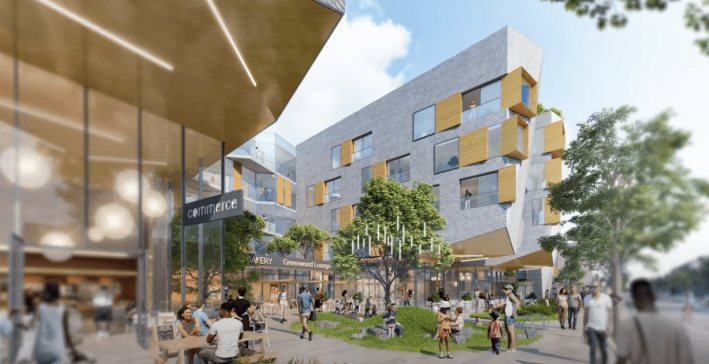 The project includes a 10,000-square-foot courtyard for residents and a 9,000-square-foot public plaza. Both buildings would have solar panels and rooftop gardens, officials said.
City staff and a team of nine community members who evaluated the three proposals for the 63rd Street site chose Woodlawn Social in part because of its human-centered design and "generous" public plaza, city planner Justin Petersen said.
Planning Commissioner Maurice Cox praised the proposal's "highly creative approach to urban placemaking and locally driven programming" when the proposal was selected to move forward.
The development must bring those concepts into reality through regular events and programs that put Woodlawn Social renters and homeowners in contact with each other and the surrounding neighborhood, some residents said.
"I love the architecture and design — I like the buildout of it," said Marcus Gill, a "dedicated Woodlawn advocate" who's lived there for three decades.
"If [there are] public plazas and courtyards, they should be spaces for community, where community can come out, get engaged and do everything on a unified front," Gill said. "Everything that's taking place inside that building internally should also take place externally in the neighborhood."
A design which allows for "eyes on the street" at all times can also discourage drug sales and other "undesirable" activity, some residents said. Others discussed measures such as granting surveillance camera access to all residents through a mobile app and hiring reliable on-site security.
Woodlawn Social includes 8,500 square feet of ground-floor retail space for up to four businesses. Neighbors floated a high-end restaurant or winery, a grocery store, a pet store and a youth-focused space for games and entertainment among their priorities for the retail space.
"Anything they can bring to the community [in terms of] different amenities — like restaurants, because right now, Woodlawn really only has a few restaurants — any amenities that they're bringing back to the neighborhood, I think that's great," Gill said.
City officials are starting the formal review process for the project and considering whether to provide tax-increment financing, Low-Income Housing Tax Credits and other incentives. Construction could start in mid-2024, officials said.
The winning developers have existing projects in Woodlawn.
Preservation of Affordable Housing, with support from the city and the state, parlayed a $30 million grant in 2011 into $400 million worth of investment in the neighborhood, according to a study released last year.
KMW Communities is building nine market-rate, single-family homes along Greenwood Avenue north of 63rd Street, as well as 15 townhomes and six condo buildings across Woodlawn.
Woodlawn Social beat out two other proposals for the 63rd Street site.
The Michaels Organization and DL3 Realty also pitched a six-story, 73-unit development with live-work lofts and space for a brewpub, restaurant or retail. That project may be built in the next phase of redeveloping city-owned land along 63rd Street, officials said.
The Preservation of Affordable Housing-KMW Communities and the Michaels-DL3 proposals are strong, and "we feel we can move forward with [them] and have a lot of support from the community," Petersen said.
The Michaels and DL3 team also broke ground on the $30.8 million Park Station Lofts project at 63rd and Maryland in November. It was the first development subject to the requirements of the Woodlawn Housing Preservation Ordinance.
Listen to "It's All Good: A Block Club Chicago Podcast":