CHICAGO — Problems have struck Chicago's airports repeatedly over the last six months. 
Travelers have been stranded because of storms, technological failures and airline mismanagement. During the winter, parts of O'Hare were converted into a makeshift shelter by people who were homeless looking for a warm place to sleep. Then those people were "flushed out" by police on orders from then-Mayor Lori Lightfoot.  
But the City Council didn't take any steps to address these issues. Alderpeople didn't even get together to talk them over. The council's aviation committee, which has jurisdiction over the airports, hasn't held a meeting since September.
It's not the only council committee that spent public money without as much as a public meeting to show for it over the last eight months.
The council's Committee on Contracting Oversight and Equity, charged with ensuring fairness in city business, hasn't provided oversight, pushed for equity or taken any other action since its last meeting in September.
The committee has failed to act even though the city government has struggled for decades to boost the share of its contracts awarded to minority-owned businesses. Doing so could spur investment in Chicago's most economically depressed neighborhoods, which Lightfoot made a top priority and newly inaugurated Mayor Brandon Johnson has promised to grow.
Yet Johnson is relying on the leaders of both committees for key posts in the new City Council: He has proposed that Ald. Matt O'Shea (19th) will continue as chair of the aviation committee while Ald. Jason Ervin (28th) — who headed the contracting oversight committee — will get promoted to chair of the Committee on Budget and Government Operations, which oversees the city's budget of nearly $17 billion in public money.
"Mayor Johnson looks forward to implementing the new Unity Council Organization Plan for the City Council in order to align the Mayor's Office and City Council around shared values and priorities and deliver for people," a spokesperson for the mayor told Block Club in a written statement. The plan "includes the most diverse group of chairs in history to build our agenda for a better, safer, stronger Chicago."
The statement did not answer Block Club's specific questions about O'Shea, Ervin, their past committees or the committees they are slated to lead under Johnson's plan. 
If the full City Council approves the plan as expected Wednesday, the council will add a new legislative committee to the 19 it already has.
The aviation and contracting committees are examples of how inactive a number of the council's legislative committees were over the last decade. And they show how the City Council has repeatedly failed to respond to critical issues affecting Chicago residents. 
The council's legislative committees each have the power to shape local laws and advance them to the full council for passage. But in many cases, they have simply become fiefdoms for allies of the mayor, rewarded committee chairs by largely allowing them to use committee staff and budgets as they wish. In return, the committee chairs have almost always worked to advance the mayor's agenda, no matter who held the office.
The results have sometimes been disastrous. As the arrival of thousands of migrants built into a humanitarian crisis, the council's Committee on Immigrant and Refugee Rights did nothing to address it. For a year and a half, the committee didn't even convene a meeting.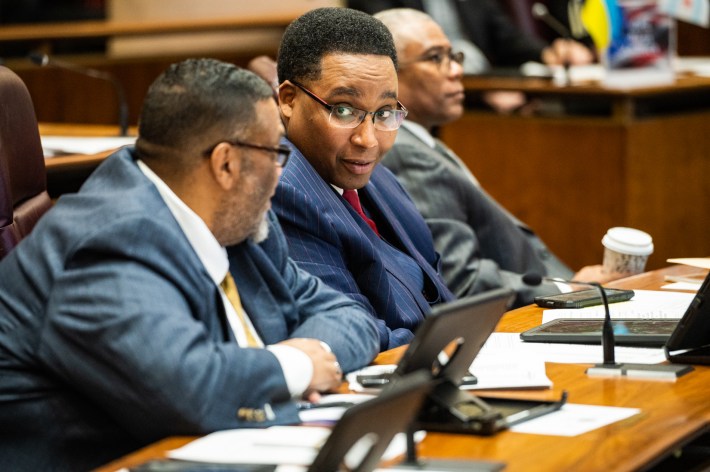 'We haven't had, like, regular meetings'
The Committee on Contracting Oversight and Equity met almost as infrequently, holding just 10 meetings over the last four years. And even when it did meet, it took few steps to address inequity in city business.
During the last term that started in May 2019, the committee approved just 15 pieces of legislation, 13 of which were introduced by the mayor. Most of the items involved the routine business of approving the mayor's appointments to an advisory board on affirmative action. Others extended deadlines or made tweaks to existing programs. 
The committee passed a single ordinance proposed by an alderperson. It bans the city from doing business with people who have been removed from office or who committed treason.
Ervin, who also chairs City Council's Black Caucus, said the committee had been working out of the public eye on a proposal to boost employment on city projects in underserved neighborhoods.
"While we haven't had, like, regular meetings, we've been working on some specific legislation with other members and we just haven't gotten to a point where it's ready to come out," he said.
"Unfortunately we weren't able to get it to the finish line in this term, but I fully anticipate that coming back and being alive."
Under the state's Open Meetings Act, anytime at least five of the 19 members of the committee get together and discuss city business, it qualifies as an official meeting and should be open to the public.
Though the contracting oversight committee doesn't do much, it has an annual budget of about $207,000 that Ervin used to pay for three employees, records show.
As budget chair in the new term, Ervin will oversee a committee with $354,000 in annual funding that is responsible for scrutinizing the mayor's spending plans for every city department. 
Johnson picked Ervin for the post after the 28th Ward alderperson endorsed Johnson before the April 4 runoff election. Johnson moved the previous budget committee chair, Ald. Pat Dowell (3rd), to lead the powerful Committee on Finance, unseating Ald. Scott Waguespack (32nd). Dowell also backed Johnson.
Waguespack, a Lightfoot loyalist, didn't endorse anyone in the runoff and voiced skepticism about Johnson's financial plans.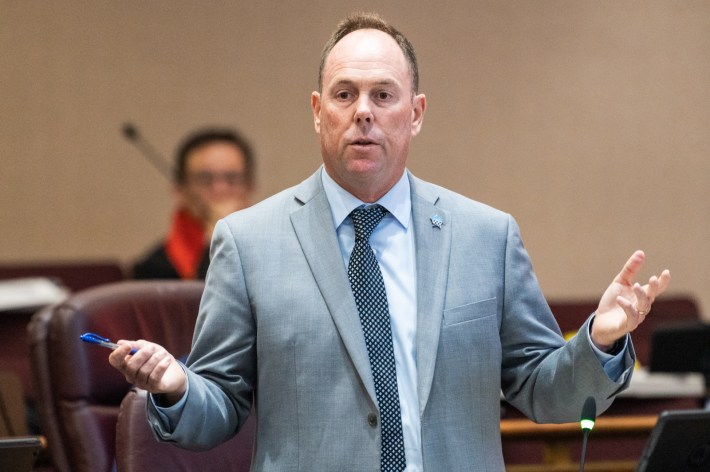 'No questions?'
O'Shea didn't endorse Johnson either, but he also didn't criticize him. And as the aviation committee chair under both Lightfoot and Mayor Rahm Emanuel before her, he advanced administration-backed proposals with no controversy.
Over the last four years, the aviation committee met just 13 times, mostly to sign off on contracts and proposals from Lightfoot or her administration. That included a plan to help businesses at the airports that were suffering during the pandemic shutdown. 
But the committee mostly stood by when trouble hit Midway and O'Hare.
"We had an airline meltdown at the airport. No questions?" said Ald. Raymond Lopez (15th), a former Midway skycap, referring to widespread flight cancellations and other failures by Southwest. "We had a homeless encampment at the airport. No questions?"
O'Shea agrees that the committees should provide oversight of city practices and policies. "They should always be performing checks and balances," he said. "That's what taxpayers want."
Still, O'Shea said, "I've never been a fan of having a meeting just to have a meeting."
He described the committee chairman's job as working with the mayor and the city's Aviation Department to strengthen the "economic engines" of O'Hare and Midway, particularly as the city emerges from the pandemic.
"If our airports aren't hitting at all cylinders, we're going to feel it," O'Shea said. "Moving forward, as we continue to rebound, it's important to continue to invest, continue to expand."
The committee held meetings when it had legislation to consider, O'Shea said, and he made sure alderpeople had the chance to ask questions. "My colleagues in the council are kept abreast of what the developments are," he said.
But during the last council term, the committee only acted on legislation introduced by the mayor or her administration, meeting records show. All of the 21 ordinances it passed over the last four years were sponsored by Lightfoot. Just two proposals were introduced by alderpeople. Neither was even discussed at a hearing.
Over the last four years, O'Shea also failed to adhere to council transparency rules. Each committee is required to file a report with the city clerk's office detailing the agendas and attendance for every one of its meetings. O'Shea failed to file a single report for any of the 13 meetings of the aviation committee.
Though the committee wasn't very active, it spent $645,000 in taxpayer money from 2019 through 2022, mostly on salaries for the committee's three employees. 
O'Shea said the committee staffers actually spend much of their time working on issues in his Southwest Side ward, but they are always on call to handle aviation matters. For example, he said they had to work with the mayor's aides on an April 23 press release announcing a new restaurant at Midway.
The release quoted O'Shea praising the business as a "success story" for the air travel industry.The aviation committee also spent $500 on a standalone website. It includes a section listing the dates and agendas of all the committee's meetings.
The last one, of course, was on Sept. 14.
Block Club Chicago's Melody Mercado and Quinn Myers contributed.
READ MORE: Investigations Editor Mick Dumke reveals City Council's immigration committee didn't meet for more than a year as Chicago struggled with the migrant crisis.
Subscribe to Block Club Chicago, an independent, 501(c)(3), journalist-run newsroom. Every dime we make funds reporting from Chicago's neighborhoods.
Click here to support Block Club with a tax-deductible donation. 
Thanks for subscribing to Block Club Chicago, an independent, 501(c)(3), journalist-run newsroom. Every dime we make funds reporting from Chicago's neighborhoods. Click here to support Block Club with a tax-deductible donation.