NEAR WEST SIDE — Near West Side residents and Ald. Walter Burnett Jr. (27th) criticized plans for a new music venue a few blocks from the United Center this week, saying they worry it will draw large crowds and noise to the area and won't be a successful business.
Community group HOW United outlined plans with business developers to open a new music venue called The Note Tuesday evening. The plan is to renovate a 9,250-square-foot building at 1931 W. Lake St. off the Green Line tracks, developers said.
The Note's co-founder Damian Williams said the venue aims to cater to patrons 35 and older with a focus on live R&B, hip hop and jazz. It would also host outdoor events. The planned capacity would be 500 people, Williams said.
Williams estimated construction to remodel the inside and outside of the building would cost around $500,000. The upgrades would include new doors, large windows along Lake Street, a paved parking lot and a beer garden, developers said.
"We want to make something for an older, mature atmosphere," Williams said at the community meeting held at St. Malachy School, 2252 W. Washington Ave. "I don't wanna be where my 22- and 25-year-old sons are at."
Williams said developers hope to open as soon as August. Burnett later said the project does not require a zoning change but still requires City Council approval to move forward.
Some residents said they were uneasy about a new music venue of this size coming to the neighborhood and worried how club owners would manage the crowds and noise. The venue would neighbor several apartment buildings.
"The police here can't stop people from breaking into cars in this neighborhood, so I know it's going to be hard for them to manage a club," one woman said.
Larger events would only be planned for daytime hours to prevent large, loud crowds at night, Williams said. He also said bringing businesses like an upscale music venue to the neighborhood will stabilize the area and decrease criminal activity.
"I can't tell you I can control everything, but I can say we can control what's around our perimeter," Williams said.
Burnett said he was unaware the venue could host up to 500 people until the meeting. He said he liked the idea of a club to add more activity to the area, but also worried about the size.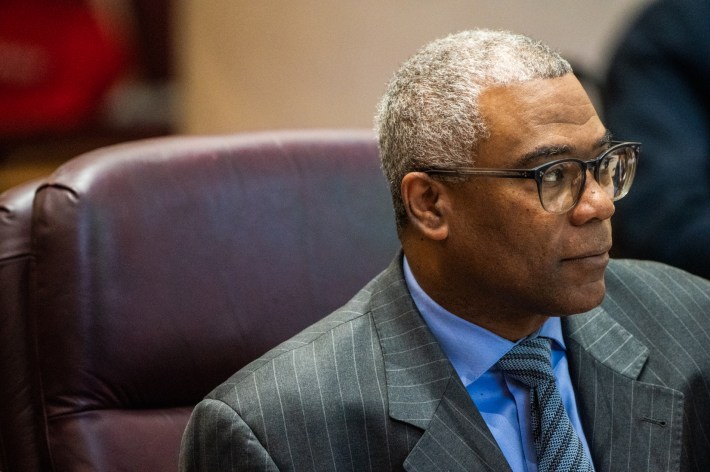 "Five hundred is a lot of people, man," Burnett told Williams. "With my experience with clubs, they start letting anyone come in at the expense of the community when they stop being profitable."
Burnett later told Block Club he's considering the proposal, but isn't fully on board yet.
Williams said he's committed to showing the music venue is a solid idea and can operate under a safe environment. He said developers would host more meetings with neighbors about their plans.
"Transparency is fundamental, as we openly share our operations and decision-making processes," Williams said. "Seeking community input and incorporating their ideas is vital, ensuring their voices are heard."
Listen to "It's All Good: A Block Club Chicago Podcast":