LINCOLN SQUARE — One of the Lincoln Square business owners facing complaints about loud, late-night parties, intoxicated customers and other disruptions is blaming another nearby business for the problems — but neighbors aren't buying it. 
Cafe Mimoza, 2625 W. Lawrence Ave., and Sandunga Bar and Grill, 2619 W. Lawrence Ave., have drawn backlash from neighbors who live in condos upstairs. Both businesses are advertised as restaurants, but residents previously told Block Club they seem to operate as nightclubs, blasting loud music well past midnight.
Neighbors said they've seen patrons fighting on the street, setting off fireworks and leaving broken bottles and trash on the sidewalk, among other problems.
City officials met with Cafe Mimoza's owner David E. Velis, neighbors and Ald. Andre Vasquez (40th) Thursday for the second time to try and resolve the longstanding issues.
The goal of the meeting was to "discuss the community's concerns with the licensee's business operation and discuss steps the business can take to ameliorate the concerns," business officials previously said in a statement.  
The city blocked reporters from Thursday's meeting, but Velis and his attorney, neighbors and Vasquez spoke to Block Club afterwards about what was discussed. 
Neighbors above Cafe Mimoza said the business does not have any posted hours, online presence or a listed phone number. It appears to open daily as a club instead of a restaurant, and the noise level is loudest from 1 a.m. to 3 a.m., they said.
Paula Borman, who lives above Cafe Mimoza, said the restaurant's jukebox and live music is so loud the vibrations sometimes shake her floors.
Velis disputes this and blamed all the noise and litter complaints on Sandunga, one storefront over. 
"Next to us is Sandunga, and they play live music. They have people in and out. And they stay after hours. And we know that," Velis said. 
Cafe Mimoza is a small six-table restaurant that doesn't have the room to host live music, Velis said. 
"I really believe the person complaining is mistaking us for the problems at that other restaurant, the business, that is next to us. Because I know for a fact that they're problematic, and we've had to quite a few times clean broken glasses and bottles from next door," Velis said. "They have live music, and like I stated in the meeting, we do not have a big enough place to do anything like that."
Neighbors who live above the business said they're not at all confused about the situation at Cafe Mimoza. They've seen people bring in alcohol from outside the business and heard loud music coming from the business late at night seven days a week.
"He's missing the entire point," Borman said. "Sandunga is a nuisance but [Velis] is running a bar he's not licensed to run. What Sandunga is doing really has nothing to do with this."
Another neighbor above Cafe Mimoza who asked for his name not to be used said Sandunga's issues are typically restricted to Friday and Saturday evenings.
"But the noise at Mimoza is very random. At 1 a.m. Monday, they'll start playing loud music and it's easy for us to go downstairs and see where the music is coming from, which we've done," the neighbor said. "They're completely questioning the community's intelligence by saying we're confused."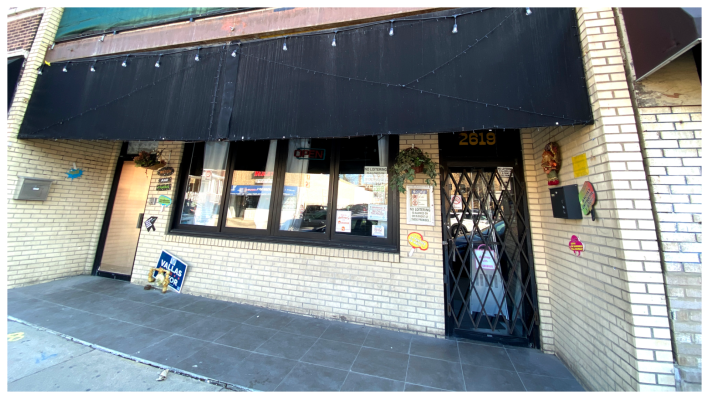 Sandunga's owner David Gomez denied Velis' assertions.
He told Block Club he's opening and closing earlier on the weekends, told his customers to be more respectful of neighbors, and removed speakers to reduce noise since his own meeting with neighbors and the business department last month. Now, Sandunga is open until 1:30 a.m. at the latest, instead of 2 a.m. Friday and 3 a.m. Saturday.
"I want to be worried about my business and not what Mimoza's saying about me, because obviously if somebody's hearing noise on a Monday or Tuesday, that's definitely not me because I'm not open then," Gomez said. "And if I am there those days in the afternoon, I'm there to clean and sanitize at the beginning of the week. We wouldn't be doing that at 2 a.m."
Police and business department records obtained under the Freedom of Information Act show officers were called to Cafe Mimoza 97 times between Feb. 28, 2019 and March 5, 2023. 
Of those calls, 57 were for a disturbance, two were about a person with a knife, one was for battery and one was a vice complaint, records show.
One complaint in April 2020 was about the business operating illegally during the ban on indoor dining.
"Caller states that this bar is open from 10 p.m. to 5 a.m. and they have the patrons in the basement but they used to be on the first floor," the complaint read.
A May 23, 2020 complaint was also about Cafe Mimoza violating the dine-in ban with people being served liquor inside. Business department officials couldn't get inside the building when they stopped by, records show. 
"It's like he's running his own man cave down there," Borman said. "The day after the first business department meeting, I saw someone pull up in a Honda Civic carrying a case of beer to go inside. It's pretty blatant and it definitely feels like Cafe Mimoza's owner can say whatever he wants and nothing is going to be done about it."
During Thursday's meeting, city officials gave Velis a to-do list before the next meeting June 22, including removing the signs and blackout curtains obstructing the front of the business and emailing city officials a copy of Cafe Mimoza's menu, neighbors and Velis said.
"We thought the business meeting went well, and the purpose is to resolve any issues. And the business, Cafe Mimoza, is open to and wants to resolve any issues and be a positive member of the community," Velis' attorney Eliot Jessop said.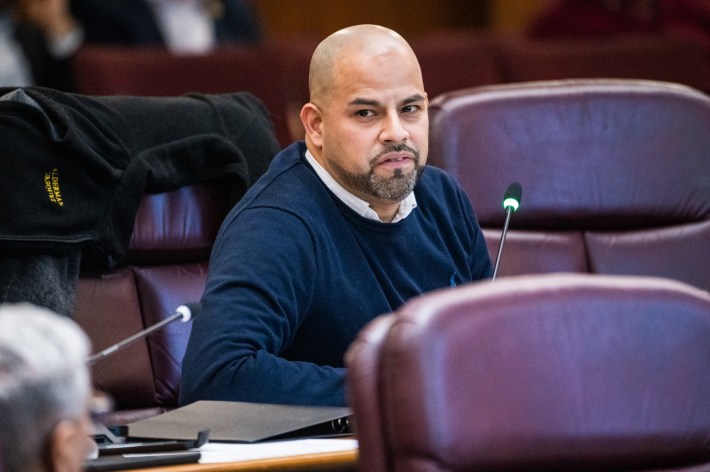 But two neighbors told Block Club they are concerned city officials aren't doing enough to scrutinize either business's operations to find out what's really going on.
Borman questioned why city officials didn't also ask for food or liquor sales receipts — because she doubts food is even being served.
"I also said very clearly in the meeting that I am confused as to why the burden of proof is on the neighbors to say that these people are a nuisance," Borman said. "Why isn't the burden of proof on him [Cafe Mimoza's owner] to prove that he is acting within his license?"
Vasquez said he is glad the signs blocking the windows are coming down to show what actually goes on inside the business, but agreed that evidence like sales receipts would be helpful.
"If there's more visibility into what's happening inside, will they [Cafe Mimoza] tighten up? I don't know," Vasquez said. "I do agree, though, that rather than asking for somebody to like send them a menu that you literally could just Photoshop up, having actual records of what you're receiving and selling would make more sense." 
A spokesperson from the business department didn't not return a request for comment.
Listen to "It's All Good: A Block Club Chicago Podcast":