BUCKTOWN — A coffee shop connected to a Bucktown catering company that focuses on fine dining is opening Saturday on Western Avenue.
Allez Cafe, 2241 N. Western Ave., is an extension of Ambrosia Foods, which was founded by former Alinea and Blackbird cook Jason Melamed in the early days of the pandemic.
Melamed moved Ambrosia's headquarters last year to the former Chay Fratellos in Bucktown with the hopes of also opening a coffee shop. He then partnered with Andrew Silaghi, who has worked in coffee shops in Chicago, Los Angeles and Romania, to launch the cafe.
The duo plan to offer a full espresso menu and other coffee drinks, handmade pastries, breakfast sandwiches and a rotating list of food options made in the Ambrosia kitchen. They also plan to offer the space to local chefs to host pop-up meals and events.
For Allez, Melamed and Silaghi have partnered with Evanston's Backlot Coffee to create a signature coffee bean blend. They also plan to source food ingredients from local farmers.
"We like to have intent behind what we're doing," Melamed said. "We just want to keep things very fresh and interesting. From a recipe standpoint, we want to interact with the local markets. We want to work with local producers for fruits and vegetables."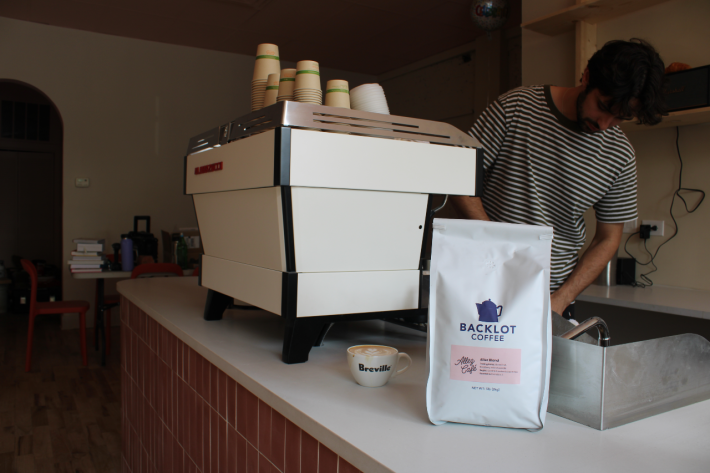 Opening a coffee shop has been a longtime dream for Melamed and Silaghi.
Silaghi first got interested in coffee when he was living in Romania as a teenager and the "third-wave" coffee movement was just arriving in the country, he said.
After helping a friend open a cafe in Los Angeles, he'd occasionally pick up barista shifts around Chicago, working with friends and keeping a connection to the industry, he said.
Silaghi said his main focus for Allez Cafe is to bring an attention to quality and detail for everything from the beans and milks they use to the exact science of extracting the perfect espresso shot.
Inspired by cafe culture in Romania, Silaghi hopes Allez will be a place where people put "down the laptop" and have conversations with friends or strangers, he said.
"I didn't want to be in a coffee shop where you're just pumping out 16-ounce iced lattes, filling up with vanilla sugar and you know, go do your work day," he said. "I just wanted to have some more delicate pastries. … And just do coffees how I would want to have my coffee served at a coffee shop."
Allez will also source some of its pastries from local providers, including croissants from Chicago-based Dan The Baker. Others items, like a cruller, will be made in-house, owners said.
Design studio Chicago Common created Allez Cafe's layout, which will include a few tables along the wall and a long communal table.
The shop also features a removable wall connecting it to Ambrosia Foods next door.
Melamed and Silaghi plan to offer both the kitchen and cafe to local chefs to host rotating pop-up dinners. The space should be able to seat 20 people, they said.
"There's a lot of chefs in the city who do pop-ups and don't really have a home for them. They're amazing cooks, but they have to find a new venue all the time," Melamed said. "I want this space to be available for them to host their own thing."
Melamed also plans to launch a brunch service on Sundays starting later this summer.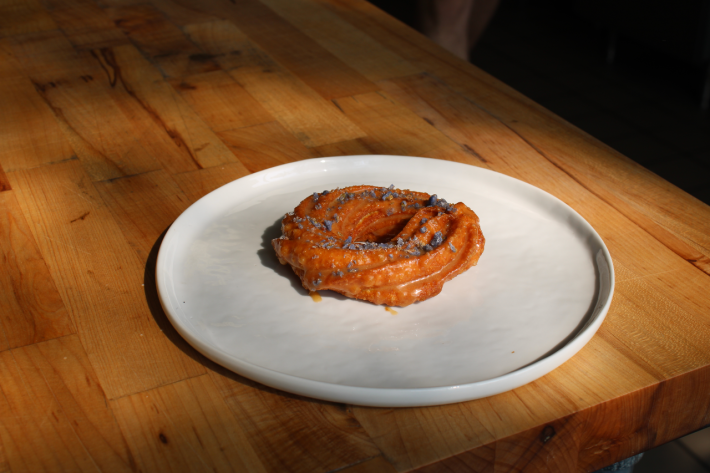 Silaghi and Melamed hope Allez and Ambrosia will become a staple of the Bucktown and Chicago food communities. They said they're inspired by the mantra that at great restaurants, people aren't customers, but guests.
"Whether that's sipping a latte on a sunny day, having a nice pastry or coming for a seven-course meal cooked by some of the best chefs in the city, I really want it to feel like a welcoming place," Melamed said.
Allez Cafe will be open initially 8 a.m.-2 p.m. Wednesday-Sunday, but Melamed and Silaghi said they could expand to seven days a week later this summer.
Listen to "It's All Good: A Block Club Chicago Podcast":