LINCOLN SQUARE — Swedish Hospital overhauled and unveiled a community garden, planting a variety of produce to help employees and neighbors eat healthier.
The newly redone community garden at the southwest corner of Carmen and California is nicknamed "The Farm" and is just across the street from the hospital's campus. It previously was home to the Peterson Garden Project, which closed last year.
Employees got the idea for redoing the garden after a survey last year asked workers about their access to food. Thirty-five percent of respondents said they experienced food insecurity at some point over the past year.
AK Kritt, the hospital's community nutrition coordinator, led a group of workers to till the soil after their shifts Tuesday afternoon, planting tomatoes, peppers, basil and other crops to start the summer growing season. 
"We know that food insecurity among hospital employees is pretty high because it's an industry where there's all different levels of working from hourly low-wage jobs to specialized salaried positions," Kritt said. "A hospital is kind of a microcosm of different levels of working and salaries, so the needs vary greatly for people who are working here."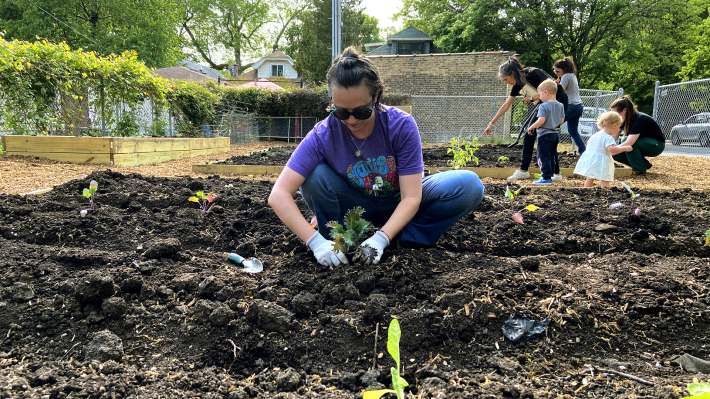 A 2022 study by the Greater Chicago Food Depository found food prices rose dramatically in the first half of 2020 after remaining about the same for a decade.
Several factors are driving up costs, including inflation and more expensive fuel, labor and food production due in part to pandemic supply chain disruptions and the Russian invasion of Ukraine, researchers said. 
"As food prices rise, the amount of food a family can purchase with its monthly food budget goes down," researchers wrote. "Families coping with reduced purchasing power may stretch their food budget by purchasing lower-cost foods, which are sometimes lower in nutritional quality; decreasing portion sizes; or skipping meals to stretch their food budget."
Hospital leaders decided to provide staff a community garden and realized the former Peterson Garden Project space was available, Kritt said. 
Peterson Garden Project founder LaManda Joy said the organization disbanded because of pandemic disruptions and the difficulties in securing funding for the nonprofit.
"When we started the Peterson Garden Project, it was an education project to teach people how to grow their own food. It wasn't about long-term garden management," Joy said. "I think Swedish taking this over is a really great step in the evolution of these gardens that are in the hands of the communities."
Hospital staff worked with Star Farm Chicago to refresh the layout of the garden over the past few weeks, Kritt said. 
This involved building a pergola to house the garden's produce wash station, creating a composting station and building larger raised beds to maximize the space available to grow food, Kritt said. 
"The seedlings and seeds were also donated from Star Farm. We're planting their leftover starts, which is a mixture of tomatoes, some greens, peppers, eggplant, and from seed we have a bunch of beans and chives and cilantro," she said. "It's a good mix." 
Swedish staff who want to help can complete a short training on how to safely garden and harvest produce, Kritt said.
"From my experience, a lot of employees just don't have a lot of time. They almost live at the hospital," said Melissa Schleicher-Park, a wellbeing specialist. "Having a place like this for them to either come and just hang out, or grab some produce because they don't feel like stopping at the grocery store on the way home because they're too tired feels very supportive."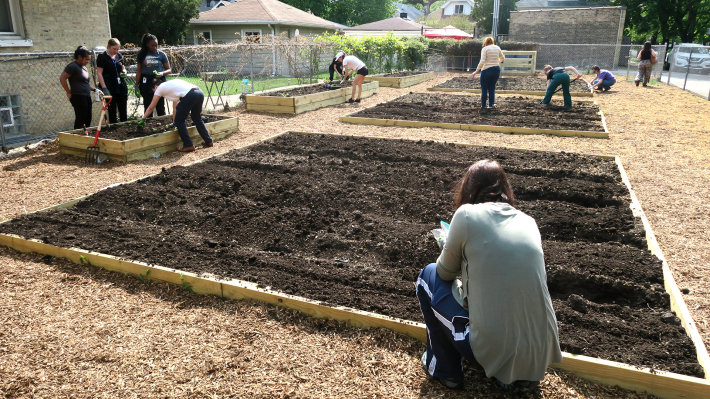 Excess produce from The Farm will be harvested and used to help stock The Cupboards, the hospital's no-questions-asked food pantry program at the Galter Medical Pavilion lobby for neighbors, as well as the staff-only pantry in its employee health department, Schleicher-Park said. 
"We'll be having more planting and weeding days with employees from the hospital and doing some education out here with community groups and kids," Kritt said. 
Anyone who wants to donate seeds, seedlings, fertilizer, soil, tools or other garden supplies can email Kritt at foodconnections@schosp.org.
"And we have such a high diversity of cultures around here, so doing some smaller heirloom varieties and types would be amazing. We have a pretty good amount of space here, so I would take anything," Kritt said. 
Listen to "It's All Good: A Block Club Chicago Podcast":