FULTON MARKET — A plan to build two skyscrapers in Fulton Market received key city approval Thursday.
The two-phase development by Sterling Bay would bring a 515-foot and a 418-foot building taking over the 1300 block of West Carroll Avenue, the former site of the Archer Daniels Wheat Mill. In total, both towers would bring 741 apartments to the neighborhood.
The Chicago Plan Commission signed off on the proposal, sending it to the City Council's Committee on Zoning for review. Commissioners also approved the designs for the first phase of the project.
Despite pleas from preservationists to preserve and reuse the 124-year-old structure, the site was scraped clean in 2021. Sterling Bay bought it in 2020 for $25 million.
The first phase of the proposal would feature a 39-story building with office space and parking on the first nine floors and apartments on the 12th through 38th floors. The tower would have 361 apartments — 72 affordable — and 249 parking spaces, officials said.
Terraces for office tenants would be built on every floor, and there'd be a rooftop terrace for residents, developers said.
Also included in that phase would be a pocket park and a plaza totaling 35,172 square feet of open space, according to Sterling Bay.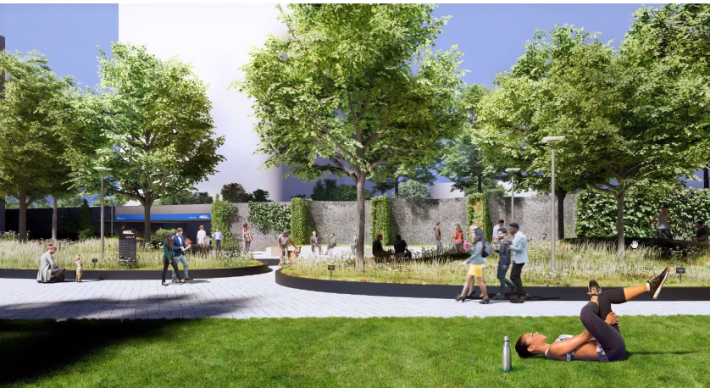 No design has been released for the project's second phase, but it is expected to include about 380 units and 149 parking spots. It's not clear if those will be apartments or condos.
Sterling Bay also will pay $4.2 million into the Neighborhood Opportunity Fund, which allows developers to pay in exchange for building denser projects.
The project is estimated to create 1,000 construction jobs, according to Sterling Bay
If the plan is approved by City Council, Sterling Bay plans to break ground near the end of this year. Construction for the first phase could take about two years.
Listen to "It's All Good: A Block Club Chicago Podcast":