CHICAGO — Sammy Schneider and Emily Wilson have been biking in the city for years, but they found the streets and bike groups are often dominated by men.
That's why the pair founded Femmes + Themmes, a safe space for women, femme, non-binary and trans Chicagoans to bike together.
"It's me and one other woman on most of the rides that I've been on," Schneider said. "I feel like biking is less accessible the current way the streets are designed for women. Women tend to be more cautious people, and, honestly, the streets are pretty dangerous."
Earlier this month, Schneider asked her femme friends on Twitter if they wanted to go for a bike ride, saying she "desperately" needed a femme community in her life. She received such a positive response that she created Femmes + Themmes the next day. More than 50 people came together for the first Femmes + Themmes social bike ride May 6.
The group rode more than 30 miles for the first ride, starting and ending at Uptown Bikes, 4653 N. Broadway. There were stops along the way, including a lunch break at ERIS Brewery and Cider House, 4240 W. Irving Park Road.
Each stop at a local business — all owned by women, trans and non-binary Chicagoans — also was a dropoff point for riders to break away from the group if they wanted to go a shorter distance.
Femmes + Themmes plans to host rides similar rides on the first Saturday of every month. The next one is June 3, just in time for Pride Month.
If you have any questions, you can reach out to the group via email at femmesthemmesbikechi@gmail.com. You can also find them on Twitter, Instagram and Facebook.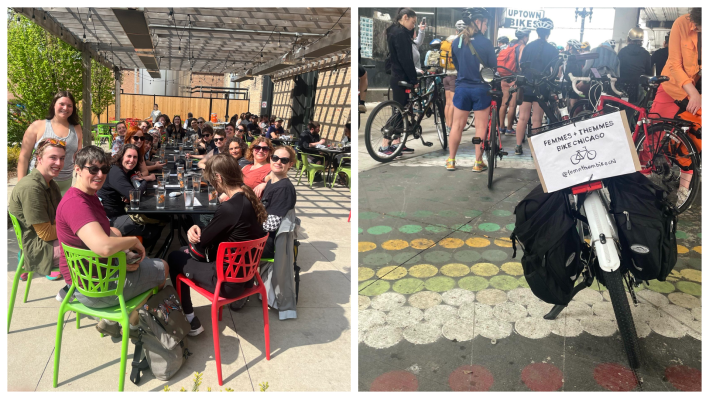 Femmes + Themmes is meant to be an accessible and empowering space for women, femme, non-binary and trans riders of all levels in an otherwise male-dominated activity, the co-founders said.
The group's name is a nod to the inclusive community Schneider found as a dancer, as well as a play on they/them pronouns.
Schneider and Wilson met through Bike Grid Now, a grassroots advocacy and action network formed in 2022 that calls for safer streets for bicyclists.
After talking with friends, the duo realized they could start their own cycling group with their connections with other bicyclists and bike groups.
"I had the resources to kind of make this happen quickly," said Schneider, 27. "Being an organizer for [Bike Grid Now] has really empowered me and given me the tools that I feel like I need to do this kind of stuff and lead another group."
Down the line, the group could evolve into advocating for better biking infrastructure and safer streets, Schneider and Wilson said. For now, it is focused on creating a safe and inclusive space to enjoy the activity.
"There's no pressure, there's no seriousness to it in a way," said Wilson, 25. "It becomes a more happy, open, joyful space where we can just all exist and be on our bikes and be spreading that feeling to other people around us."
For the first Femmes + Themmes ride, the group rode 10-12 mph. They spent the first part entirely on trails, which is great for anyone who isn't comfortable riding on the roads, the co-founders said. For some riders, it was their first time biking over 30 miles or joining a group ride, Schneider said.
"My friend actually has been hit by a car on her bike, and so she's nervous biking in the street," Schneider said. "She joined us on the trail portion, and she was like, 'You know, with that many people, I might feel comfortable leaving the trail next time and going with you.'"
Wilson said the group's energy was "invigorating" by the end of the day.
"That joy spreads so infectiously that I think even that is a tool of protest in a way," Wilson said. "Just being out and being seen in a group and spreading a really positive atmosphere."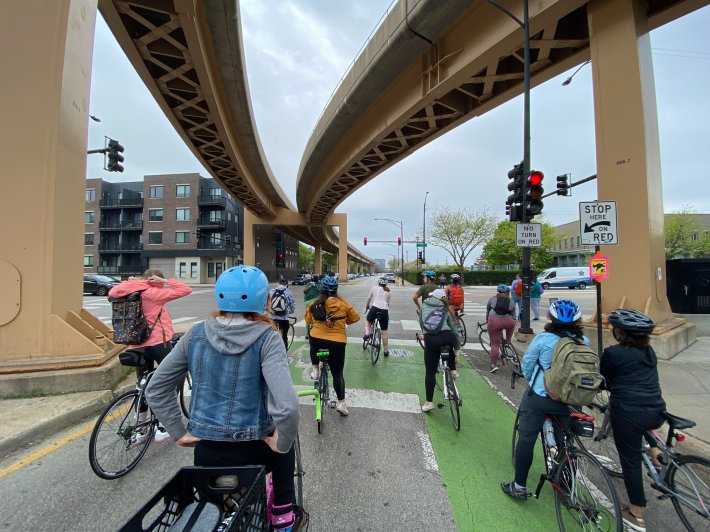 Schneider and Wilson hope bicyclists gain confidence through Femmes + Themmes and become leaders within the group and bicycling community.
"A huge goal of mine with this group is that I want to create this space where women and trans and non-binary folks can become leaders in the bike community and really be able to start their own spinoff groups, and be able to plan a route, be able to figure out a safe way to get around the streets by doing these rides," Schneider said.
About 25 group members are interested in organizing future events, the co-founders said.
"Whatever they want to really organize, we'll help give them the tools to do, and we're excited to see what ideas they have," Schneider said.
The duo also hopes to see more woman, femme, non-binary and trans bikers on the streets.
"I really hope that this empowers a lot more people to get out and use their bikes, to get around, to get to work," Wilson said. "The rides are a great tool to get people comfortable and to give people community, but I hope that we see the amount of female and non-binary riders increasing."
Listen to "It's All Good: A Block Club Chicago Podcast":