PORTAGE PARK — A new gelato and drink cafe is bringing Italian treats and a relaxing atmosphere to Portage Park, just in time for warmer weather.
Ciao Ciao Gelato & Cafe, opening this weekend at 5355 W. Irving Park Road, aims to liven up the Portage Park corner and be a spot where visitors feel welcome, said co-owner Marco Alt.
"I want people to feel like [they're] home — they come here, chill, sit down, watch a game, eat gelato and relax with kids and family," said Alt, who lives in nearby Norridge.
Ciao Ciao Gelato & Cafe boasts 46 gelato flavors, all of which are made by Alt and his business partner, both natives of Italy. Flavors include salted caramel, pistachio, strawberry shortcake and double chocolate.
The cafe will sell typical Italian coffee drinks like cappuccini, macchiati, lattes and espressos, as well as milkshakes and teas. Mini pancakes, breakfast snacks like bagels and local Italian pastries will also be on the menu, Alt said.
"The mini pancakes are going to be fire. They come in white chocolate, Nutella or Kinder Nutella, and we'll have the best milkshakes you'll ever have," he said.
Ciao Ciao Gelato & Cafe's grand opening is noon Sunday and will feature a DJ spinning popular Disney songs for children.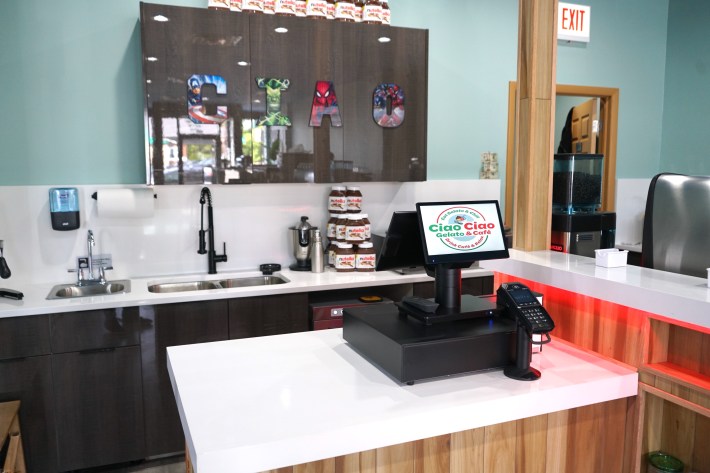 Alt hopes his business brings more people to the neighborhood, especially with its proximity to the park and other local businesses. Akin to a traditional Italian cafe, the shop is a place to have "meaningful interactions and thoughtful social exchanges," he said.
The shop's tagline is simple: Eat gelato and chill.
"In this place, you will enjoy heavenly desserts with an amazing cup of coffee after a good meal or a relaxing walk," Alt said.
Alt was raised in Palermo, Sicily, and worked at a gelato shop for seven years in Florence with some of his family. He then worked at a leather shop before moving to the Chicago area with his wife, whom he met while she was visiting Italy, he said.
After moving to the United States in 2015, Alt kept thinking about his time working at the gelateria in Florence. He'd long wanted to open up his own shop, so when the Portage Park storefront became available and he found a business partner, he decided it was time.
The spot used to be DanceRoom Chicago, a dance studio that moved out last year. Alt took over the space at the beginning of the year and has been busy renovating the storefront. He replaced the floors and ceiling, painted the walls and moved the bathroom, he said.
The cafe's interior features Marvel Comics-themed signs, tables, a couch and a mix of Italian and Chicago artwork. Alt is adding finishing touches like menu signs, gelato cups and cones.
Alt said he also plans to install a sidewalk patio with two TVs for customers to hang out and watch sports shows and games.
Hiring people from the neighborhood is a priority for Alt. He and his business partner have received hundreds of job applications, and they want to make sure to give employment opportunities to students and people new to the foodservice industry, he said.
Marilyn Jimenez, who lives a few blocks away, is the shop's first employee. Jimenez has worked in restaurants but said she's long wanted to work at a cafe — even better, one that serves high-quality gelato.
"It's been my dream to work in a cafe with many sweet treats," Jimenez said. "In the summer it's going to be a great family spot. It feels like a vacation, but it's close to home."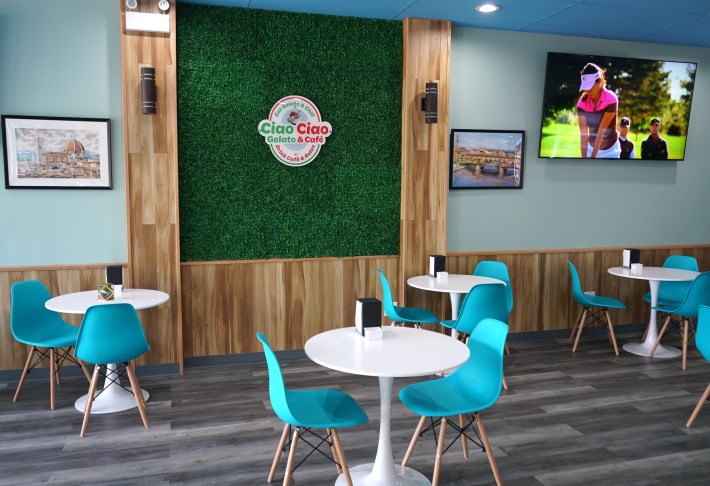 When asked about his favorite gelato flavors, Alt looked at the freezer line and quickly pointed to two of the most colorful flavors.
"Pistachio and Cookie Monster," Alt said. "I know it's for kids, but it's really good."
Ciao Ciao Gelato & Cafe will be open 7 a.m.-midnight daily after its opening weekend.
Listen to "It's All Good: A Block Club Chicago Podcast":