CHINATOWN — Ald. Nicole Lee (11th) had to battle to keep her City Council seat.
The city's first Chinese-American alderwoman, appointed in early 2022, went into the election with a year's worth of experience and backing from the powerful Daley family. But challenger Anthony Ciaravino unexpectedly forced a runoff, casting Lee as a cronyism pick doing former Mayor Lori Lightfoot's bidding.
Lee and Ciaravino secured 31 and 29 percent of votes in the Feb. 28 election, raising the possibility the city's first Asian-majority ward would not have an Asian representative.
But Lee easily won the April 4 runoff to keep her seat, taking 62 percent of the vote. She was sworn in alongside the Mayor Brandon Johnson and the new City Council on Monday.
"We're transitioning out of one administration into a new one, and this is this will be yet another first for me," Lee said in a recent interview. "Experiencing what it's like to be elected for my first official term, trying to get a look at how the sausage is made to get to get the City Council up and running under a new administration — it's going to be interesting."
Lee spent her first year as alderwoman laser-focused on uniting the ward, which encompasses parts of Chinatown, Bridgeport and Armour Square, she said. Her goals were to build rapport with old-school residents and new transplants, she said.
Making herself visible in a community was also important for the Whitney Young alumna. When a Black-owned business was targeted in January, the alderwoman sprung into action, reaching out to residents to help keep a watchful eye while amplifying the owner's crowdsourcing campaign.
Lee said she wants to continue that work in her first full term. She also has plans to get neighbors more involved in ward government, boost business along Halsted Street and bring the Near South Side high school to fruition.
The $150 million project has been controversial, with Chinatown and Bronzeville organizers uniting to oppose building it on former public housing land. Lee has continued to support it as part of her mission to deliver Chinatown its own neighborhood high school.
As the mother of two enters her first full term as leader of a ward known for its kingmaking, she told Block Club she's "ready to roll up her sleeves."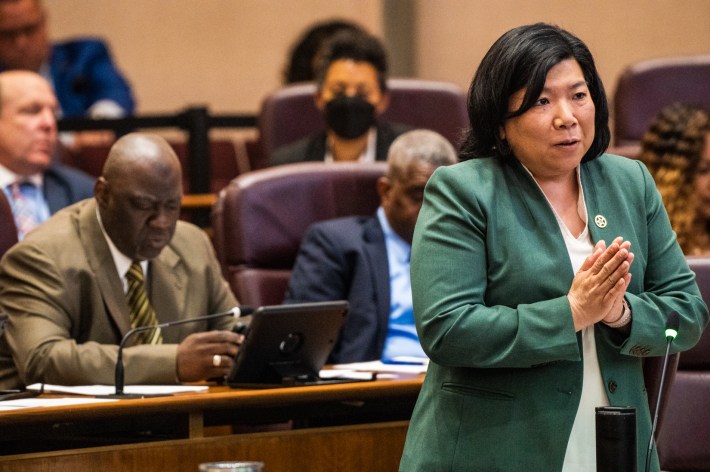 Ramova Theater, A New High School And An Economic Boost For Halsted Street
Lee took over for former Ald. Patrick Daley Thompson, who was forced to resign following his conviction for income tax fraud and lying to federal investigators.
The City Council unanimously confirmed Lee's appointment, making her the second Asian American to serve on City Council — following former Ald. Ameya Pawar (47th) — and the first Asian American woman.
Lee has deep roots in Chinatown, as multiple generations of her family have lived in a building her grandparents bought. She attended Whitney Young and Indiana University.
Before joining City Council, Lee spent a decade in consulting and finance, working for Premier Bank, BP America and groups like the Chinese Mutual Aid Association, according to her bio.
Lee then worked for United Airlines from 2008 until her appointment as alderperson.
RELATED: Who Is Nicole Lee? 11th Ward Alderman Pick Has Background In Corporate Giving, Chinese-American Organizing And Oil Consulting
The Lee family's ties to the Daleys also go back years.
The alderwoman's father, Gene Lee, was a high-level aide to former Mayor Richard M. Daley. He was convicted in 2014 on an embezzlement charge unrelated to his previous public role.
Richard M. Daley and Cook County Commissioner John Daley endorsed Lee in February and hosted a fundraiser to support her bid for office.
Lee backed former CPS CEO Paul Vallas in the mayor's race but said she's spoken with Mayor Brandon Johnson and her neighbors about working with the new administration.
The new mayor shouldn't expect "carte blanche" treatment, Lee said, adding she trusts she and her fellow alderpeople will find "points of intersection to find common ground."
"My chosen candidate didn't win, but I've had the opportunity to speak with [Johnson] a couple of times, and they've been good conversations.," Lee said. "I've talked to constituents who have their concerns, and I've told them that I want the new mayor to be successful because that means we're going to be successful as a city."
Participatory budgeting is on Lee's to-do list, she said. Lee plans to implement it in phases, beginning with the assembly of a committee made up of ward residents. She aims to have it up and running next year, she said.
"We plan on soliciting people from the community who are interested in sitting on the committee, and I want to make sure that we have representation from every neighborhood in the ward so that we can begin to shape what the process will look like," Lee said.
Economic development is another agenda item the alderwoman plans to tackle, with an eye on the Halsted Street corridor. Noting that her opponent referred to it as "deplorable," Lee said she sees an opportunity to turn things around given enough time and research. It's also a matter of engaging the right people, Lee said.
One big feather in the alderwoman's cap is the restoration of the beloved Ramova Theater, which was closed for 30 years. The $30 million project will transform the 1929 movie house on Halsted Street into an entertainment complex with a concert venue, restaurant and brewery, along with event space.
Work on the building is set to wrap up by late summer or early fall.
With the new ward boundaries in place, Lee said she will look to the community for input to decide which businesses will go where.
"I want to know what they always wanted, what they'd like to have and how do we get it," Lee said. "We'd kind of work backwards from there while looking at things from a density perspective.
"'What do we need to do to really make ourselves attractive to people who would be investing in businesses and opening up here?' If we don't have the density to support that, they're going to open and then they'll close,."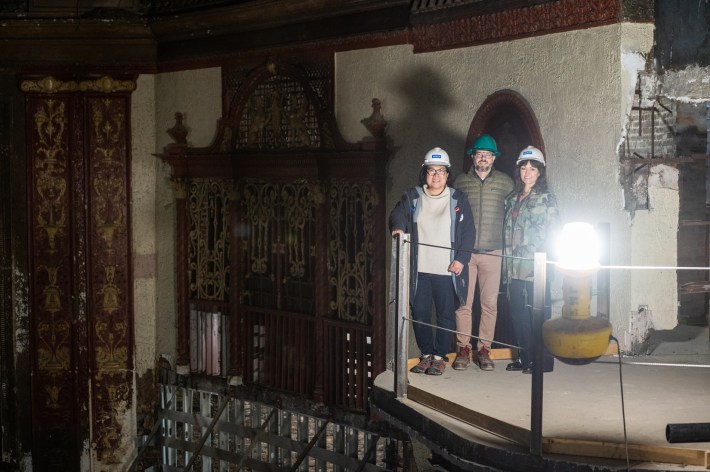 And, of course, Lee is prioritizing the proposed Near South Side high school.
After years of advocacy, including $50 million set aside in state funds, plans for the school moved forward last summer when Chicago Public Schools earmarked $70 million in its capital budget for the school.
"I feel like we're so much closer than we've ever been. … I can see a light at the end of the tunnel," Lee said at the time. "It's a pretty complicated needle to thread with just balancing the needs of the students that are in this region. We've got tons of great elementary schools, but it's a bit of a neighborhood high school desert."
But the project has been mired in controversy since CPS and the Chicago Housing Authority agreed to use a part of the former Harold Ickes Homes as the location. Early proponents like Rep. Theresa Mah withdrew support after accusing school officials and city leaders of not engaging the community in good faith. Activists pushed leaders to find another site.
The project was supposed to cost $120 million, but the price tag has climbed to $150 million.
The Chicago Board of Education could make the final call on the school next month.
While the plan has faced opposition, Lee is still optimistic officials will reach a compromise, she said.
"Let's give it a chance," Lee said. "If we're already making up our minds about what it's going to be before one brick has even been laid for this school, we're not going to have a chance.
"You're trying to create a self-fulfilling prophecy. That's not the prophecy I'd like to see happen. We've got to have faith in each other, we have to raise our voices in the Asian-American community and participate in the process."
Listen to "It's All Good: A Block Club Chicago Podcast":