MORGAN PARK — Miguel Angel Velasco does not like to smile for photos. During an eight-month journey from his hometown of San Cristobal in Venezuela, his front teeth were knocked out by cartel members in Mexico. 
"I thought they were going to kill me," he said in Spanish. 
But on Monday, when the camera was not pointing Velasco's way, he smiled readily and often as he dug hands and trowel into the dirt at the Edna White Community Garden, 1812 W. Monterey Ave. It was a welcome reprieve from being cooped up inside at the 22nd Police District station where he and his wife, Mayerlin Villasmil Arroyo, have slept for the past 13 days as they wait for permanent housing.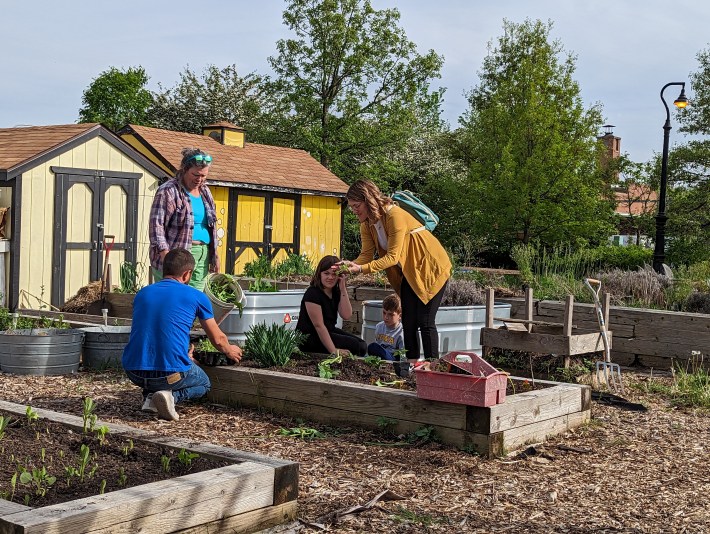 Velasco and Arroyo are among more than 8,500 migrants who have come to Chicago in what local leaders have called a humanitarian crisis. With shelters overburdened, hundreds of migrants are sleeping in police stations and other temporary sites while the city converts park buildings, schools and other locations into respite centers.
Chicagoans have rallied to provide basic necessities and warm meals for the new residents, but organizers at the Far South Side garden felt they could also help migrants get a breath of fresh air and maybe make friends.
Kathy Figel, who directs the garden, connected with Tim Noonan, who leads 19th Ward Mutual Aid and has organized neighbors who want to help migrants in need. Together, Noonan and Figel decided to welcome migrants into the space last week, offering them the garden space to relax. 
Kids played and ran around with friendly neighborhood dogs, but several of the men insisted on keeping their hands busy. Soon, they took up tools and began clearing weeds and planting vegetables and herbs. In the evening, organizers and volunteers shared pizza. 
"I just know how much your hands in the dirt is healing," Figel said. "Mother Nature is what we all have in common. We can speak through plants. … We'd talk about some things in the garden, and then they'd teach me about something that they knew about a plant that they recognized.
"So we didn't speak the same language, but you do when you have animals and plants around you." 
One migrant from Caracas, who asked that his name not be used, said it's a relief to have something else to do during the day.
"We're people of routine and work," the man said. "Nothing is more common. One of the things that these guys in particular [need] is to stay busy and do something. In the little time we have free, it is much better than being shut up in the station, more productive."
The man and his wife have been at the station for 11 days after traveling for nearly two months from Venezuela. They left behind their son and mother in Colombia with plans to send for them when they are more established.
"The benefits of this [garden] are that it helps distract our minds and organize our thoughts," he said.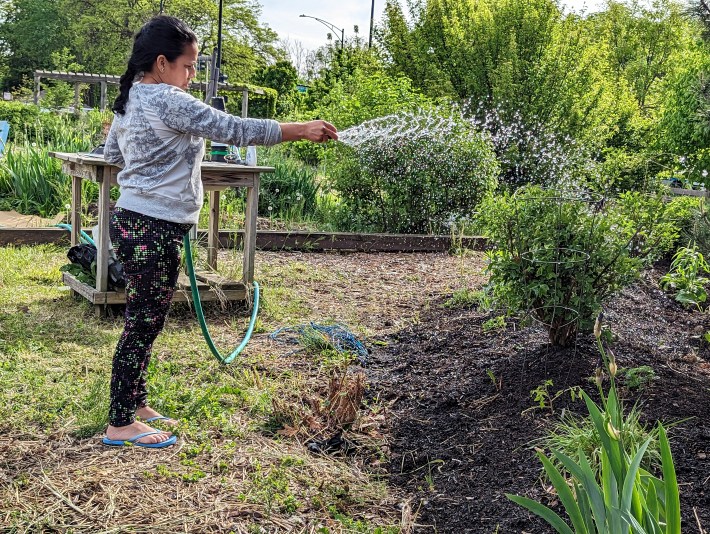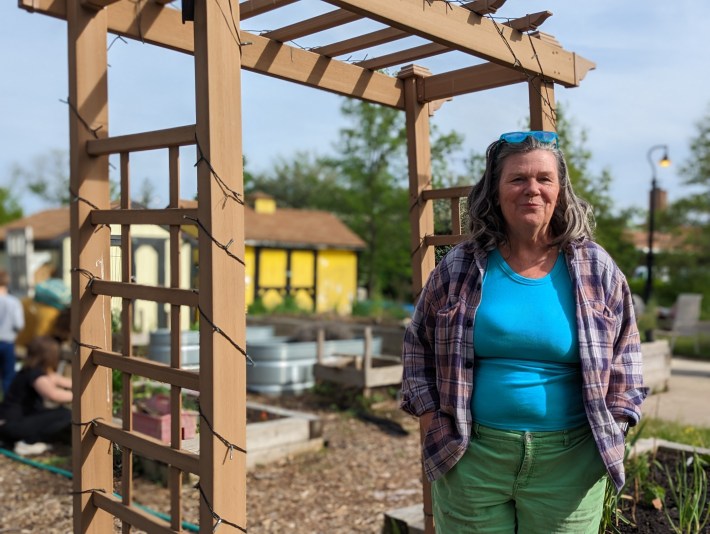 The community garden is across Esmond Street from the police station, which makes volunteering convenient. Migrants do not want to venture too far from the station because they could miss the bus that would take them to more permanent shelters, organizers said.
"If they're not there [when the bus arrives], they lose their spot," Noonan said. "There's no rhyme or reason to when these buses drop off and pick up." 
Working side by side, Figel, who speaks English, and the mostly Spanish- and Portuguese-speaking refugees have had only a few issues due to language differences, Figel said.
"When I gave them tools and said 'garden' and then I walked away, they clear-cut it," Figel said, laughing. 
Later, when Figel told volunteers she could get a saw to help cut the roots of a small tree, "they just started hacking at it," she said.
"All of their frustration and anger was coming out on the tree, and I thought, 'Hey, that's healthy.' When I work with kids, it's the same thing. I'm like, 'Go ahead; make that your enemy.' Put it into the Earth, because the Earth can take it and give you back peace," Figel said.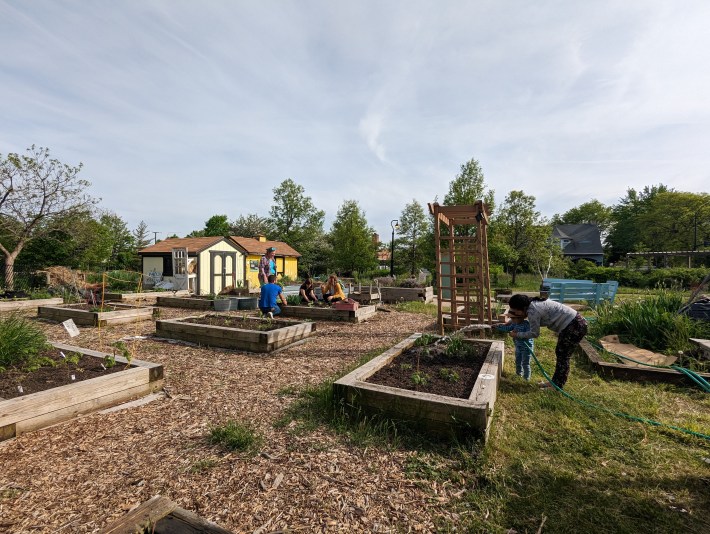 Beyond a chance to get out of the station and stay busy, the garden has helped the new arrivals build connections and begin to put down roots in the community they hope to call home. 
When the migrant from Caracas sees Figel, they greet each other with big smiles and hugs. When talking about the garden, he shows a sense of pride and dedication to the place. He looks around the grounds and points out what still needs to be done. 
"This is a gift from us migrants for the people here who have helped us," the man said. "The important thing is to share. That is our strength."
Valesco, who worked odd jobs in construction and gardening, and Arroyo, a former schoolteacher, have taken quickly to the garden. Valesco works quickly with a trowel, digging and planting in two swift motions and directing other volunteers on what to do with the seedlings. Arroyo speaks soothingly in Spanish as she helps neighborhood kids water the plants. 
"We do not know anyone here," Velasco said. He paused, looked around and gestured at Figel and a fellow migrant. "Now we do. Now, we have community." 
As of Saturday afternoon, all but eight of the migrants sheltering at the 22nd district station were moved to housing at Piotrowski Park in Pilsen and Leone Beach Park in Rogers Park, Noonan said.
Valesco, Arroyo and the third migrant were still staying at the police station as of Tuesday and continue volunteering at the garden. 
Listen to "It's All Good: A Block Club Chicago Podcast":