CHICAGO — The resignation of former Supt. David Brown has launched the largest test yet for the Community Commission of Public Safety and Accountability: finding the next police superintendent.
The interim commission — led by seven Chicagoans picked by Mayor Lori Lightfoot — has 120 days from Brown's March resignation to conduct a nationwide search, said its president, Anthony Driver.
The commission will select three finalists by July 14 to present to Mayor Brandon Johnson, who can make a pick or throw out the list and ask for a new one, Driver said. The mayor's candidate must be confirmed by the City Council.
The new civilian-led commission comes after an organizing effort by community activists and police reformists, who lumbered through a compromise with city leadership to pass an ordinance creating the board after mass protests when Minneapolis police murdered George Floyd.
Applications for the job closed May 7 — and the commission has a "healthy pool" of 53 candidates from across the United States, Driver said. The commission has unsealed applications and is determining who will get interviews, Driver said.
The commission is not releasing the names of applicants to protect their safety and privacy, Driver said. But six have experience as a police chief in another major city, and 32 have been affiliated with the Chicago Police Department, Driver said at a news conference last week.
Interest in the superintendent job has more than doubled since the position was last open three years ago, Driver said. It's the largest pool of applicants in at least two decades, Driver said.
"I think this shows that people are buying in and seeing that this is a new, independent process that will evaluate everyone fairly," Driver said. "That's at least my hope."
A Search For 'Someone Who Cares'
While the power to choose the next superintendent still falls to the mayor and City Council, Driver has promised the commission will elevate public feedback while maintaining distance from political influence.
"We're going to lead the most transparent search for a high-ranking official in this city's history," Driver said. "Nobody is giving us orders while we do it."
The commission has already appointed two members to the police board, which is involved with officer discipline; advocated against the department's controversial "gang database;" plans to set goals and evaluations for the Civilian Office Of Police Accountability, which investigates officer misconduct; and has conducted an inquiry into canceled officer days off, Driver said.
Now, the "stakes are high" to get the superintendent pick right, with debates around policing "more binary than ever," Driver said. Communities have long been battered by racial injustices in policing and have broken trust in their officers, who often feel overworked and under-appreciated, Driver said.
Driver, a labor lobbyist by day with ties to the movement that elected Johnson, said he hopes the commission can strike a balance and find a leader who will mend fences while reforming the Police Department's "culture problem."
"The system is racist and needs to be dealt with, and that starts at the top with the superintendent," Driver said.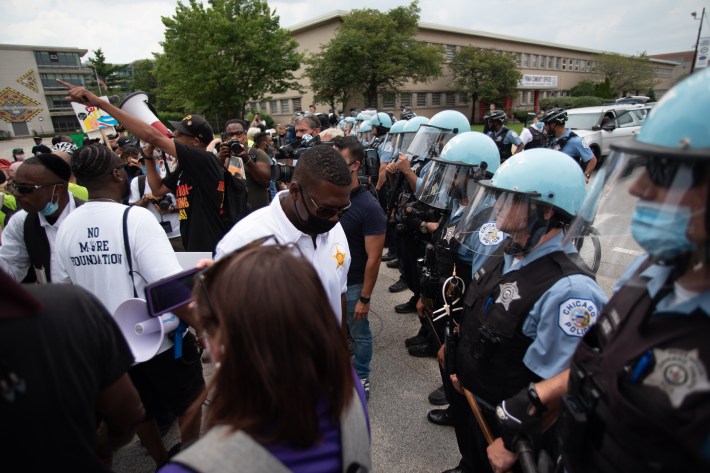 Drive said he's no stranger to the "best and worst of policing."
Driver's been pulled over and profiled by police and has lost more than 20 friends and family members to gun violence, he said. But he's also been on ride-alongs and seen officers do "heroic things," like run into a home to save an armed man with suicidal ideations, he said.
"It was very humanizing," Driver said. "I hear from officers that they're treated like cattle. They feel the last superintendent didn't have their backs. A lot of them feel disrespected, burned out and stressed out, which makes all of us unsafe."
Driver was robbed at gunpoint leaving work in January, which he said was a wake-up call on how the department deals with victims of violence.
"People who've interacted with the police tell me they feel like they weren't very important or that it was a lackadaisical response," Driver said. "There needs to be adequate resources and response times."
There isn't a "fully formed picture yet" of what the city's next police chief should look like, but Driver said he's starting to get an idea.
"Everybody just wants someone who cares," Driver said. "The sweet spot is people being treated fairly and our communities being policed in a way they feel respected.
"I don't know if it's possible, but we're going to try to bring people together."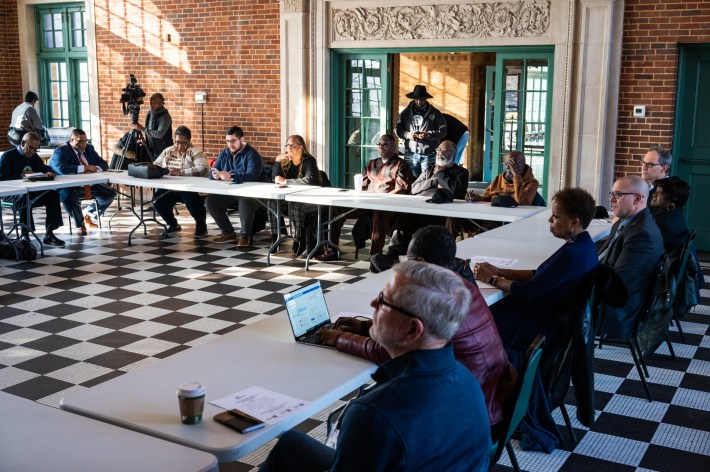 Community-Driven Process
The commission has been hosting community forums across the city to ask Chicagoans what they are looking for in a superintendent. The next and final meeting is 6-8 p.m. Monday at the Beverly Arts Center, 2407 W. 111th St.
At a virtual hearing in April, about 40 people, from activists and teachers to pastors and parents of victims of gun violence, took turns speaking to Driver. Many voiced their desire for a candidate already inside the Police Department who can regain the trust of rank-and-file officers, close more cases, work with community violence interrupters and reprimand officers with white supremacist ties.
Driver also plans to invite more than 40 local groups and 75 experts in policing nationwide for table talks at the commission's Downtown office, he said. Those conversations started last week, Driver said.
"We're going to be doing a lot of listening," Driver said. "I like to ask people, 'What would you ask the next superintendent?'"
"Subject-matter experts" include retired police officials, aldermen, former police chiefs from across the country and people with experience meeting consent decrees, a series of reform guidelines the Police Department has struggled to meet since the police murder of Laquan McDonald, Driver said.
Community organizations meeting with the commission include local religious leadership, housing and social service providers, labor organizers, anti-violence workers, legal defense groups and police unions, Driver said.
Ald. Chris Taliaferro (29th), who helped pass the ordinance that created the commission, said the selection process is "not much different" from past superintendent searches, which involved the police board conducting a nationwide search and picking finalists for the mayor's consideration.
"The difference now is we have community buy-in and chances to put this process out to the public," said Taliaferro, a 23-year veteran of the Police Department. "It gives greater credibility and is a step towards building bridges over mistrust between the police and the public."
Former Inspector General Joe Ferguson said the reimagined superintendent search could be a greater referendum on the city's Democratic Machine, which has persisted through appointments of top officials handed down by the mayor.
"The more this commission can be accounted for in the public record, the better. There needs to be cleared, documented milestones so people know this is not being done in the Chicago way," Ferguson said. "Only then can we say that this is the new Chicago."
But past mayors have used their authority to sidestep the selection process. Mayor Rahm Emanuel picked Eddie Johnson, who didn't apply and was not one of the selected finalists. Mayor Lori Lightfoot pulled in David Brown.
Driver said he's known MayorJohnson for many years and has spoken to him just once after his election, with Johnson promising to "not put his thumb on the scale."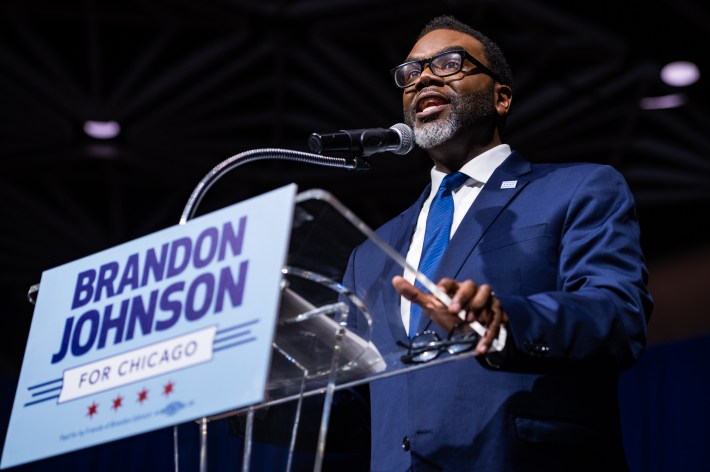 Ald. Desmon Yancy (5th), who previously organized to pass the ordinance, said it would be "a bad move politically" for Johnson to circumvent the process, given his connection to organizations — like the Chicago Teachers Union — that pushed for civilian oversight in the first place.
In a recent interview with Block Club's television show, "On The Block," Johnson said he's looking for a superintendent who "understands smart, constitutional policing." Johnson picked career Police Department insider Fred Waller to serve on an interim basis.
A spokesperson for Johnson did not return a request for comment.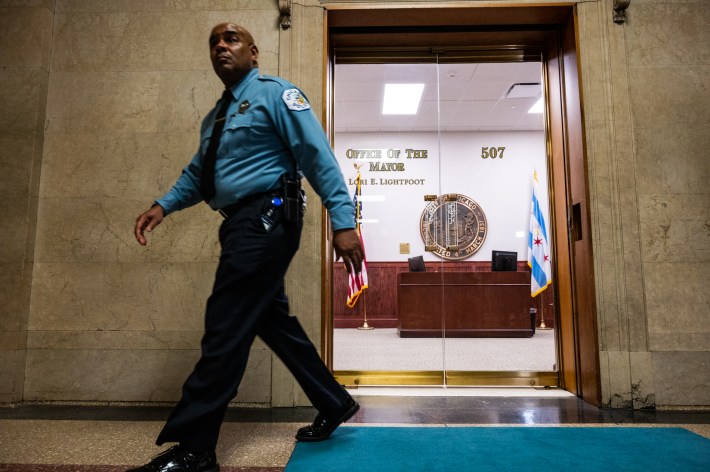 A New Oversight System With Much To Prove
The interim board of the commission has seven members, led by Driver, and is overseen by an executive director, Adam Gross, a police reform advocate and attorney also picked by Lightfoot. The other members have a diverse set of backgrounds, according to their online bios.
Yvette Loizon, former assistant state's attorney and chief legal counsel of Illinois State Police.
Oswaldo Gomez, a West Side community organizer who helped pass the commission's ordinance.
Cliff Nellis, founder of the Lawndale Christian Legal Center.
Remel Terry, a community leader who has worked with American Civil Liberties Union and Black Lives Matter on criminal justice issues.
Isaac Troncoso, a young North Side campaign manager.
Rev. Beth Brown, a longtime Presbyterian pastor who has advocated for the city's LGBTQIA+ community.
Yancy said commission members went through "the Lightfoot filter," but many of those selected were "deeply involved in the community side of this fight" that created the commission.
"They worked hard in a difficult time to raise the floor for police accountability," Yancy said. "And now this is a launching pad for some of them."
The interim members will ultimately be replaced, though Driver said he doesn't expect the interim commission to be dissolved until after the current superintendent search is finished.
Several police officers who spoke to Block Club said they lack faith in outside people picking their next boss. They also find the process to be confusing and bureaucratic.
One Northwest Side officer said the city already has oversight of officers through its consent decree and Civilian Office of Police Accountability, which investigates officer misconduct. He said he's worried more forms of oversight will drown out officers' voices.
Several officers said the selection process still feels too closely tied to the mayor. It's demoralizing to rank-and-file members when mayors make their own picks for superintendent, they said.
Officers said the bigger picture is the issues that need to be fixed under new leadership, like deterring crime, boosting morale and respect, reevaluating high-ranking officers and building bridges with the public.
"You have to find people who are willing to fix it [and] have a nice balance of interest in the job and trying to find common ground," an officer said. "The frontman for the department should also educate people about police work."
Several officers said they prefer an internal hire who they're familiar with.
"They need to truly know how this department runs," another officer said. "The person has to bridge the gap between the city, the politics, the people, the media. It's not going to be easy."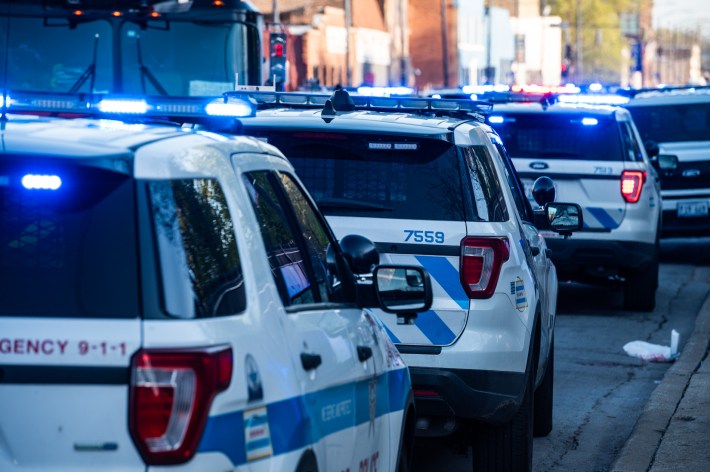 Driver said civilian oversights provide an "appropriate check-and-balance" as civilians are the ones who are being policed.
"Our job isn't to be experts, but to listen to experts, and experts include community members," Driver said. "Police serve the community, so it's fair that the community has a very large role in how they do it."
The commission is making outreach efforts to police groups and hopes to connect with rank-and-file officers through surveys, focus groups, visits to police district offices and ride-alongs, Driver said.
"Across the board right now, we're at a deficit of trust. We're not starting at zero," Driver said. "That makes the way we move now so important."
Block Club Chicago's Ariel Parrella-Aureli contributed.
Watch our "On The Block" TV show on The U, CW26 and MeTV.
Listen to "It's All Good: A Block Club Chicago Podcast":