PILSEN — Pilsen parents are trying to stop a neighborhood day care center from merging with a statewide organization, saying they've been cut out of the decision-making process.
El Hogar Del Niño, 1710 S. Loomis St., has been a cornerstone in Pilsen for decades. Parents said the network of culturally sensitive support services and specialized staff the day care offers is crucial for families living in the majority Hispanic neighborhood on the Southwest Side.
But some parents said they felt blindsided when day care leaders announced a potential merger with Children's Home and Aid, a statewide social service agency headquartered in Chicago.
Parents serving El Hogar's parent policy council — an elected board required by schools with Head Start programs — said the merger is being rushed and leaders weren't transparent about negotiations.
El Hogar's leaders notified parents they were exploring a possible merger in mid-January. Concerned parents said they tried for weeks in the spring to set up a meeting with El Hogar's Board of Directors to be part of the process and get basic questions answered, but they were rebuffed.
The Board of Directors voted to approve moving forward with Children's Home and Aid's acquisition of El Hogar in late April without meeting with the parent policy council, parents said.
Council members are now asking for the deal to be put on hold so they can give more input.
'There Was No Reason For This To Be Rushed'
Parents at the day care want to know why a merger with a larger agency was necessary or if there were other groups the day care could've merged with. They also wanted to know if El Hogar would keep its name, if the parent policy committee would remain intact or if any services or staff positions would be cut, they said.
"There was no reason for this to be rushed," said parent council member Michael Sack. "They gave a general statement of, 'Nothing will change, the culture and the spirit will stay the same,' but when it came down to intelligent questions that are actually probing — 'What is that change going to look like?' — there were no real answers."
Emails obtained by Block Club show parent council members requested meetings, but they appeared to go unanswered or were dodged by the school's Board of Directors.
Sandra Briseño, another parent on the council, said the council would've been fine exploring options if it was clear El Hogar needed to merge with a larger entity for funding or other reasons.
"But it doesn't have to be rushed, and it needs to have more contenders at the table that we can actually vet versus just going with one organization that we didn't even know anything about until February," Briseño said.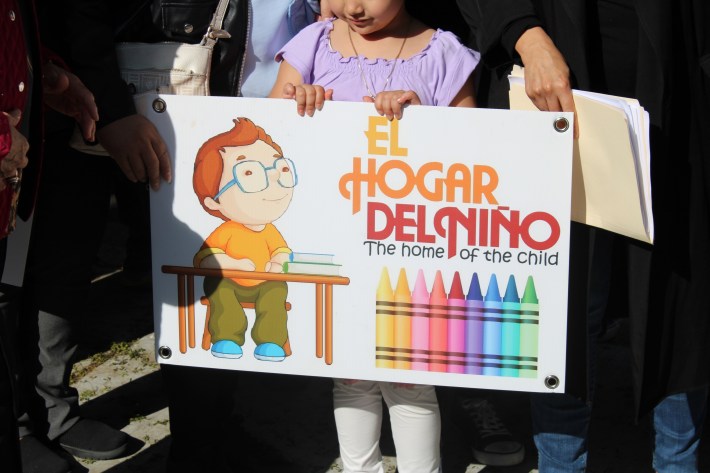 Parents also questioned the timing of the merger. El Hogar's former executive director, Mario Perez, assumed the position of chief operating officer at Children's Home and Aid after the merger process began at El Hogar.
Perez didn't respond to requests for comment from Block Club.
Emails obtained by Block Club show Perez told parents in November he would step down as El Hogar's executive director to join Children's Home and Aid as the chief operating officer.
In January, Perez told parents in another letter he and the Board of Directors would begin studying a potential merger between El Hogar and Children's Home and Aid.
"No decision has been made at any level other than to study this opportunity," Perez wrote in the letter. "The goal of this exploration is to ensure the future sustainability of El Hogar del Nino so that our families can continue to receive quality services without interruption. … We need your questions and input to help us study the benefits and trade-offs for an acquisition such as this one."
In the letter, Perez said he approached the board and leadership at Children's Home and Aid about a potential merger in November when he was hired.
Parents Say Process Wasn't Transparent
Despite El Hogar leadership's claims they wanted input, the parent policy council said the merger exploration seemed rushed, with only two public parent meetings held and one survey conducted in early February.
Parent council member Sol Solis said it felt like leadership just wanted to be able to say they "checked the box" for community input without doing it in a substantive way.
Solis said the parent council was told only 10 people filled out the survey Perez sent out. El Hogar serves nearly 400 kids, enrollment employee Leo Ortega said.
"Our issue isn't against Children's Home and Aid as an organization or even Mario Perez as an individual — our problem is with the process and not understanding and not having transparency and not being able to have a voice in those decisions that will impact our kids," Briseño said.
Mike Shaver, CEO of Children's Home and Aid, told Block Club he understood parents' concerns, but he thought El Hogar's Board of Directors protected the day care's services and best interest during negotiations.
Under the terms of the deal, El Hogar will keep its name, status as a nonprofit, Board of Directors and parent policy committee, Shaver said. He also said there would be no changes to services or staff positions.
Children's Home and Aid has been expanding its sector of early childhood education, which is why its leadership was interested in acquiring El Hogar, Shaver said.
"Not only do we not want to change it, we want to replicate it," he said. "The ability through this partnership for both organizations is to be able to do things that otherwise we couldn't do on our own."
Shaver also said Perez was kept isolated from discussions once he began working for Children's Home and Aid March 1.
Solis said she and the other council members have heard conflicting things from El Hogar leadership since holding a news conference calling attention to the merger.
Perez finally communicated with the parent policy council to set up a meeting with board members only after the news conference, Solis said.
"I think Perez and the board underestimated the strength and the voice of our parents," Solis said. "Over and over again, we've said our big ask is to stop this acquisition process before final negotiations happen. Stop it right now. We have too many questions."
Solis said one member of the Board of Directors, Teresa Morales, met with some of the committee last week, but Morales wouldn't say definitively if she would support pausing the deal.
Morales didn't respond to requests for comment.
Listen to "It's All Good: A Block Club Chicago Podcast":