DOWNTOWN — Youth advocates are pushing for more investment in jobs programs following a new study by the University of Illinois at Chicago that shows a dramatic increase in unemployment among Black youth in Chicago — and especially young Black women — during the pandemic.
The jobless rate for Black youth in Chicago ages 20-24 was 57 percent in 2021, up from 44 percent in 2019, according to the study by UIC's Great Cities Institute.
For Black women in that age group, unemployment nearly doubled — from 32 to 59 percent — between 2019 and 2021.
Jobless rates among Chicago teens remain consistently higher than the national average, with 80 percent of 16- to 19-year-olds — and 87 percent of Black teens in that age group — unemployed in 2021 compared to 67 percent nationally, the study found.
"It's an urgent matter. We got tens of thousands of young people in the city and hundreds of thousands across the state ages 16-19 and 20-24 who do not have jobs. We saw what happened three weeks ago Downtown," Jack Wuest, executive director of Alternative Schools Network, said at a news conference Thursday.
Wuest was referring to a chaotic weekend in April that turned violent as large groups of young people gathered Downtown.
The Alternative Schools Network commissioned the study as part of a push for a bill currently moving through the state Legislature that would provide $300 million in funding for a statewide youth jobs program.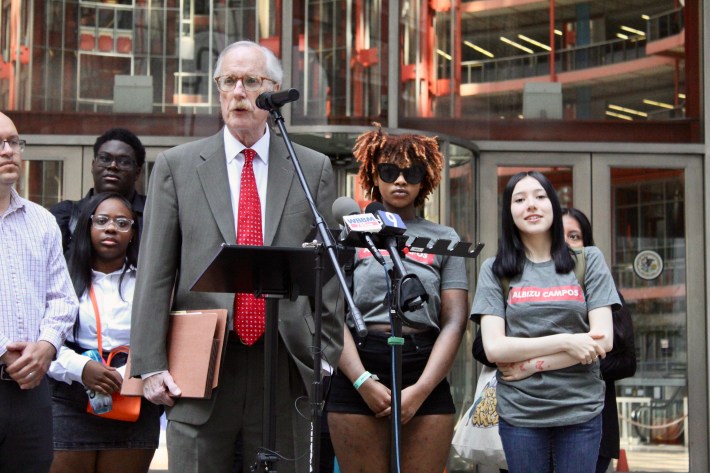 Advocates argue that youth employment is strongly correlated with a decrease in violent crime. A study from the University of Chicago Crime Lab found that the city's 2012 summer jobs program for at-risk youth reduced violent crime arrests by 43 percent over 16 months. 
"Nothing stops a bullet like a job. Nothing stops violence like a path towards a career. We know that our young people do better when they believe that their future is bright," said Ald. Mike Rodriguez (22nd).
'Having A Job Saved Me'
Taniya Howell, a 21-year-old senior at West Town Academy, works as a security officer at the Field Museum and at a clinical health network in West Town.
"It took a lot for me to get where I am here today. But I made it through, and being employed helped tremendously," Howell said.
Howell said she got into a lot of trouble in high school. With her mother incarcerated and her dad working, she had "nothing but time," she said.
"I got kicked out of school. I roamed the streets. I had fights almost every day. To sum it all up, I got into a lot of trouble because I didn't have anything to do," Howell said. "… Needless to say that having a job, being employed, it saved me. I got to meet some amazing people."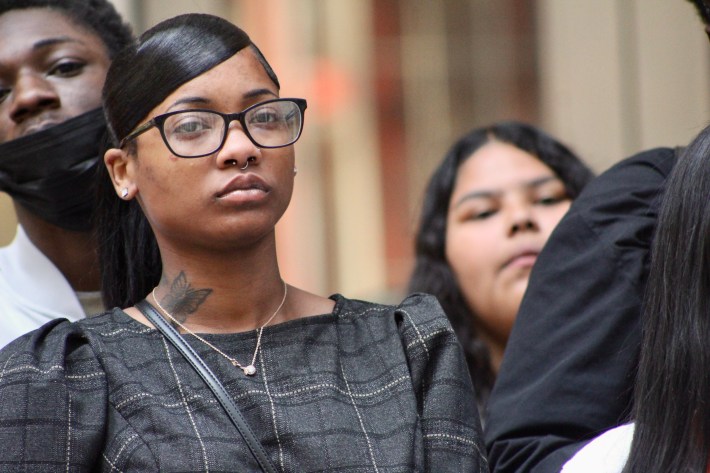 Howell was a part of a group of students who testified before the state's appropriations committee and the Illinois Senate in support of the bill that would provide $300 million in funding for 80,000 jobs for youth across the state.
The bill is sponsored by state Sen. Robert Peters and Rep. Kam Buckner, both Chicago Democrats. If passed, students could work five to 15 hours a week, earning $15 an hour during the school year. The bill also provides for an eight-week summer program in which students could work 25 hours a week.
Youth employment is among the priorities for Mayor-elect Brandon Johnson, who takes office next week. He has said he wants to double the number of young people hired this summer by the city.
Last month, Johnson urged state lawmakers to support youth employment while re-upping his campaign pledge to expand opportunities for Chicago's youth.
"Too many young Chicagoans feel there is nowhere to turn," Johnson said. "Instead of lagging behind other major cities on youth summer jobs, Chicago will look to aggressively expand the number of jobs for young people."
One Summer Chicago, Chicago's youth summer jobs program, lined up jobs for 20,544 youth in 2022, down from 31,552 jobs in 2019, according to the Department of Family and Support Services. A department spokesperson attributed the drop to former Mayor Rahm Emanuel inflating the program's numbers by including jobs that weren't actually part of One Summer Chicago.
Because of the minimum wage increase in 2020 from $8.25 to $14, the program couldn't afford to hire as many youth, which also "slightly" affected the hiring numbers, the spokesperson said.
Hurdles To Getting Hired
Even with programs like One Summer Chicago offering resume-building experiences, it can be hard for young people to get their foot in the door.
Kemon Johnson, a 16-year-old senior at Youth Connection Charter School, said that even with certifications in food handling, forklifting and CPR, it's been difficult to get an interview.
"I had a couple jobs where they set up an interview, but the hiring manager was never there. … I feel like because of my age, they throw my application away; they don't even look at it," Johnson said.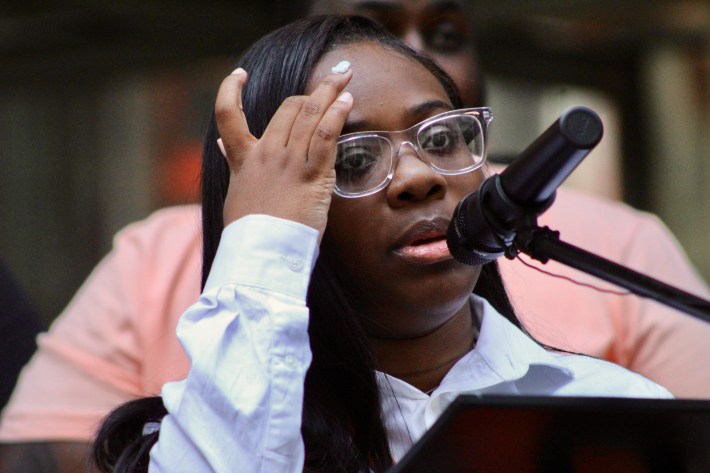 Rihana Jones, an 18-year-old senior at West Town Academy, said she has several friends who have waited months to hear back from potential employers after filling out job applications.
At some of Jones' previous jobs, managers would schedule her to work during school hours, putting her in a difficult position, she said.
"Work was taking most of my time, when school was really more important than working. But when you make good money and when you have to take care of your family, then you're gonna do what it takes," Jones said.
Lanessa "Ling" Young, director of youth services and violence prevention for the 20th Ward, said she constantly hears from young people looking for safety and a steady income.
Young — the only person in her department — encourages young people to take the initiative in finding and applying to jobs — but the available jobs can be limited, she said.
"I'm starting to see, in the capacity that I work in, that young people are starting to look for more vocational things that will lead to longevity," Young said. "A lot of these summer programs, they do have a skill attached to them, but it's not always a desired skill."
For example, some young women want to learn and have the talent to work in hair and beauty salons, but they don't have the necessary certificates, Young said. She said the city needs to do a better job of incorporating the kinds of jobs youth actually want to do.
Youth also want — and need — jobs throughout the school year, Young said.
Johnson, Howell and Jones work to support themselves or their families. Financial independence is a necessity, they said.
"I'm 21 … so I don't have help from mom or my dad, so literally everything I do, everything I have on, I bought it myself. Every little thing I do myself," Howell said.
Hones and Johnson say they have some financial help from their moms. Still, they work because they know it helps lift the burden on their families.
"I don't think I ever heard one young person just said I only want to work for the summer. I think that every young person that I've interacted with said that they want a job all year round and have a stable job to be able to support their family, their interests, their hobbies," Young said.
Listen to "It's All Good: A Block Club Chicago Podcast":