NORTH PARK — A contract between Northeastern Illinois faculty and the university has been reached, avoiding a strike and setting the table for a better working relationship between the mostly new university board and staff.
Late last month, the NEIU union representing faculty and staff reached a tentative agreement with the school's Board of Trustees. Last week, both sides ratified the contract, which adds 3 percent yearly pay raises and bonuses to faculty salaries, better balances workload and brings back awarded merit pay, said NEIU union President Nancy Matthews.
Under the new contract, which begins retroactively this year and goes through 2026, faculty could see retroactive pay in a few weeks, but most of its agreements will be implemented in summer and fall, Matthews said.
"I am grateful we were able to protect people's fair work conditions," Matthews said. "I wish we got a better compensation package … but since NEIU is in this underlying crisis with enrollment being down, I'm being pretty realistic. What we got was a pretty good win."
Last month, the faculty union voted to strike if an agreement was not reached after contract negotiations had stalled for over a year. Teachers wanted to see increased pay, better benefits and improved diversity and working conditions as the school faces falling enrollment, a budget crisis and leadership struggles.
After multiple rallies and bargaining sessions with external mediation, a deal was reached that's a relief to teachers and university leaders. It also comes after other Illinois public universities reached new contract deals after going on strike.
"The thing that strikes me at the end of this experience is that it required external interference to make this happen," Matthews said.
Olivia Cronk, an English teacher at the university who voted to accept the contract along with 90 percent of her union stewards, agreed to the contract because of the raise increases and protections to workloads. Those will allow teachers not to take on more classes or work without compensation, she said.
"I think it's a big relief and a good contract in light of larger concerns like massive decreases in budget and [the] enrollment crisis," Cronk said. "In context of those things, we're in a better position than we used to be."
Although movement on diversity, equity and inclusion hiring and retention efforts were not made into the final contract, there is hope that the deal opens doors to further discuss those issues with the Board of Trustees, Cronk said.
About 40 percent of Northeastern's students are Latino, and 60 percent are people of color, according to school figures.
José Rico, the newly appointed chair of NEIU's Board of Trustees, said the contract is a good first step to "reimagining" what the school can be and how it can best serve its students.
"We were able to come together, administrators on the administration side and on the faculty side, for the best interests of our students," Rico said. "We've also recognized that through conversations with our stakeholders, including the union president, that we want to be able to heal relationships within our entire community."
As part of his commitment to fortifying those relationships, Rico said the new board is pushing for more funding.
As with other institutions that primarily serve working-class or first-generation students of color, NEIU is facing budget pressures due to receiving less state funding, he said. As a result, the university has had to increase tuition and costs of operating, which puts strains on students and their families.
Rico was in the capital last week lobbying in support of Gov. JB Pritzker's proposed budget, which would boost higher education funding to 7 percent and bring in about $3 million for NEIU, he said. He also asked for an additional $5.6-$6 million to solve the university's budgetary constraints.
"Those numbers will ensure that that we provide more equation and services for students and faculty," Rico said.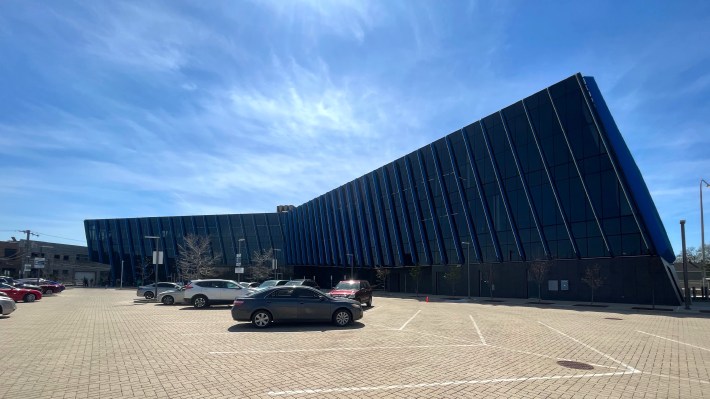 More money and the new contract are signs that better times could be coming for the university. In addition to its budget and enrollment issues, administration problems have escalated since 2018, when university President Gloria J. Gibson assumed the role. Northeastern's board decided not to renew Gibson's contract, which ends June 30. It is unclear who will succeed her. Gibson — the first Black woman president at the university — has said board members made ethical violations and discriminated against her, WBEZ reported.
A new stakeholder group is working together to find an interim president and plans to announce their pick June 5, Matthews said. Rico wants to make sure the process is transparent, inclusive and sticks to the university's mission, he said.
"We are in the very beginning of [redeveloping] communication and trust, so that it not only stabilizes the university but really reimagines NEIU," Rico said. "For us, it's being able to provide a quality, affordable education to working-class students."
Listen to "It's All Good: A Block Club Chicago Podcast":