CHICAGO — Brandon Johnson will become Chicago's 57th mayor Monday when he's sworn into office alongside the city's treasurer, clerk and all 50 alderpeople.
Technically an official City Council meeting, the inauguration will start 10:30 a.m. at Credit Union 1 Arena, 525 S. Racine Ave., on the University of Illinois Chicago's campus.
Tickets are sold out, but a waitlist is available here.
Like every City Council meeting, the inauguration will be livestreamed on the city clerk's website.
Clerk Anna Valencia will be the first official sworn in, followed by all 50 alderpeople and Treasurer Melissa Conyears-Ervin, according to the meeting agenda. Johnson will take his oath of office last and then deliver an inaugural address.
Johnson will preside over his first regular Council meeting May 24, when a vote is expected to install new City Council committee chairs.
In March, alderpeople approved a controversial plan to increase the number of City Council committees and to choose leaders from their own ranks in a bid to declare independence from the Mayor's Office.
Chicago's mayor has historically hand-selected committee chairs to maintain control over legislation moving through the Council.
That means March's restructuring has potentially been scuttled, with Johnson last week announcing his own plan to install many of his allies to lead council committees.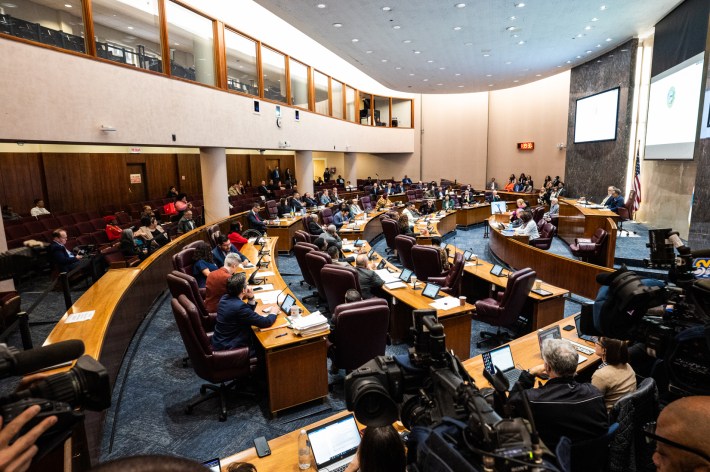 Johnson, a Cook County commissioner and longtime organizer with the Chicago Teachers Union, takes office five weeks after defeating former schools chief Paul Vallas in the April 4 runoff.
The two candidates emerged at the top of a nine-candidate field in the Feb. 28 election, which saw incumbent Mayor Lori Lightfoot finish third.
Johnson ran on an unapologetically progressive platform, with promises to increase taxes on the wealthiest Chicagoans, rethink how the city polices and renew investment in the city's neighborhood schools.
The election also saw a record number of retirements among City Council members, including Ald. Ed Burke (14th), the longest serving alderperson in Chicago history.
The new City Council leans younger and more progressive. It will also have the most LGBTQ-identifying officials out of any city council in the United States.
Listen to "It's All Good: A Block Club Chicago Podcast":