WICKER PARK — Two mixed-use developments near the Division Street Blue Line station in Wicker Park have been delayed after neighbors raised concerns this spring about the heights of the buildings, parking and other issues.
Grand Properties Acquisitions, LLC wants zoning changes to build two five-story buildings at 1235-37 and 1257-1301 N. Ashland Ave., the current home of Mike's Furniture.
The developer hopes to build 16 units with ground-floor commercial space at 1235-37 N. Ashland Ave., according to plans shared with neighbors. At 1257-1301 N. Ashland Ave., the company envisions 24 units, also with ground-floor commercial space.
Eight units across the two buildings would be affordable, meeting the city's 20 percent affordability requirement, said zoning attorney Rolando Acosta, who is representing Grand Properties.
The two properties sit about a block from the Division Street "L" station and several bus lines. That makes them eligible as transit-oriented developments, meaning developers can include fewer parking spots than typically required.
The 1235-37 N. Ashland Ave. would include four parking spots, and the building at 1257-1301 N. Ashland Ave. would have 10 parking spots, plans show.
But some Wicker Park neighbors have raised objections in recent months, saying the buildings are too high compared to the rest of the area.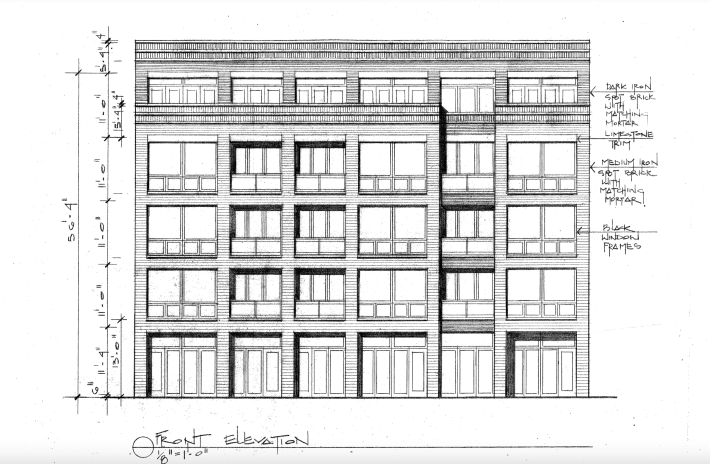 The Wicker Park Committee, a community group that reviews zoning decisions in the neighborhood, voted against the proposals at a meeting last week. A committee within that group previously wrote a letter opposing the project to Ald. Brian Hopkins (2nd), again saying the height of the buildings doesn't fit with the area.
The two developments would be one story higher than the tallest buildings on the eastern side of the 1200 block of North Ashland Avenue. Several buildings nearby on Milwaukee Avenue and Division Street are seven stories and higher.
Ed Tamminga, chair of the Wicker Park Committee's preservation and development committee, said Wednesday he also had concerns about the size of some of the units. He'd instead wants to see larger units that could potentially become condos.
"The floor plan indicates that these are not luxurious units. … They really maximize the return for the developer," he said. "That is not encouraging to the [preservation and development] committee, and it kind of sets a bad tone for future development along Ashland."
The building at 1237-35 N. Ashland Ave. would have a mix of one- and two-bedroom units. At 1257-1301 N. Ashland Ave., updated plans call for almost all two-bedrooms, with one 1-bedroom on the top floor.
Mitch Hutton, who lives nearby and said he owns several buildings in the area, also opposes the height of the buildings and the number of parking spots.
"The problem we're having here is that there's not enough parking for what's here now. You drive around for hours to find parking spots," Hutton said. "They've got [to], at bare minimum, have one spot per apartment."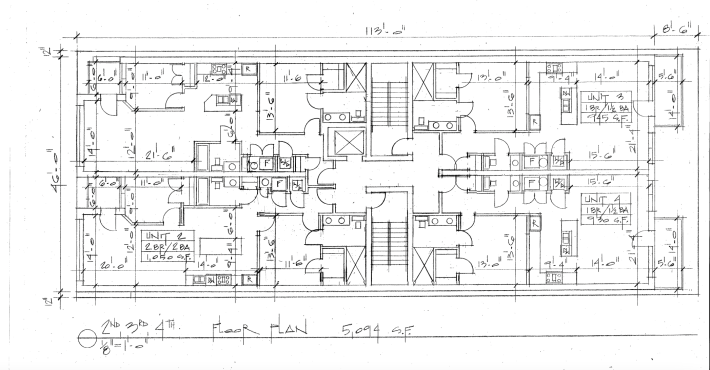 The zoning changes for the buildings need approval from the City Council's Committee on Zoning and then the full council.
More community review could be coming, since the properties will switch from Hopkins's 2nd Ward into Ald. Daniel La Spata's 1st Ward when the city's new ward boundaries take effect next week.
Hopkins supported the proposal earlier this spring, but he deferred the discussion at La Spata's request to give his office more time to gauge community feedback, both alderpeople confirmed.
Grand Properties has since submitted new designs for both buildings, which include larger fifth-floor setbacks and updated facades.
"We just didn't have enough time to finish these adjustments, if you will, to the proposal," Hopkins said. "Ald. La Spata agreed to come in basically relief pitching in the ninth inning, so that's fine with me."
La Spata said last week he asked to hold the proposals in City Council to "create a space for [neighbors] to be heard out and then informed before this moved forward." The 1st Ward office held an informational meeting Monday where Acosta presented an overview of the updated designs.
The updated proposals are still under review, and the 1st Ward office is accepting feedback from neighbors, Chief of Staff Nicholas Zettel said.
"This is a scenario in which we are receiving emails in support of a project and heard opposition at the meeting. Depending on our findings, we may host an additional community meeting, which would feature notification to our residents, but that is not yet certain. We always try to scale our community processes in a manner that is appropriate for each proposal," he wrote in an email.
Monday's presentation and more information can be found here. Neighbors can also submit feedback electronically.
Acosta said Wednesday he's waiting on further guidance from the 1st Ward on how to proceed. He said the two buildings would be a great addition to the area, especially with the public transit options nearby.
"We think it fits with the neighborhood," he said.
Listen to "It's All Good: A Block Club Chicago Podcast":