CHICAGO — Red-winged blackbirds — known for dive bombing pedestrians — may be making an earlier appearance this year due to the warm weather.
Red-winged blackbirds are among the most common birds in Chicago. They're infamous for swooping down at people who get too close to their nests.
They've been called "nature's a–holes" by some — but they're really just trying to protect their babies.
The birds, which make their homes near bodies of water, including the lakefront, typically nest in June and July. But neighbors and experts have noticed them a little earlier than usual this year.
"I've been walking the lakefront for like 15 years, and they've never been this numerous or loud," Rogers Park resident Jenni Spinner said. "I've been dive bombed a time or two."
The early interactions with the red-winged blackbird are likely due to unseasonably warm weather in April, when the city smashed a 138-year record for high temperatures. Douglas Stotz, ornithologist and senior conservation ecologist at the Field Museum, said the bump in interactions coincided with the mid-April warmup.
While the birds didn't necessarily fly north to Chicago any earlier than usual, their behaviors could have been impacted by the warm weather, Stotz said. For example, their food sources — like insects — might have made an earlier appearance.
"It got the birds all excited that it was summer," he said. "It might also speed up their hormones."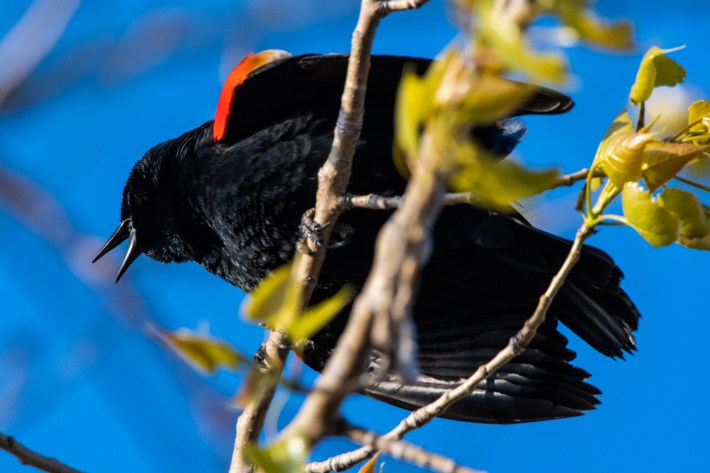 Red-winged blackbirds are known to swoop at people they think have gotten too close to their nests, Stotz said. They typically fly nearby, though they sometimes attack people.
The birds' main goal is to scare you away, Stotz said.
The interactions mostly happen when birds have a nest to defend. Nesting season might also be starting earlier this year given the unseasonably warm April, Stotz said.
It just so happens that the birds' preferred nesting spots are around popular outdoor attractions, including the lakefront.
"Suddenly, there are a lot of people on the lakefront," Stotz said. "They get hyper when a lot of people are around."
There are ways to avoid an interaction with red-winged blackbirds. They tend to single out lone pedestrians, so there's safety in numbers. When walking on the Rogers Park lakefront, Spinner said she avoids low-hanging branches and wears some kind of hat "just in case."
Dozens of interactions with the birds have already been documented on social media. Behind robins, red-winged blackbirds were the most observed bird species during the City Nature Challenge conducted in late April.
"All around Lincoln Park south pond," one resident told Block Club via Instagram. "Wear a hard hat as they swoop low!"
The birds have also been spotted at Horner Park, Montrose Harbor Bird Sanctuary and Humboldt Park, which is where Emily Litten often sees them.
Despite her frequent sightings, Litten said she's had no run-ins with the red-winged blackbirds. In fact, she's quite fond of her summertime neighbors.
"I personally really enjoy them and look forward to seeing and hearing them," Litten said.
Listen to "It's All Good: A Block Club Chicago Podcast":