CHICAGO — You can catch a screening of a White Sox documentary, shop local at the Spring Cleaning Market, check out the Logan Square Farmers Market on its opening day and more.
Here's 19 things to do in Chicago this weekend: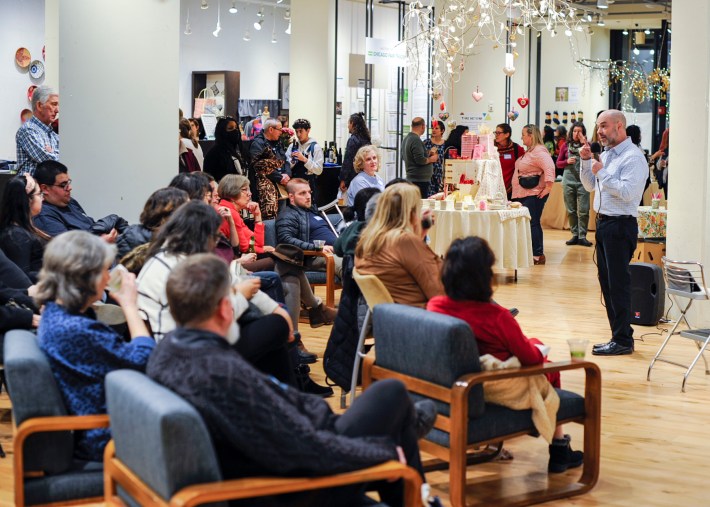 1-7 p.m. Saturday
Chicago Fair Trade Museum, 1457 N. Halsted St.
The biggest World Fair Trade Day event is coming to Chicago this weekend. Learn how to grown your own greens at home, join a cross-cultural knitting project, compete in a bake-off using fair trade ingredients and more. There will also be tastings of fair trade chocolate, tea and wine. The event is meant to raise awareness of fair trade, a business model aimed at combating poverty, exploitation and climate change. You can buy tickets, enter the bake-off and donate online.
10 a.m.-7 p.m. Saturday-Sunday
Lincoln Avenue from Roscoe to School streets
Shop handmade paintings, sculptures, home decor, jewelry and more at this free North Side fair hosted by Special Service Area No. 27. Enjoy food, music, painting classes, selfie stations, interactive art activities for kids, Sunday morning yoga and more. Sign up online for a chance to win $100 in Art Bucks to spent at the fair. Attendees can also bring their gently used wall art to donate the Chicago Furniture Bank, a nonprofit that distributes furnishings and art to people who are leaving temporary shelters and moving into permanent housing.
5-11 p.m. Saturday
CHAOS Brew Club, 2417 W. Hubbard St.
Alongside a taco bar with all the fixings, birria and pastor, enjoy seasonal ales and lagers crafted by CHAOS brewers at this 10th annual Cerveza de Mayo. You'll also be able to tour the brewhouse, listen to music by Brian Hoyt and sit by fire pits. Tickets are $45 online. Each ticket includes admission, unlimited food and drink and a 45-day membership to the brew club.
Spring Cleaning Market
1-5 p.m. Sunday
Easy Does It, 2354 N. Milwaukee Ave.
You can grab a glass of wine and oysters while buying art, ceramics, floral arrangements, vintage good and more from local artists. There will also be a motor shucker providing raw bar options and DJ at this market by Common Violet.
11 a.m.-3 p.m. Saturday
The Promontory, 5311 S. Lake Park Ave.
"Last Comiskey" is a new documentary about the White Sox's final season at Comiskey Park, the team's old ballpark. This event includes a screening of portions of the film and a Q&A with producer and director Matt Flesch, White Sox pitchers Donn Pall and Wayne Edwards, longtime Chicago sportscaster Tom Shaer and White Sox organist Nancy Faust. Admission is a $25 donation benefitting the Pediatric Epilepsy Surgery Alliance. You can buy tickets online.
6-11 p.m. Saturday
The Logan Theatre, 2646 N. Milwaukee Ave.
Presented by the Japanese Arts Foundation, "Melanated and Animated" is a 21-and-older event that highlights the intersections of Black and Japanese culture. Listen to a panel discussion with industry guests — including game designer, professor and digital artist Derrick Fields and Kotaku staff writer Isaiah Colbert — and watch the director's cut of critically acclaimed anime series "Afro Samurai." There will be music, Japanese spirits, onsite gaming and more. Tickets are $35 online.
10 a.m.-6 p.m. Saturday
Wicker Park fieldhouse, 1425 N. Damen Ave.
Herbs, vegetables, flowers, hanging baskets and other plants hand-picked by Wicker Park Garden Club members will be for sale this weekend in Wicker Park's namesake park. There will also be free native pollinator seeds and a children's potting area, where volunteers will work with children to decorate pots, fill them with soil and plant seeds to take home and grow.
Doors and silent auction 7 p.m., music 8 p.m. Saturday
Bim Bom Lounge, 5226 W. Belmont Ave.
Bim Bom Lounge's new owners have spent the past year transforming the former dive bar into an recording space. Construction is still underway, and the studio will be literally raising the space's roof this month. To kick off renovations and raise money for the studio, there will be a BYOB roof-raising show with music and a silent auction with goods donated by local creators. Entry is $10-$20 on a sliding scale. RSVP online or pay with cash at the door to avoid processing fees.
Noon-2 p.m. Saturday
Wilson Abbey, 935 W. Wilson Ave.
The Lighthouse Foundation, a Black- and queer-led social justice nonprofit, is hosting a soul food brunch where people can learn more about the organization's efforts to ensure equity for Black queer people in Chicago's LGBTQ nonprofits. The event will feature live music performances, a panel discussion among Black LGBTQ+ workers and a presentation by Executive Director Jamie Frazier. Tickets are free and available online, and a $35-$100 donation is recommended.
9 a.m.-3 p.m. Sunday
3025-3113 W. Logan Blvd.
Shop from more than 100 vendors this weekend for the first Logan Square Farmers Market of the year. The beloved outdoor market will be along Logan Boulevard between Milwaukee Avenue and Whipple Street. Logan Boulevard from Milwaukee to Sacramento avenues will be shut down to drivers to make more room for shoppers and vendors. Alongside produce and farm products, there will be live music and informational booths helmed by local organizations. The Sunday markets take place through Oct. 29.
Noon-4 p.m. Saturday
Mahalia Jackson Court, 1 E. 79th St.
Meet local designers, see some of their fashion, paint flowerpots with your child and shop for Mother's Day at this free fashion show. There will be food, music and more.
8-10 a.m. Sunday
Lincoln Park Zoo, 2400 N. Cannon Drive
Lincoln Park Zoo is offering a Sensory-Friendly Morning for guests this weekend so they can experience the zoo in a comfortable and inclusive way. The Sensory-Friendly Morning program is offered to visitors who are sensitive to their environments, including people with disabilities, chronic illness, autism, PTSD and dementia. Modifications include limited capacity and muted attractions. The gift shop will open 8 a.m. and Landmark Café will begin selling beverages at 8:30 a.m. Admission is free, but you must register in advance online.
7:15-8:15 p.m. Sunday
Cuddle Bunny – Club, Care & Community, 2901 N. Clark St.
Stretch and rest your mind with bunnies at this bring-your-own-mat yoga class. All skill levels are welcome, and it's open to people 8 and older. Admission is $22. Sign up online.
2-9 p.m. Saturday
Kehrien Center for the Arts, 5628 W. Washington Blvd.
Local, national and global artists will perform new and ancient South Asian pieces using a variety of instruments and languages at this is event presented by Kalapriya, a nonprofit that celebrates Indian performing arts. There will be Indian food to buy. Tickets are free and donations are encouraged. You can get your ticket and donate online.
Noon Saturday
National Museum of Mexican Art, 1852 W. 19th St.
Teens and young adults 13-25 are invited to a free printmaking workshop led by Marimacha Monarca Press, a queer and trans people of color collective of artists and educators based on the South Side. Attendees will create and carve an original design for a rubber block stamp, drawing inspiration from the "Giving Shape: Yollocalli Artistic Practice Through the Years" exhibition. Participants should bring their own items to print with their stamp, like a T-shirt or tote bag. Email angela@nationalmuseumofmexicanart.org to register. Spaces are limited.
Bidi Bidi Boom Boom: The Selena Tribute Dance Party
6:30 p.m. Thursday, Friday and Saturday
National Museum of Mexican Art, 1852 W. 19th St.
Celebrate the legacy of Selena, the queen of Tejano and Cumbia music, at the National Museum of Mexican Art throughout the weekend. Dance the night away, sing your heart out to Selena's music and enjoy drag performances by Chicago artists. This is a 21-and-older event. Tickets are $30 and include admission and adult beverages. You can buy tickets for Thursday here, Friday here and Saturday here.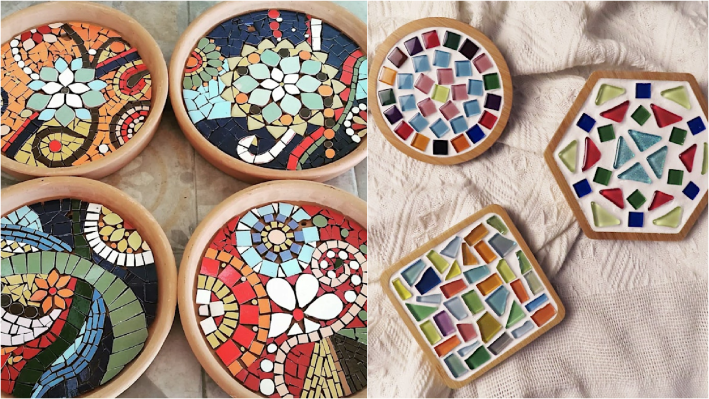 2-4 p.m. Sunday
Epic Art House, 1850 N. Western Ave.
Create your own mosaic art from scratch this weekend at Epic Art House's free Mother's Day workshop for children and families. You will learn how to choose colors and materials, how to cut and arrange the pieces and how to adhere them to create your final piece of art. RSVP here.
Noon-3 p.m. Saturday
Rizzo's Bar & Inn, 3658 N. Clark St.
Dress your pup in their best attire for Rizzo's red carpet "Pup Prom." There will be raffles, silent auctions and photo opportunities. The first 150 people to buy tickets will get a dog-friendly swag bag. All minors must be accompanied by an adult.
11 a.m. Saturday
Anne's Haven, 5629 W. Irving Park Road
Anne's Haven is a nonprofit where women, girls and nonbinary people of all ethnic, racial, sexual and religious identities can gather together, support and learn from one another. This weekend, the group is hosting a ribbon-cutting for Anne's Haven Honor Tree, a piece of artwork honoring women. You can be part of the honor tree by buying a butterfly at the event, available on a sliding scale of $75-$150 or more. Pecan pie, cupcakes and champagne will be served. There will also be a pop-up market with women makers after the ribbon cutting.
PLUS: Picks From Our Partners At
7 p.m. Friday
Park West, 322 W. Armitage Ave.
New York Times bestselling author, beloved TV host, and executive producer of The Real Housewives, Andy Cohen is the busiest man in show business. Join Chicago Humanities for a lively evening with this Watch What Happens Live! host as he reflects on his year filled with housewife drama, a mayoral feud, and a renewed understanding of how family really changes everything. Enter to win a pair of tickets here.
5 p.m. Friday
House of Blues, 329 N. Dearborn St.
Waterparks is an American pop punk/pop rock band formed in Houston, Texas in 2011. Notable influences include as Sum 41, Blink-182, Good Charlotte, Green Day, and Fall Out Boy. Buy tickets or enter to win a pair here.
8 p.m. Saturday
Thalia Hall, 1807 S. Allport St.
Alice Phoebe Lou's fiercely independent approach to her music has given the singer/songwriter a creative confidence that shines through in her captivating vocals and stripped back music. Buy tickets or enter to win a pair here.
Listen to "It's All Good: A Block Club Chicago Podcast":