CHATHAM — When Carmella Coq'mard-Muhammad opened her Woodlawn restaurant, Let's Eat to Live, she partnered with third-party delivery platforms to make menu items like her butter garlic lamb chops available to more customers. 
What Coq'mard-Muhammad noticed instead was delivery companies were taking a "30 percent profit off the top before the food was even delivered" — a killer for a small business trying to meet profit margins, she said. 
On Tuesday, Coq'mard-Muhammad joined a collective of business owners at her restaurant, 621 E. 67th St., to launch Soul Delivered, a community-based delivery service that cuts out third-party providers to spur local economic growth. The Greater Chatham Initiative, the community organization behind developments like the Mahalia Jackson Court and the 75th Street Boardwalk, piloted the project. 
Soul Delivered will span "from 95th Street to 51st Street and Western Avenue to the lake," said Rhea Steele, deputy director of the group. South Side favorites like Haire's Gulf Shrimp, Slab BBQ, Harold's Chicken Shack #24 and Wings Greens and Things have joined the platform. You can order here. 
The delivery service will employ locally, hiring people who live in and know their neighborhoods to bring food directly to your doorstep, said John Handler, program manager at Soul Delivered. Delivery profits will go to the restaurant owner, fueling career-building opportunities like free consulting and team training. 
By supporting businesses and workers on the South Side, Soul Delivered will circulate funding within the community, keeping investment dollars local and giving owners a chance to thrive, Handler said. 
"You can do well and do good at the same time. This is a classic example of that," said Ald. Roderick Sawyer (6th). "We're bringing money back to the community, back to the business owners, [and] giving information to business owners so they can increase and improve their business while providing a service to the community. That's doing good and doing well at the same time."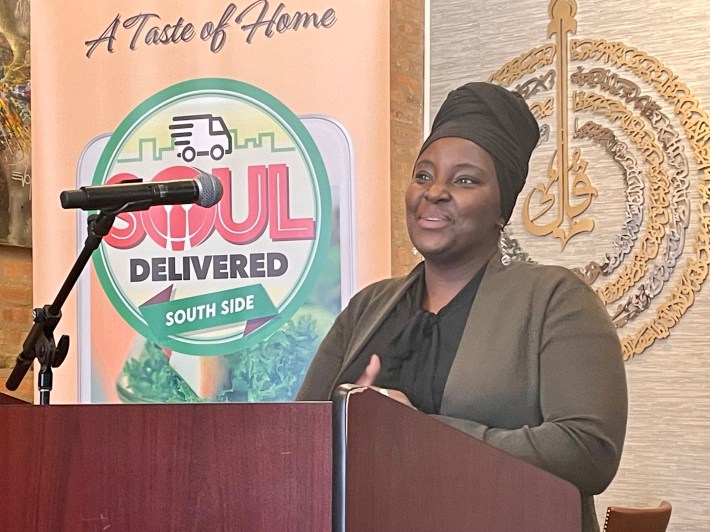 It took more than a year to launch Soul Delivered, but the vision was born at the beginning of the pandemic, Handler said. 
The Greater Chatham Initiative in April 2020 launched FoodLab Chicago, a program that supports Black-owned restauranteurs through educational and technical training as they grow their businesses. 
As restaurants adjusted their business strategies to follow pandemic guidelines, Handler found that none of the 21 restaurants selected for the first FoodLab cohort were prepared for the global crisis, he said. 
None of the restaurants had a website where customers could place online orders, Handler said. Half of the businesses didn't offer cashless pickups, Handler said. 
When business owners inevitably partnered with third-party delivery services like GrubHub, those platforms "were taking 30-40 percent off the top, which is financially unsustainable," Handler said. 
Business owners also couldn't build a relationship with their customers using the delivery services, Handler said. 
When a restaurant receives an order from a delivery service, "they see John H., no name, phone number or email address," Handler said. Often customers are prompted to try new restaurants with similar options instead of sticking with one business.
"They end up being a GrubHub customer, not a restaurant customer," Handler said. 
Soul Delivered connects the restauranteur and the customer by cutting out the middle man and establishing a direct line of communication, Handler said. When customers navigate the platform's site and select a cuisine, they'll be directed to the restaurant's ordering page. If there's a problem with an order, they'll speak directly with the business, Handler said.
"You want to build a community around your restaurants," Handler said.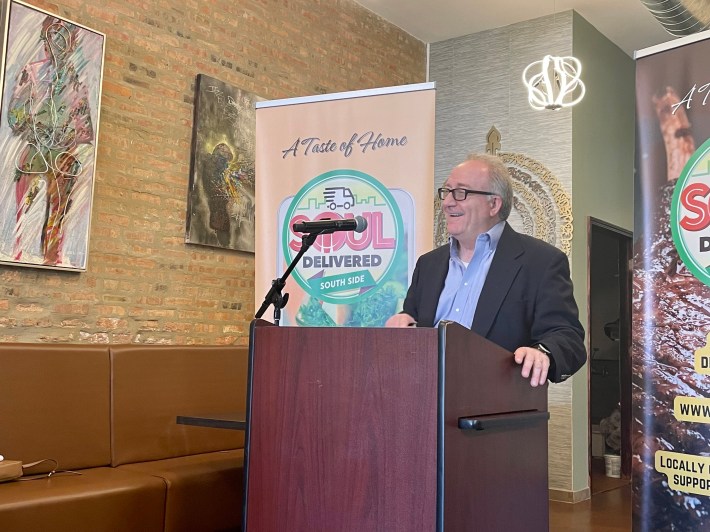 Handler is also counting on Soul Delivered to be "more productive than the other guy," he said. 
While other platforms "typically do two to three deliveries an hour," Soul Delivered could "accomplish three to four deliveries per hour" by clustering restaurants together, Handler said. The platform will also use a "cutting edge, AI-driven route building dispatching software," he said.
"If I receive an order from Brown Sugar Bakery, go pick it up and then walk next door to Mabe's Deli Shop and get a second order, I can take two orders to South Shore," Handler said. "It's that much more productive."
Soul Delivered will recruit drivers from the community, hiring "neighbors who have cars and appreciate a flexible schedule," Handler said. 
"We're looking for the mom that drops off their kids at school and then they have a couple of hours free," Handler said. "Then they can hop on the platform and make some deliveries. … These are the people who know the area. They know how to get around quickly and safely, and, potentially, they are your neighbors."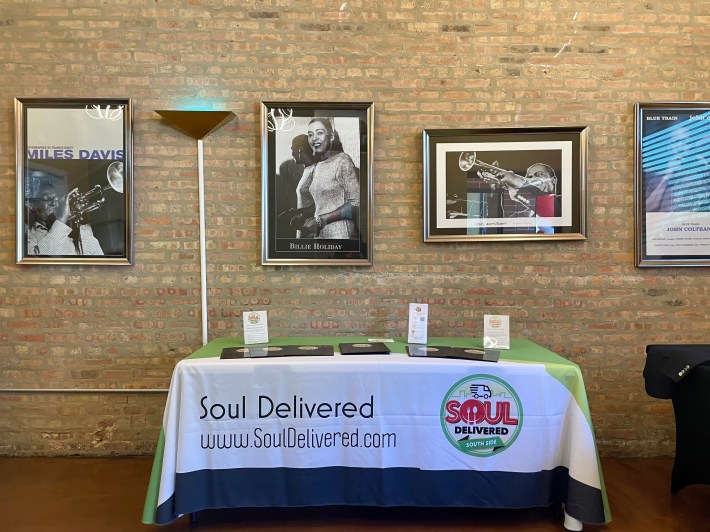 Soul Delivered could one day become a citywide initiative, Sawyer said. For now, it's a South Side triumph, uplifting the importance of "social equity," he said.
"The people that are involved in the communities are the people that can benefit from it," Sawyer said. 
The delivery team is hard at work hiring drivers, developing its model and spreading the word about the platform, Handler said.
On the South Side, Soul Delivered could generate "economic development and community revitalization of disinvested neighborhoods and commercial corridors," Handler said.
Listen to "It's All Good: A Block Club Chicago Podcast":