UPTOWN — Ald. James Cappleman (46th) is ready for his next chapter, with plans to regularly volunteer in the neighborhood — and stay out of local politics.
In retirement, Cappleman will live in an Uptown that looks very different from when he took office 12 years ago.
Through three terms as 46th Ward alderperson, Cappleman oversaw an unprecedented development wave that has transformed the Far North Side neighborhood. More than 3,300 units of housing came to the ward during his leadership, according to his office, and that doesn't include smaller projects with fewer than nine units.
That development wave has drawn scorn from some residents and led gentrification to become among the neighborhood's biggest issues.
Cappleman said the housing boom is a byproduct of Uptown's success in reducing crime and other public safety issues. It also helps ensure Uptown can keep some of its housing affordable while would-be residents make the neighborhood increasingly in demand, Cappleman said.
Cappleman, 70, announced last summer this would be his final term. He is among several long-serving City Council members calling it quits. Alderwoman-elect Angela Clay, part of a growing progressive coalition on the council, takes over the ward Monday.
"As an alder, there's a sense of direction I can take the ward," Cappleman said. "Which I think is fine, but I don't think it's healthy for any elected official to have this position any longer. It's not healthy for me, either."
Uptown Got More Popular — And More Expensive
A social worker and former Franciscan friar, Cappleman in 2007 unsuccessfully ran against longtime progressive Ald. Helen Shiller. After Shiller announced her retirement, Cappleman won the open election in 2011 to replace her, vowing to do more to address public safety in Uptown.
Crime in the neighborhood is at "dramatic" low levels, Cappleman said. Uptown is among the Chicago neighborhoods with the fewest shootings per capita, city data shows. There were 20 shootings recorded last year compared to 43 in 2011, when Cappleman took office.
The reduction in crime has made Uptown a more popular place to live, leading to increased developer attention in the area, Cappleman said.
The development boom has also come to dominate discussion and politics in Uptown. Some projects Cappleman supported were controversial.
The decision to use tax-increment financing to build a luxury high-rise on the site of a former hospital on Montrose Avenue was almost thwarted by fellow alderpeople. More recently, neighbors — including Clay — fought against plans to build high-end housing on a Weiss Hospital parking lot, with protesters occupying the work site in an unsuccessful attempt to block it.
Hundreds of single-room occupancy units also went by the wayside, with buildings including the Lawrence House, the Lorali and the Wilson Men's Hotel converted into market-rate housing.
Cappleman touted the development and economic activity that took place on his watch, saying Uptown hasn't seen such activity in a century. His latest newsletter included a list of the top 43 projects approved during his tenure, including park and public art projects.
Cappleman defended green lighting thousands of new units of market-rate housing. Doing so helped ensure new renters didn't take up so-called naturally occurring affordable housing that has historically been used by moderate- and low-income neighbors, he said.
People "are moving here in droves," Cappleman said. "As they're moving here, they're taking up our naturally grown affordable housing. So if we're losing naturally occurring affordable housing, it means we're not building enough."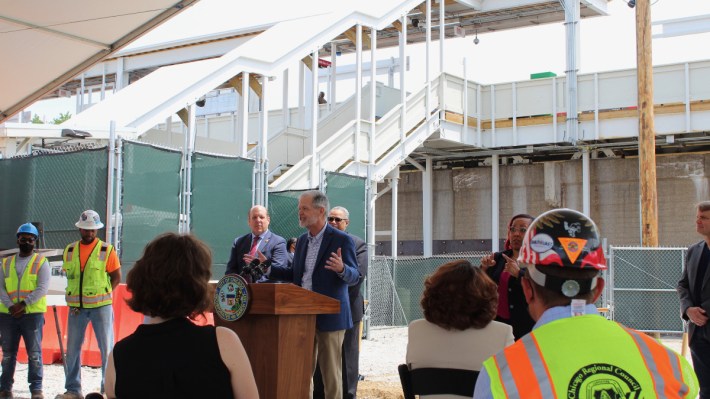 Uptown has lost naturally occurring affordable housing, which is typically buildings that have aged and do not have many modern amenities, keeping rent lower. But Uptown still has a large base of affordable housing, as Cappleman often reminds neighbors.
About 35 percent of Uptown's housing is affordable, which is defined as subsidized and naturally occurring affordable housing, according to a city analysis in 2019. On the North Side, only Belmont Cragin and Montclare have higher levels of affordable housing, data shows.
The demographics of Uptown neighbors have changed along with its development boom.
The community's foreign-born residents declined 8 percent between 2010-2020, while its white population grew 10 percent over 20 years, according to the Chicago Metropolitan Agency for Planning.
A similar dynamic is playing out citywide, Cappleman said. The middle class has been shrinking on the North Side for decades and is being replaced by high-income households.
Without providing housing for these households, more people will take up the existing housing that had been affordable to middle- and lower-income renters, Cappleman said.
"The entire North Side's changing, not just Uptown," Cappleman said.
Cappleman has also been criticized for allowing developers to pay into the Chicago Low Income Housing Trust Fund rental subsidy program. In exchange for contributing to that fund, developers can include fewer affordable units in developments than the city otherwise requires.
Cappleman defended that, too, saying it allows affordable housing to go to other areas with far fewer subsidized units, allowing for a more whole-of-city approach to combating displacement and disinvestment, he said.
Uptown's 46th Ward has the most housing units used by people in the rental subsidy program. The ward has 357 units rented by trust fund subsidy recipients, nearly double the second-place 27th Ward, which covers the Near West Side, according to data shared by the 46th Ward.
While that may show the demand for such units, it also highlights that most areas of the North Side are unaccepting of such renters, Cappleman said. Building owners have to opt in to the low-income trust fund program, and Uptown leadership has been more willing to push that as an option than other wards, Cappleman said.
"I have to focus on what's best for the entire city, which pisses off constituents because they're focused on just where they live, and I get that, but it's not healthy for the entire city," Cappleman said. "That's why it's a tale of two cities, just because every alder is fighting for their ward."
Cappleman has been the source of controversy among constituents and activists for much of his term.
The alderman has routinely faced protests outside his office and home. Such actions include a 200-person-strong protest outside his office over Cappleman's request that Salvation Army cease homeless outreach efforts, bombardment of his office by those opposed to the Lincoln Yards development and even a protest outside his home over police reforms that was countered by a competing group.
Cappleman said it comes naturally with being a public official. He also lamented decisions to stage such actions instead of a face-to-face dialogue.
"I love this work because it's very diverse," Cappleman said. "There's also going to be diverse opinions. … But I'm disappointed. All those people who protested, and there's hundreds, only one took me up on speaking to me."
When told that some constituents don't believe signing up for a slot in his weekly office hours is the best way to effect change, Cappleman said he believes fundamentally in the benefit of speaking — civilly — with people of differing viewpoints.
"Of all the lessons I've learned, the biggest lesson was that real knowledge comes from interacting with a lot of different people who believe differently," Cappleman said. "Out of that, there's like a spark. It's powerful. … So I want to continue more of that after I leave office, finding ways that I can do that."
In his retirement, Cappleman said he is going to write a book about Chicago's challenges and how the city can be "more holistic in our decisions, instead of 50 alders all fighting for their own ward."
Cappleman said he'll also likely volunteer at McCutcheon Elementary. He may renew his social worker license and do volunteer counseling, a return of sorts to his career before public office.
"I told [Alderperson-elect] Angela [Clay] that I am going to stay back," he said. "I don't think it's good for the public to have the retired alderman butting in there."
Listen to "It's All Good: A Block Club Chicago Podcast":