WEST LOOP — Bill Conway has had many jobs.
In his 45 years, he's been an investment banker, Cook County assistant state's attorney, Navy intelligence officer, small business owner and finance professor, just to name a few.
Now, he's starting a new adventure as a Chicago alderman.
Rebounding from an unsuccessful bid for Cook County state's attorney in 2020, Conway, the son of a billionaire, landed 67 percent of the vote to represent Downtown's new 34th Ward, beating out commercial real estate broker Jim Ascot.
After losing to incumbent Kim Foxx in 2020's primary, Conway thought his political career was over. He shipped off to Germany for a year-long deployment later that year.
"I was confident. … That was it for me," he said.
But when Conway came back to Chicago in fall 2021, ward redistricting — which moved the 34th Ward from the Far South Side to Downtown — and a troubling change in his neighborhood revived his political dreams.
"I was walking around with my 3-year-old daughter and [there were] people smoking crack under the viaducts," Conway said. "I was very nervous about what had happened while I'd been gone."
It's a story Conway told numerous times on the campaign trail, centering his messaging on crime and public safety. Statistically, there's truth to it.
Last summer, shootings fell citywide, according to police data. But crime in the 18th and 1st Police Districts Downtown was up significantly from years past, and the area suffered a mass shooting outside a McDonald's on the Near North Side.
When Conway saw that the redrawn map included a new 34th Ward covering parts of Downtown and the West Loop, he knew it would be key driver for Chicago's economy.
"I thought, geez … if the 34th Ward doesn't thrive, Chicago is going to be in big trouble," he said.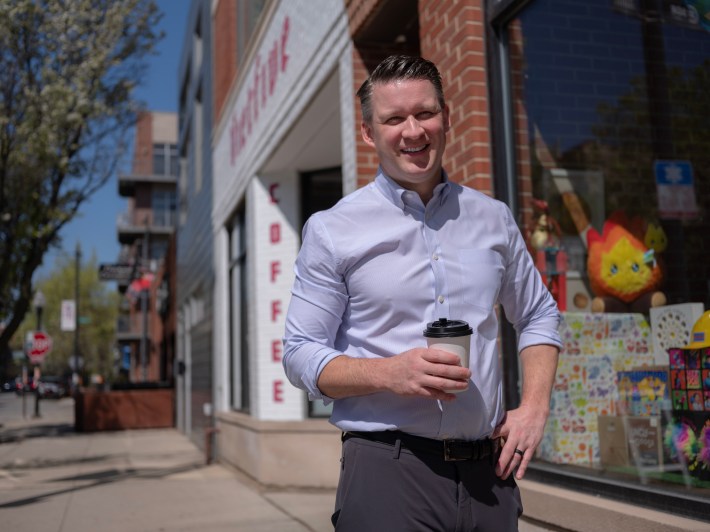 From Prosecutor's Office To The Military
The son of billionaire William Conway, the alderman-elect has faced some backlash in the past for his wealthy lineage. Conway's race for Cook County state's attorney was bankrolled in part by $10.5 million in contributions from his father.
Conway's father didn't donate to his campaign for 34th Ward alderman, but his family's wealthy ties have raised questions about how he'll relate to his constituents.
"I think like any person who goes into public service [and] becomes a public official, [people] see things about the person's background and they make assumptions," Conway said. "I like to think that when people actually get to know me, I'm a pretty normal person."
A Chicago native, Conway was a toddler when his family moved to Washington D.C. After his parents' divorce when he was 5, he and his mother settled in Lakeview.
Growing up in the 44th Ward, Conway remembers taking the 151 bus to school and being greeted every now and again by former Ald. Bernie Hansen (44th).
He also had a stint as a clerk at Tower Records, a well-known Lincoln Park record shop that closed in 2006.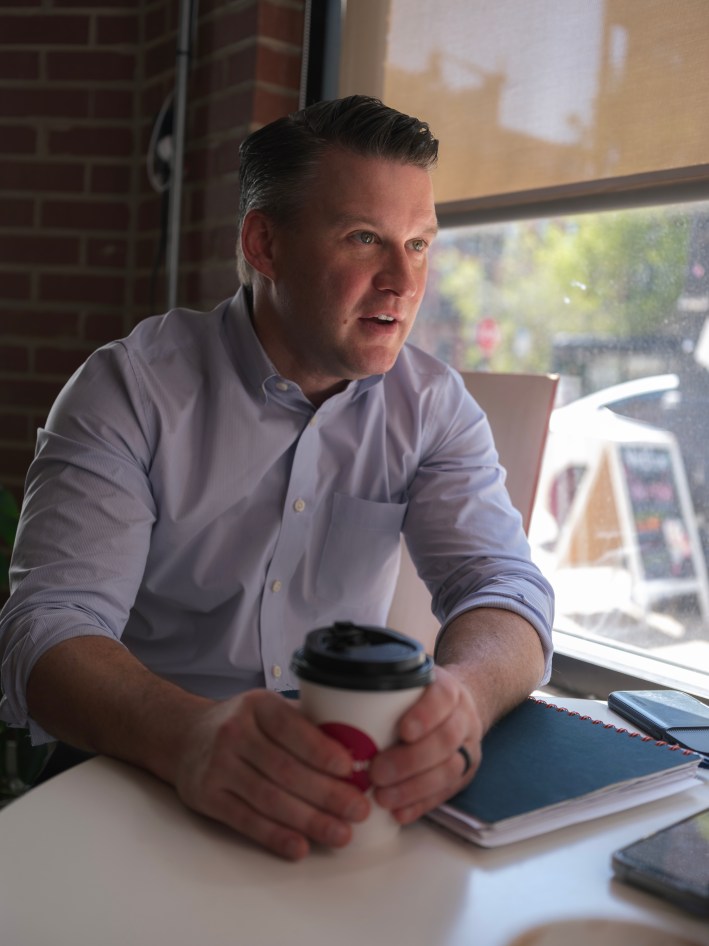 "I was sort of the nerdy kid that looked like he worked at Best Buy working amongst these sort of punkish, almost stereotypical people," Conway said. "It was a fantastic job, got exposure to a lot of music and people and everything."
After graduating in 2000 with an accounting degree from The Wharton School of the University of Pennsylvania — considered one of the top business schools in the country — Conway applied to enlist in Navy. He was inspired by his grandfather's stories about serving in the Navy and the discipline it gave him.
But his ambitions were squashed when the military rejected Conway because of a heart defect he underwent surgery for at age 18. More than a decade later, while working as a Cook County prosecutor after graduating from Georgetown University Law School, Conway learned the military changed its rules, allowing him to join the Navy Reserve on a medical waiver.
In 2018, Conway was a Navy lieutenant leading an Afghanistan-based intelligence team with the U.S. Army, Air Force and British Royal Air Force. He was featured in the New York Times for his switch from the prosecutor's office to the military.
Conway, who was recently promoted to lieutenant commander, is still expected to fulfill monthly Navy Reserve training but as an elected official will not be deployed, said Cmdr. Amber Lewis, spokesperson with Navy Reserve Forces Command.
Conway has also earned "dwell time" for being deployed two out of the last five years. For every year overseas, Conway has earned three years of time home where he's guaranteed not to be deployed, according to the Department of Defense.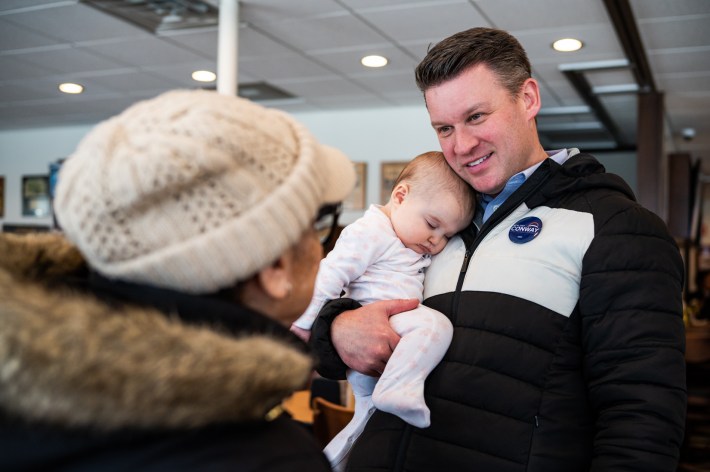 The Battles Ahead
Conway joins City Council as alderpeople are on a journey to independence.
In March, City Council adopted new rules, putting the power of assigning influential council committees in the hands of alderpeople and increasing the number of committees. Previously, the mayor would make those assignments.
Over the weekend, new details emerged, revealing the number of committees has been cut from 28 to 20 in the reorganization, according to the Daily Line.
Under a previously leaked draft of potential committee assignments, Conway was listed on 15 committees, including as possible vice chair of the powerful Finance Committee. The latest update means Conway could serve on 12 committees, including Budget and Government Operations, Environmental Protection and Energy and the Committee On Zoning and Landmarks, which leans on his military and prosecutor experience.
"I think I can lend that expertise and perspective to a lot of different committees. Beyond that, what they are … I'm not terribly worked up about which ones I land on," Conway said.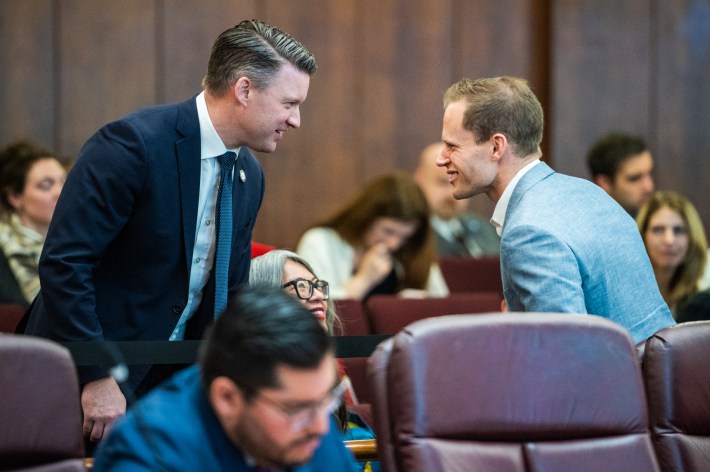 But Conway has said he's "far less concerned" about committee assignments than on building the new 34th Ward. He recently "set the tone" with his first hire, he said, announcing Dan Luna as his chief of staff. Luna is well seasoned in Chicago politics and constituent services, having served for more than a decade as chief of staff to retiring Ald. Harry Osterman (48th).
"Because [the 34th Ward] is part of six different wards coming together as one, we need to make sure that we can provide A+ constituent services very quickly," Conway said.
He's pounding the pavement trying to secure a ward office and planning for a major overhaul of the Madison streetscape, which he vowed to complete in time for the 2024 Democratic National Convention.
Conway will also need to come up with a game plan for how he vets new developments in the ward. Stretches of the West Loop in the neighboring 25th and 27th wards vet developments and rezoning requests through a neighborhood process.
Ald. Byron Sigcho-Lopez (25th) has a ward zoning board comprised of community representatives that weighs projects. Ald. Walter Burnett Jr. (27th) works with community groups to host public meetings where developers pitch plans to neighbors.
Conway hasn't yet added a development expert to his staff, but he plans to employ a "constituent-focused" process, he said. Developers will initially pitch plans to Conway's office, his team will vet the project and then community groups will host public meetings so residents can ask questions and offer suggestions.
West Loop residents have been known to fight against high-rise developments coming to the area, and local parks have struggled with upkeep as the neighborhood grows denser. But developers continue to see a neighborhood ripe for new building.
"Many constituents understandably are saying, 'There's so much building going on here already. There's so much density already. We can't take anything else.' And I fully understand that," Conway said. "I also fully understand from the developer's perspective that 'Hey, two blocks north of here there's like 600-foot towers going up.'"
Conway said he'll do his best to find a "middle ground" between the opposing views.
"Chicago is just a great place to live and it's why I am and will always be optimistic about the future of Chicago," he said.
Listen to "It's All Good: A Block Club Chicago Podcast":
Listen to "It's All Good: A Block Club Chicago Podcast":