UKRAINIAN VILLAGE — The city has denied a license for certain live events for a Ukrainian Village restaurant and bar after neighbors said it could exacerbate safety issues.
Thomas Brewer opened Whadda Jerk bar and restaurant at 2015 W. Division St. after operating the company as a food truck. He wants a Public Place of Amusement license to charge admission for his weekly karaoke and R&B nights, as well as to have a live band play during brunch service Sundays.
The license is required by the city for venues to host events with more than 100 people or to charge a cover at the door.
Brewer has said the license is necessary to boost his business, which he said has seen a sharp decline in revenue since an overnight parking ban pilot program went into place on Division Street at the end of 2022, cutting into his lucrative late-night weekend hours.
But Whadda Jerk's license application has been opposed by a group of neighbors who are worried it would allow Brewer to essentially operate his business as a nightclub and contribute to an already rowdy atmosphere in the area.
Ald. Daniel La Spata (1st) also recommended against issuing the license last month after Brewer did not agree to parts of a draft Plan of Operation based on suggestions from neighbors, La Spata said.
The license application was preliminarily denied Tuesday, according to a letter sent to Brewer from the city's Department of Business Affairs and Consumer Protection that was reviewed by Block Club.
Whadda Jerk's license "has been preliminarily denied based on community and aldermanic objections indicating the issuance of the license would have an adverse effect on the surrounding community," business spokesperson Elisa Sledzinska said in a statement Thursday.
Whadda Jerk has 20 days to appeal that decision and submit an updated Plan of Operation, which could dictate specific hours of operation and security precautions at the restaurant, among other measures.
Brewer said he does plan to appeal in some capacity, but he said the city's initial decision is "draining" and "discouraging."
Brewer said he feels like some neighbors have zeroed in on Whadda Jerk because it's one of only a few Black-owned businesses on that stretch of Division Street and serves predominantly people of color from other parts of the city.
"If [there] were a lot of problems in my business, and it starts to effect the neighborhood, I will completely understand that people feel a certain way," Brewer said. "But for me not to have any issues at my business — I have a great relationship with the police on patrol, I have a great relationship with a lot of neighbors. Why am I targeted?"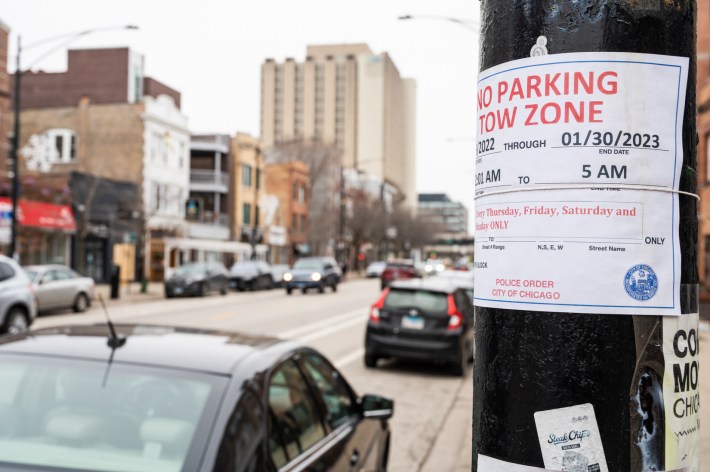 Brewer said his business struggles started when the temporary parking ban was launched in December.
Implemented by the 14th Police District and supported by La Spata, the pilot ban is aimed at combatting public partying and crime in the area. It prohibits parking midnight-5 a.m. Thursday-Sunday in the 2000 and 2100 blocks of West Division Street.
The ban began as Division Street and the neighborhood experienced high-profile shootings and public safety issues this winter.
Early Jan. 1, Austin McAllister was shot and killed outside the Lyon's Den Hookah Lounge, 2123 W. Division St., while working as a bouncer.
That evening, someone fired shots near the Mariano's grocery store at 2021 W. Chicago Ave. in Ukrainian Village, police said. No one was harmed.
That came less than two weeks after Darian Neal was shot and killed on the grocery store's parking deck Dec. 19. 
The incidents occurred after months of neighbors complaining of loud music from cars, fights and other disturbances on Division and nearby.
In December, Brewer worried the parking prohibitions would cause his customers to leave Whadda Jerk early or not come by at all. He said the ban could effectively keep Black and Brown people from other parts of the city, who make up the majority of his clientele, out of Wicker Park. The bar and restaurant closes 2 a.m. Fridays and Saturdays.
Brewer said in March that prediction came true. At the time, he said his Friday and Saturday night business had been cut in half since the ban went into effect.
Last week, Brewer said things have picked up somewhat, but business on weekends is still down about 30 percent.
"So many people got towed that came into our business. Those customers are probably never going to return," he said.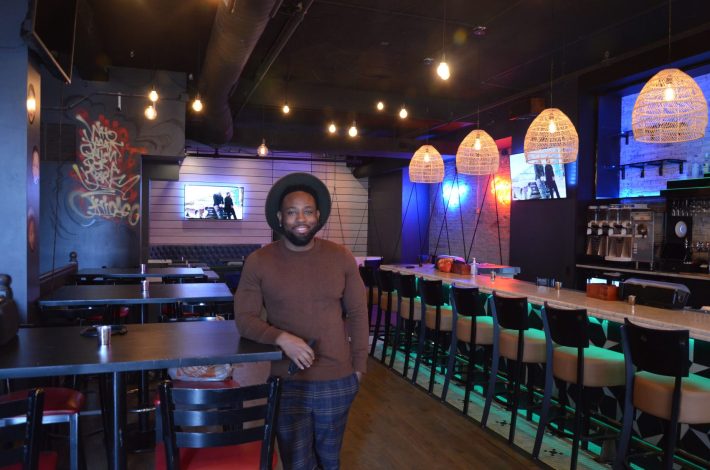 As part of Brewer's initial license application, Brewer wrote a draft Plan of Operation to share with neighbors at a community meeting in March.
But many in attendance worried it didn't go far enough and the license would give Brewer a wide latitude to run a nightclub out of his restaurant if he chose to do so.
"My concern with Division Street is it has gotten dramatically louder and noisier over the last three years," Greg Nagel, who lives near Whadda Jerk and operates a real estate office a few blocks away, said at the time. "The feedback I've gotten from my realty buyer clients is where they used to be OK with living on Division Street, they want to now avoid it because it's too loud."
The 1st Ward office incorporated community feedback into an updated draft Plan of Operation, La Spata said. That proposal included stipulations like stopping alcohol service on the Whadda Jerk patio at 10 p.m., agreeing not to hire party promoters and to link security cameras to the city's Office of Emergency Management and Communications, according to a copy reviewed by Block Club.
But Brewer rejected those additions and said he felt they were unfair as his restaurant hasn't had any problems or been tied to issues along Division Street.
"This doesn't make sense, all these restrictions on me. And no one else is living by this or no one else has to do this. And I just feel like I was picked on. I feel like I was singled out for no good reason," he said.
La Spata said he was overall supportive of what Brewer hoped to use the license for, like live music on Sundays. But he found the refusal to compromise and accept additional feedback from neighbors "really frustrating," he said.
"We just wanted to put in place the guardrails that our neighbors were asking for," La Spata said Friday. "And because he rejected that Plan of Operations, based off of that, and based off of the feedback that we got from our residents, the petitions that they sent to us, that is why we submitted a letter of opposition for the [Public Place of Amusement] license."
Nagel, who encouraged neighbors to write letters to the business department in opposition to the license, said last week concerns were not specifically related to Whadda Jerk, but rather any new Public Place of Amusement licenses on Division Street.
"The idea of having [Public Place of Amusement licenses] doesn't strike a good balance between the businesses and the residences," he said. "The majority of neighbors in the area are not in favor of [those license] on Division at all, regardless if there's a Plan of Operation, because a Plan of Operation is only as good as the enforcement of it."
Linda Buczyna — who is part of the Ukrainian Village Safety Advocates, which was opposed to Whadda Jerk's application — said she is pleased with the business department's decision. She said it spoke to the power of a community organizing around an issue.
Buczyna said the opposition to the license stemmed from the public safety issues in recent months in the neighborhood.
"It's not the nature of the business. And it's not the nature of the owner. It's the nature of the disturbances to the community," she said.
Brewer said Thursday he's reaching out to the city for more clarity about the decision before he files an updated application.
In the meantime, Brewer's been questioning his decision to open Whadda Jerk in the neighborhood.
"It's leaving such a bad taste in my mouth that I would second guess opening my business into a predominantly white neighborhood," he said.
Listen to "It's All Good: A Block Club Chicago Podcast":