CHICAGO — Howard Brown Health is warning of a resurgence of monkeypox cases in Chicago and encouraging people in at-risk communities to get vaccinated.
The LGBTQ-affirming health care provider has diagnosed eight cases of monkeypox since April 17, officials said. Just one case had been reported in the three months prior, officials said.
Six of these new diagnoses were breakthrough cases among people who had already been fully vaccinated, a Howard Brown spokesperson said. 
"When vaccinating last year, the medical advice provided to patients was that we expected to see some amount of cases even after vaccination," Howard Brown Health stated in an Instagram post. "We advise everyone to be cautious, stay safe and remain vigilant about potential symptoms."
All eight cases have been "mild," and no patient has needed pain management or TPOXX treatment, the spokesperson said. Howard Brown Health's contact tracing team is still working to determine whether the cases make up a cluster or are unrelated.
Monkeypox, which is also known as MPV, can causes painful sores and is largely non-fatal, health officials have said.
The virus typically lasts two to four weeks and spreads through person-to-person contact, officials have said.
Last week's new case rate was the highest seen in Chicago since November, according to Howard Brown Health. It was also the highest weekly new case rate seen across the country.
At its peak in July, 143 Chicagoans were diagnosed with monkeypox in one week. But recently, only one Chicagoan was diagnosed between mid-February and mid-April, according to health department data.
Results from tests performed last week are still pending, according to Howard Brown Health.
"We urge sexually active members of our community to receive the [monkeypox] vaccine," said Dr. Patrick Gibbons, chief medical director at Howard Brown Health. "The more people who get vaccinated, the better protected the LGBTQ+ community will be from another outbreak of monkeypox this year."
Anyone attending International Mr. Leather weekend at the end of May should receive their first dose as soon as possible, Gibbons said.
The monkeypox vaccine comes in two doses given four weeks apart, according to the Chicago Department of Public Health. Immunity starts to build in the days and weeks after the first dose, but full immunity does not happen until two weeks after the second dose.
People who have not been vaccinated for monkeypox should call any of Howard Brown Health's nine clinics to schedule an appointment. Patients can also seek care at the walk-in clinics in Hyde Park, Englewood and Uptown.
The Chicago Department of Public Health also has a map of clinics where people can be vaccinated.
Here's what else you need to know about monkeypox: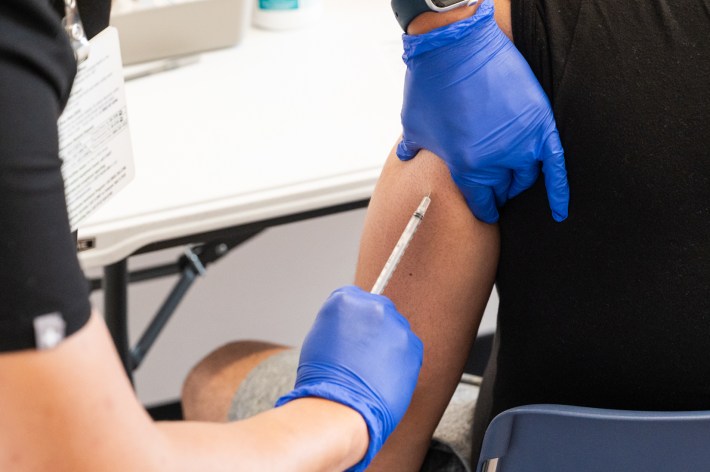 How Does Monkeypox Spread?
According to the CDC, monkeypox can spread through:
Someone coming into direct contact with a person's infectious rash, scabs or body fluids.
Someone coming into contact with an infected person's respiratory secretions during prolonged, face-to-face contact or during intimate physical contact, including through kissing, cuddling and sex.
Someone touching items — including clothing or linens — that previously touched a person's infectious rash or body fluids.
A fetus can be infected if a pregnant person gets monkeypox.
Infected animals can also spread monkeypox to people in a variety of scenarios. For example, an infected animal could scratch or bite a person, or a person could eat an infected animal's meat or products, according to the CDC.
Monkeypox can spread from the time an infected person shows symptoms until their rash has healed and they no longer show symptoms, according to the CDC. People who don't have symptoms can't spread the virus.
Who Can Get Monkeypox?
Anyone can get monkeypox.
In Chicago, most cases have been diagnosed in men — in particular, men who have sex with men, said Dr. Allison Arwady, the city's health commissioner. But that's largely because spread of the virus is easier in tight-knit social networks, she said; there is nothing specific about being part of the LGBTQ+ community that makes someone more susceptible to monkeypox.
RELATED: 'Do People Outside The LGBTQ+ Community Got Skin?': Experts Fight Monkeypox Stigma

Symptoms Of Monkeypox
The defining symptom of monkeypox is a rash that can take several weeks to heal and can go through stages as it heals, experts said.
The rash might look like pimples or blisters that can appear on a person's face, face, hands, chest, genitals or anus, according to the CDC and experts.
The rash can also be internal, making it difficult for people to go to the bathroom, eat or drink, Howard Brown Health CEO David Ernesto Munar previously said.
The rash can be "very painful, excruciatingly painful," Munar said.
Some people may only experience the rash, while others will develop other symptoms, experts said. Other symptoms:
Fever
Headache
Muscle aches and backache
Swollen lymph nodes, including in the neck and groin
Chills
Exhaustion and malaise
"Often, people have flu-like symptoms and then rashes that can look like a blister, like a pimple and can be very painful," Arwady previously said.
Anyone with symptoms should seek medical care to get tested, experts said.
What Should You Do If You Think You Have Monkeypox?
People who think they have monkeypox should isolate from others, limit skin-to-skin contact with other people and be careful not to share bedding, towels or other linens, Munar previously said.
Anyone who has a new, unexplained rash should avoid sex or being intimate until they've been checked out by a medical professional, Arwady previously said.
People who think they have monkeypox should seek medical care to get tested.
How To Get Tested For Monkeypox
Go to a health care provider to get tested for monkeypox. Tests are not available over the counter.
Testing is widespread and available in most doctor's offices and medical settings, Arwady said. A medical professional will run a swab over a person's rash to test for monkeypox.
People who don't have a health care provider can call the city health department at 312-746-4835 to get connected to care, Arwady said.
Who Can Get Vaccinated Against Monkeypox In Chicago
The city's health department is prioritizing vaccines for people who are most at risk from the virus.
Here's who is eligible in Chicago:
Anyone who has had skin-to-skin contact with someone diagnosed with monkeypox. There are not restrictions for people in this group.
People who exchange goods or services for sex.
People who live with HIV, especially those who do not receive HIV care or who do not regularly take their HIV medications.
People who are eligible for or currently taking PrEP to help prevent infection of HIV.
Sexually active bisexual, gay and other same-gender-loving men, as well as sexually active transgender people.
Sexual partners of those included above or people who anticipate meeting the above criteria in the future.
How Can I Get Vaccinated?
The Chicago Department of Public Health also has a map of clinics where people can be vaccinated.
Howard Brown Health's clinics also offer vaccines by appointment or walk in. Find a location nearest you here.
Listen to "It's All Good: A Block Club Chicago Podcast":