BELMONT CRAGIN — Frustrated neighbors continue to organize to block a musical series at a Northwest Side park — while music fans are still waiting on word on if it'll happen.
AEG Presents plans to host the Chicago leg of The Re:SET concert series June 23-25 at Riis Park, 6100 W. Fullerton Ave.
Promoters expect as many as 9,000 fans, according to a permit application Block Club obtained through a public records request. With setup and teardown, festival organizers would be in the park June 19-29.
Promoters have been selling tickets for $129.50 and $650 for months despite Park District officials telling Block Club the event hasn't been approved. The promoter is going through the permitting review process, and the timeline for a final decision is not immediately clear, officials said.
In the meantime, a lead neighborhood organizer and Alderwoman-elect Ruth Cruz (30th) confirmed representatives from AEG have agreed to meet with neighbors about the event following months of what neighbors have said was poor communication from the promoters.
The meeting is 6 p.m. Thursday at Northwest Side Community Development Corporation, 5318 W. Diversey, said Fabian Cisneros, the community engagement and economic development manager for the Northwest Side Community Development Corporation.
Cruz and representatives from AEG, the Park District and Ald. Gilbert Villegas' (36th) office are set to attend, Cisneros said.
Cruz, who will take office May 15 and whose ward includes the park, said she's glad AEG is finally meeting with neighbors. But with the festival date rapidly approaching, there are still unanswered questions around its viability and how it could impact neighbors and business owners, Cruz said. 
"I think a lot of things went wrong with this," Cruz said.
Cruz also spoke to Park District CEO Rosa Escareño about the process for approving festivals. District officials told Cruz if the community is against it, and if Cruz doesn't support it, the Park District needs to know quickly, Cruz said.
Hundreds of neighbors have signed a petition and sent in letters urging the Park District not to allow the festival to move forward.
Park District officials have not answered questions about how neighbors' opposition factors into their review process for the festival permit. Officials also have not clarified to Block Club when a decision will be made regarding AEG's permit application, only saying AEG is still "going through the permit process."
"Communication is key, and I think that got lost here. And we'll see what happens with the community, but it is important for them to know updates about this. And then if the community doesn't want it, then we have to make sure we respect that," Cruz said.
Cruz expects it'll be one of the first hard decisions she'll have to make once she's sworn in as a City Council member May 15.
"Let's all be in the same room and address the concerns that we have. So then there is no miscommunication whatsoever," she said. "If we feel that [AEG] is not willing to listen to the community, we will continue moving forward with canceling the event."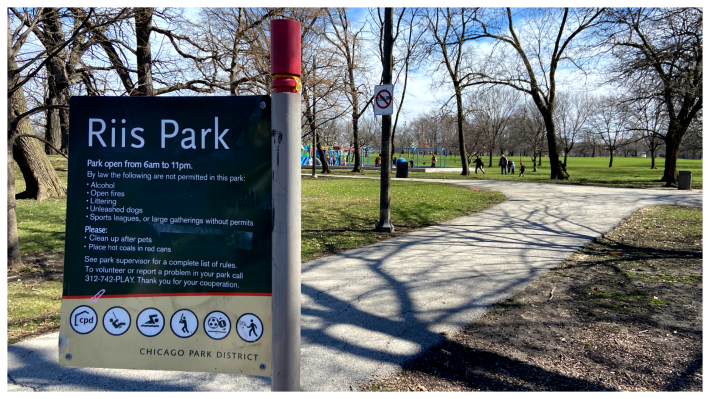 New Details About The Festival
The permit application provides the clearest look so far at the scope of the festival, but some key details remain unclear — like the event's exact location within Riis Park.
Re:SET's application was filed by 606 Events owner Michael Neri on Jan. 18 on behalf of AEG, records show.
Setup would start 8 a.m. June 19. Crews would finish tearing down their equipment by 6 p.m. June 29, according to the application. 
The shows would run 3-10 p.m. June 23-25, according to the application.
"This is a first year event, we are expecting about 9,000 people to attend. The talent that we have scheduled to play is Indie/Rock alternative adult programing. We are planning on having many vendors to be of local establishments," Neri wrote in the the application. 
The stage will be about 4 feet high, 80 feet long and 60 feet wide and feature roofing and wings, according to the application. A drone would be used to get marketing information and "to watch the crowd bubble," according to the application. 
On-site medical services will be provided by Mat Schipper's EMS. The on-site security contractor is still to be determined, according to the application. 
Also to be determined is the contractor that would clean up the park before, during and after the event, according to the application. 
A detailed site map was not filled out. Neri said the festival would be on the "west side of the park," according to the application.
It is not immediately clear which parts of the park, if any, would need to close to accommodate the festival. The playground, one of the soccer fields, lagoon and fishing pier are in the western half of the park, while the baseball and another soccer field, tennis courts and outdoor pool are in the eastern half.
Organizers would close some sections along Narragansett Avenue between Fullerton and Wrightwood avenues, build 8-foot fencing along the exterior of the festival grounds and 6-foot fencing on the interior and use bike barricades to create "queue lanes," according to the application.
The festival would also use 10-12 generators, have amplified sound 10 a.m.-10 p.m. and have 80 portable toilets, with 10 being accessible, according to the application. The permit did not clarify if the 10 a.m. amplified sound would be used for sound checks, but the festival performances are advertised as happening 3-10 p.m. during the three-day festival.
"We are asking all patrons to use public transportation or ride bikes to the event. We are working with a couple groups to secure off-site parking for our patrons, as well. All this information will be on our website to make traveling to our event as easy as possible and not to disrupt the local neighborhood businesses," Neri wrote on the the application. 
Reached by phone, Neri referred questions to AEG. AEG has not returned multiple requests for comment.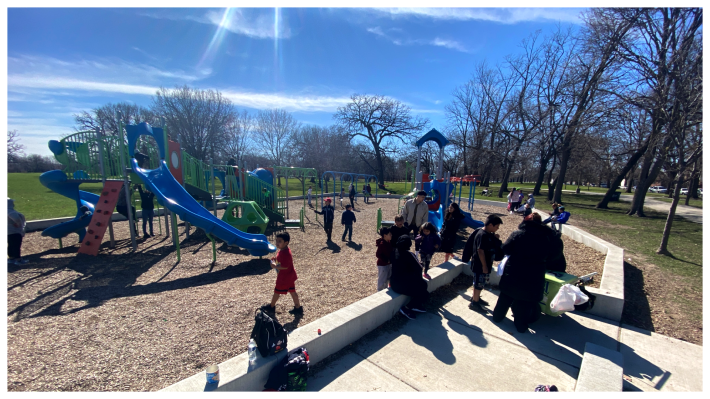 Neighbors have complained there is little public information about the event or its logistics, forcing local leaders to contact the Park District and promoters for more insight, Cisneros said.
"I would say about half of this permit application has new information I haven't seen before," Cisneros said. 
Earlier this month, neighbors launched a petition asking Park District officials to deny AEG's permits for the event. It had more than 700 signatures as of Thursday, Cisneros said. 
That petition was dropped off at an April 12 Park District board meeting, where neighbors also submitted letters of opposition. 
The following day, representatives from AEG had a two-hour meeting with Cisneros, Cruz, Ald. Felix Cardona Jr. (31st), and a staffer the 36th Ward office, Cisneros and Cruz said. That was when officials agreed to attend a community meeting, Cisneros said.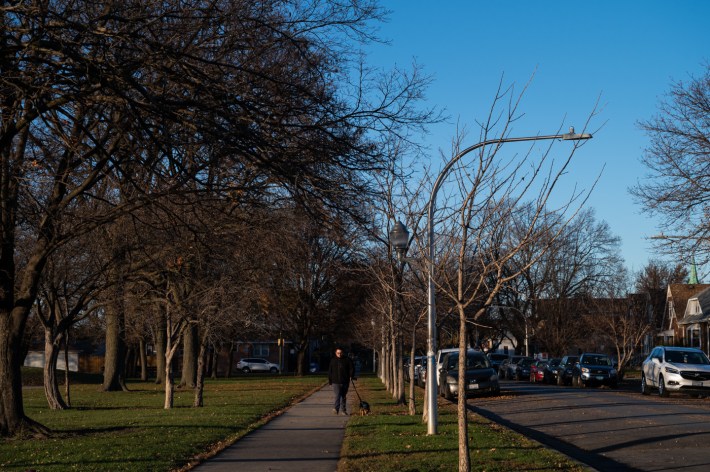 Fans Wonder: Is There Going To Be A Show?
Ticket holders who spoke to Block Club said they were surprised when they learned AEG is still awaiting clearance to host the shows and that Belmont Cragin neighbors have been trying to block the festival.
Shauna Warren is a fan of James Blake and bought her tickets in February as soon as they went on sale. After reading news coverage about neighbors attempting to stop the festival, she emailed AEG asking if it was still happening, she said. 
"The minute Block Club started to report on this, I emailed the promoter asking if this is still going ahead. All this reporting is saying your permits aren't finalized. And they said, 'Yep, it's going ahead,' when I asked in March," Warren said. "I'm interested to see what happens. I certainly want to go to the festival, and I hope they can find another location if Riis Park doesn't work out. But we're getting real close to it." 
Brigid O'Keefe bought her tickets to Re:SET in February to see Boygenius. She's scheduled a housewarming and an engagement party around being able to go to Re:SET, she said. 
"I would love to hear if AEG has a backup plan," O'Keefe said. "But, I mean, based on everything we're talking about, I'd be surprised if they had a plan at all." 
Park officials didn't answer questions about if it's typical for event promoters to not have an approved permits this close to an event.
Officials previously said the agency encourages organizers to perform outreach to neighbors, and any ticket sales made prior to the Park District approving a permit are done at the organizer's risk.
"When I bought my ticket, it with the assumption that that this was kind of a fully complete deal," said Todd Stevens, another ticket holder. "The uncertainty is really the most pressing issue for me, because this was something that I had to budget for. A single day was a $125 ticket."
Riis Park is a roughy 57-acre space with a lagoon, fishing pier, tennis courts, playground with a pool and ice rink, baseball diamonds and a football and soccer field.
Ticket holders also said they are concerned AEG started selling tickets without having a public meeting to work with neighbors and business owners to address concerns about traffic, noise and access to park amenities during the festival.
O'Keefe said they have been similar issues with Douglass Park, where West Side neighbors fiercely opposed three large festivals that took over the public park last summer. Two of those events have relocated this year, while neighbors have clashed over whether to allow Riot Fest to move forward in September.
"I do not understand why they didn't include the neighborhood in this and why they haven't had those meetings to really sort through any potential issues," O'Keefe said. "Using Riot Fest as an example, this past year there was a lot of outrage and backlash from that neighborhood because they weren't being involved in decisions."
Listen to "It's All Good: A Block Club Chicago Podcast":