LOGAN SQUARE — The third-generation owner of Margie's Candies died last month, ushering in a new chapter for the beloved neighborhood institution.
Peter George Poulos died of cancer April 26, his family said. He was 86.
Poulos had run the old-fashioned ice cream and confectionary shop for decades, hand-dipping candy and joyfully helping customers just as his mother, Margie, had for years before him.
Now, Poulos' son, George, is taking the reins as fourth-generation owner and operator, carrying on the family legacy.
George Poulos said he plans to keep Margie's the exact same, from the menu to the old-school kitschy decor. He sees himself running the ice cream shop for years and passing the business down to his children when he's older. He has a 5-month-old son, Kai.
The plan applies to both Margie's: the original shop along the Logan Square-Bucktown border at 1960 N. Western Ave. and the Ravenswood outpost at 1813 W. Montrose Ave.
"My dad's wish was always to keep everything the same that his mom had it, so I'm just following the way," George Poulos said.
Peter Poulos' father and grandfather opened Margie's Candies — then called Security Sweet Shop — in the 1920s at Armitage and Western avenues. The shop was known for its homemade ice cream and candy, and as the kind of place the whole family could cram into a booth and share a massive sundae.
Peter Poulos' mother took over the restaurant some 30 years later after her husband died of an ulcer.
Margie Poulos was a "visible figure" at Margie's for years, according to an old Reader story. When she wasn't helping make ice cream and candy, she sat in back and watched a little Magnavox TV.
The family renamed the business after the matriarch.
"In 1933, when I got married, everything in the neighborhood was 'Security,'" Margie Poulos told the Reader in 1987. "The real estate people used to be called Security Real Estate, the bank used to be Security Bank. Since 1933, we've been Margie's. After my husband and I bought it from my father-in-law, we thought for candy a woman's name would be best."
As a kid, Peter Poulos would help out around the shop and was known by customers and employees as "Margie's Boy," according to the Sun-Times.
Peter Poulos took the reins the shop after his mother died of a heart attack in 1995.
As the owner, Peter Poulos was "very kind and caring" to customers and people in the community, his son said. He'd frequently give candy out for free or donate candy to neighborhood fundraisers, he said.
On top of running the family business, Peter Poulos was a podiatrist who ran a medical practice across the street. But Margie's was his true passion. Even after he got sick, he still called in every day to make sure everything was running smoothly, his son said.
"The store really meant a lot to him because it was about his parents," George Poulos said.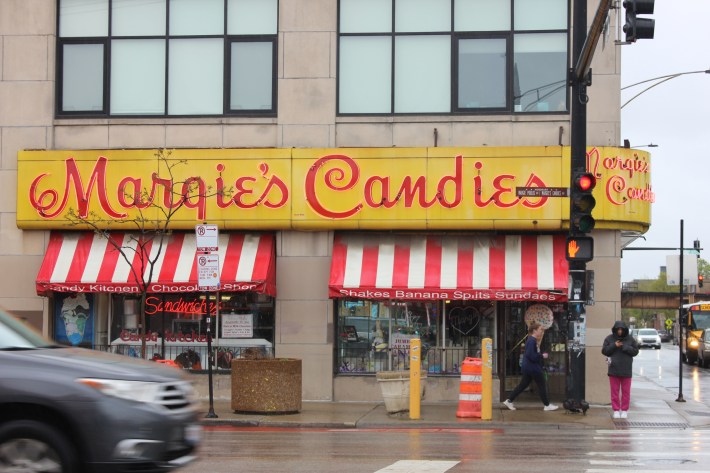 Margie's has a long and storied history: Al Capone, The Beatles and Aretha Franklin have all reportedly patronized the old-school ice cream spot.
Poulos played a large role in making the family business a success, his son said. Since his passing, the family has received an outpouring of support from customers, friends and family.
Earlier this week, a large floral arrangement in the shape of an ice cream cone and a single white rose were placed on the Logan Square shop's gate in tribute. The restaurant reopened the day after funeral services, with Poulos' son at the helm.
"Obviously, there's a lot of pressure. I still want to make sure I live up to my dad's expectations," he said. "I'm excited about it. I just want to keep everything going."
Watch our "On The Block" TV show on The U, CW26 and MeTV.
Listen to "It's All Good: A Block Club Chicago Podcast":