CHICAGO — Hundreds of murals across the city will be celebrated during National Mural Day on Sunday.
Chicagoans can map out their own self-guided tours by looking at mural registries run by the city and neighborhood groups.
The city's mural registry features more than 430 works of art in neighborhoods across the city. The registry was created in 2018 as part of an effort to protect and celebrate public art.
The Wicker Park Bucktown Chamber of Commerce and Special Service Area No. 33 also put together an online registry in 2018, which they encourage residents to use ahead of National Mural Day. It has information on about 40 Wicker Park and Bucktown murals and the artists who created them.
"We wanted to make sure we had some kind of a database going forward that we could point people to these public displays of art," said Jordan Miller, arts administrator for the chamber and Special Service Area No. 33. "But beyond that, we wanted to have a public, visible place where people could see the murals and learn about the artists."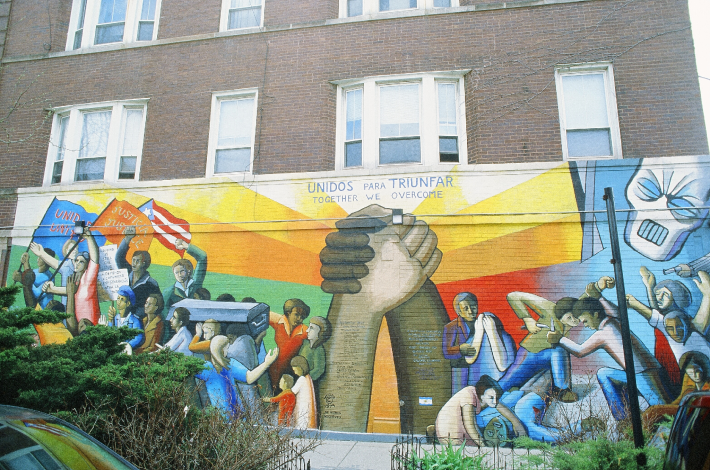 The Bucktown and Wicker Park registry highlights works like the Vivian Maier mural by Brazilian artist Eduardo Kobra and the iconic "Together We Overcome/Unidos Para Triunfar" piece by John Pitman Weber.
"Part of the beauty of public art is that it's always around and there's always something to discover," Miller said. "Now you can do that virtually as well as on foot."
The online registries serve as an archive of the city's public art and a way for residents to create their own self-guided tours.
Organizers update the registries regularly.
Want to submit a mural that isn't on a registry yet? Fill out this online application to get it catalogued on the city's registry. For the Wicker Park and Bucktown registry, email jordan@wickerparkbucktown.com with a photo and any information you may have about the piece.
National Mural Day was launched in 2019 by New York City-based visual artist Cey Adams and beer brand Pabst Blue Ribbon. It serves as "a celebration of the most accessible, oldest and most public visual art form," according to Pabst Blue Ribbon.
Listen to "It's All Good: A Block Club Chicago Podcast":