HYDE PARK — A new film produced by University of Chicago students highlights the ways small businesses contribute to Hyde Park's culture and explores how the university's presence is an advantage and a source of anxiety for local shopkeepers.
"The Heart of Hyde Park: Stories of Small Businesses" profiles eight Hyde Park businesses around several themes: the shops' unique roles in the community, the business owners' love of the neighborhood and UChicago's impact on their ability to remain in Hyde Park, director Lisa Raj Singh said.
"Hyde Park is a very diverse community, and for many of them, it's the center of the South Side," Singh said. "But where the tension comes in is, at times, it can be a struggle to be here. That is the nuance that our film looks at."
The documentary will be screened 5 p.m. Monday at Doc Films, 1212 E. 59th St. in Hyde Park, followed by a panel discussion and casual dinner. Tickets are $7. Click here to buy tickets.
Singh, Lade Tinubu, Ermelinda Calderon, Luke Kalaydjian, Reese Villazor, Daniel Kind, Chritina Gao, Elliot Sher, Abena Karhan and Anthony Menjivar are the undergraduate students behind the film.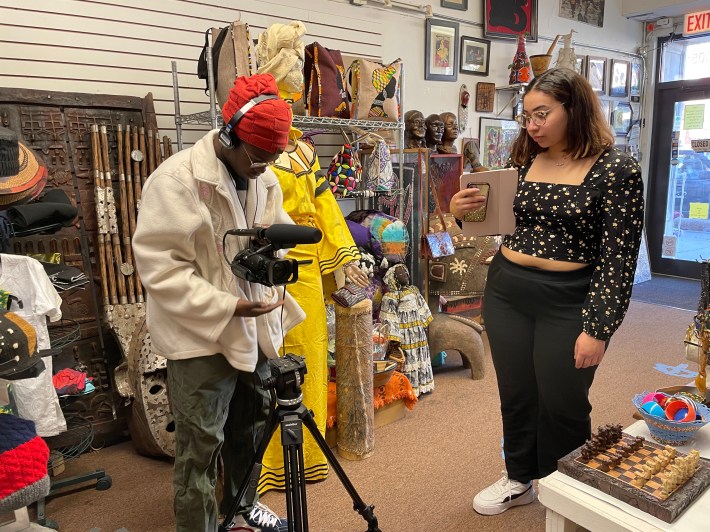 The project sprung from Singh's visit last year to Kilimanjaro International, 1305 E. 53rd St., where she struck up a conversation with owner Mother Rose, also known as Sister Rose.
During the visit, Mother Rose told Singh about her experiences as a Hyde Park business owner and her work to link artists experiencing homelessness with mentors in art and business. It was a "fulfilling" conversation — "the type of conversation I wanted a lot of my peers to have," Singh said.
Drawing on that desire, Singh and the documentary team set out to profile Hyde Park businesses, established and new, to encourage their peers and neighbors to explore how local shops shape the community.
Kilimanjaro and seven other businesses are featured in the film:
Recycled Modern, 5231 S. Harper Court
Black Beauty Collective, 5305 S. Hyde Park Blvd.
Bettye O Day Spa, 1424 E. 53rd St., suite 101
Brady Speech-Language Pathology, 5228 S. Blackstone Ave., suite Y
Hyde Park School of Dance, 5650 S. Woodlawn Ave.
Sahan Motherland Salon & Spa, 1424 E. 53rd St.
Joyce's Event & Party Planning
Among the filmmakers' goals is to promote "awareness — are you as a student taking the time to have these conversations, to learn about the neighbors that you share a neighborhood with?" Singh said. "Do you view your time here as staying here for four years, or living here for four years?"
Campus groups like UChicago Against Displacement and the Neighborhood Schools Program do great work to connect the university community with Hyde Parkers and the broader South Side, Singh said.
The university also sponsors events like Jazz in the Court on 53rd Street, partners with the student government to run a Taste of Hyde Park event in February and offers coupons and discounts to encourage students to support local shops, university spokesperson Gerald McSwiggan said.
But "it is not a culture or a norm" for students to "necessarily be aware of the effects this university has on the surrounding community," Singh said.
Students often live in a "bubble" — particularly early in their university careers, where social circles dictate how and where they spend their time, said Tinubu, the film's producer and a second-year student.
Tinubu's experiences in Hyde Park were similarly "very limited" during his first year at UChicago, he said. But through the documentary project, he was able to meet "so many business owners and gone to so many other places I haven't been to before — places I love now," he said.
It was satisfying to realize through the interviews with shop owners how conversation "is all it takes, really, to create change and be a part of your community," Tinubu said.
The film also explores the pros and cons of having a major university so heavily involved in the neighborhood's commercial development.
Some interviewees said they were able to open in Hyde Park, a prime location known as the South Side's "Downtown," with help from UChicago.
McSwiggan touted the openings of Recycled Modern, Daisy's Po Boy and Tavern, Bob's Pizza, Suuri Design and Sneakerville 88 at university-owned properties in the past two years.
But other entrepreneurs, like Akroma Kourouma Sahan of Sahan Motherland, have "had a direct conflict" with UChicago, Singh said.
A university-owned real estate company alleged Sahan was behind on rent and moved to end her lease amid the university's development of the Chicago Innovation Exchange. Sahan, who sued the company over the dispute, was ordered by a judge to relocate in 2014, according to the Chicago Maroon.
UChicago's development of Hyde Park is worth celebrating, said Arnell Brady, owner and clinical director of Brady Speech-Language Pathology.
But Brady said the university, longtime business owners and Hyde Parkers at large must have a "greater relationship" to prevent existing businesses from being displaced and improve public safety — two of his greatest concerns about the neighborhood's future.
"Now, with the Obama Center coming and all these new businesses coming, we can't let that newness splinter us," Brady said. "We can't let all of that overshadow the good that is here."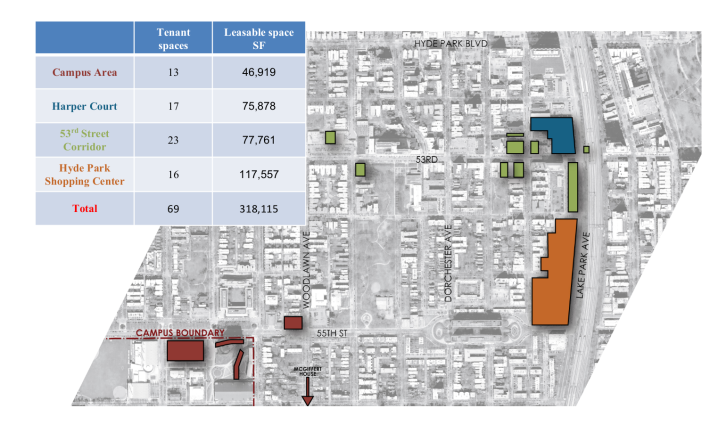 As "The Heart of Hyde Park" reaches the public, it can foster improved relationships between the university and neighborhood residents, Brady said.
Brady has counseled, diagnosed and treated people to help them with their oral language skills in Hyde Park since 1984, save for a decade-long stint in Chatham.
Brady's small business and the others featured in the film "hang tough, and that's probably because we're providing services and goods to the community that are good for the community," he said.
Brady welcomes the filmmakers' work and hopes it gets more students "talking about the businesses, highlighting the businesses [and] sharing the history, because the history of Hyde Park is very rich," he said.
Brady's father managed the Hyde Park Bowl and Billiards in the '50s and '60s at 51st Street and Lake Park Avenue, he and his wife worked for UChicago at points and their children attended the Lab School.
"Hyde Park is in our blood," he said.
Brady will attend Monday's screening to see the final cut of the documentary for the first time and participate in the panel discussion alongside most of the other interviewees.
"I hope a lot of the university people get an opportunity to view this film, because I don't know how they really view the small businesses in the area, or whether they view them at all," Brady said.
Listen to "It's All Good: A Block Club Chicago Podcast":