ROGERS PARK — Some Far North Side neighbors are protesting a new Rogers Park antique shop after uncovering the co-owner's transphobic social media posts.
Dozens of neighbors protested Boho Barbie Ken, 1736 W. Greenleaf Ave., on Sunday, denouncing co-owner Xander Kazanowski's posts disparaging trans people. Kazanowski has vowed to stay in the neighborhood and continue speaking his mind.
Another protest is scheduled for this weekend.
Boho Barbie Ken opened in March, the first physical store for the antique business, which was started by Kazanowski and his fiancee. Shortly after opening, neighbors found Kazanowski's personal Facebook page, in which he rails against the trans community and other topics, including public schools and policies surrounding the coronavirus pandemic.
Kazanowski shared a meme that says, "In the Bible, demons refer to themselves as they/them/we/us." Another has a photo of a mom and daughter with the text, "Mommy why am I home schooled? Because I like you as a girl, dear."
Some of Kazanowski's posts were compiled and shared in Rogers Park social media groups.
Rogers Park neighbors and members of local left-wing groups, including Rogers Park Food Not Bombs, pushed back on the business, saying the owner's anti-trans sentiments go against the community's beliefs and accepting environment, organizer Gerardo Marciano said.
"Food Not Bombs, we have a lot of trans volunteers, a lot of parents of trans kids," Marciano said. "We're trying to protect each other and the community. We decided to make everyone aware."
The group wants neighbors aware of the shop owner's views on the trans community — and they want him to pack up and leave, Marciano said.
"This guy is showing his hate to everybody on Facebook," Marciano said. "He's a danger to the community. Why would we want that?"
Kazanowski, 22, said his business is not going anywhere, as he has just signed a two-year lease. He also has no plans to curtail his online speech, saying it's his expression of his "conservative Christian" beliefs.
"I don't know why they're so caught up on my beliefs," he said. "They want to be the thought police. … I've never done anything to hurt anyone."
Sunday's protest included dozens of neighbors who held signs, waved trans pride flags and wrote chalk messages in support of the trans community outside Boho Barbie Ken.
The event turned contentious at times. One protester called the city about an allegedly unlicensed sidewalk sandwich board outside the business, according to a livestream of the event on Kazanowski's page.
Kazanowski also interacted with some of the protesters, including a testy exchange where a woman spat on him, video shows. Police at the scene were notified, but no arrests were made, Marciano and Kazanowski said.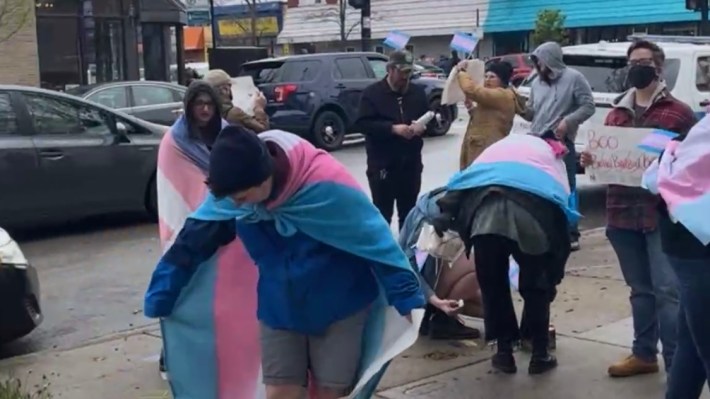 Kazanowski's antiques business started online and at pop-ups and markets. He became aware of the Rogers Park storefront after his delivery and moving business transported antique chairs for the owner of Burgoo, which previously occupied the Greenleaf storefront.
Burgoo's owner mentioned they were looking for a sublet for the space. Kazanowski and his fiancee decided to jump at the chance to open a physical location, he said.
A native of the western suburbs who now lives in Avondale, Kazanowski said the couple wasn't aware of Rogers Park's liberal leanings or history of political activism.
"We didn't understand the general sentiment of this area," he said. "When we moved here, people started pulling stuff from my Facebook, saying we don't belong here."
The protest and backlash haven't deterred Kazanowski. On Wednesday, he posted a meme that demeans trans women participating in gender-specific sports.
Asked if he is anti-trans, Kazanowski said he is "not anti-trans with individuals. I empathize with them. They have a lot going on in their head. … They say, 'Don't hate the sinner; hate the sin.'"
Many neighbors don't agree. Boho Barbie Ken's Google reviews now feature a number of negative reviews, including some calling out Kazanowski's rhetoric.
Another protest Sunday will further denounce the store's presence in the community, organizers said.
Marciano said protesters will be outside the store Sunday to rally against the business. They will also bring a table, pastries and drinks and try to have a conversation and educate people about the business owner's beliefs.
"We want to go back until they're gone," Marciano said. "It's not that we want everyone to think like us. We just want the community to feel protected."
Kazanowski is aware of the protest and said he is likely to have supporters of his own on site.
"Others see the pushback I'm getting as a conservative Christian in Chicago," he said. "They'll be voting with their dollars."
Listen to "It's All Good: A Block Club Chicago Podcast":