UKRAINIAN VILLAGE — Part of Grand Avenue in Ukrainian Village and West Town could be overhauled to make it safer for everyone who uses the road.
Plans outlined this week by the Chicago Department of Transportation call for Grand between Chicago and Ogden avenues to add dedicated lanes for bicyclists, make intersections more pedestrian friendly and lower the speed limit to 20 mph along the stretch, which is more than 2 miles.
The changes would also remove some street parking along specific blocks west of Ashland Avenue, officials said.
The plans were detailed at a packed community meeting Tuesday night at the Smith Park Fieldhouse, 2526 W. Grand Ave.
Complete Streets manager David Smith said changes to Grand are desperately needed to improve the street, a popular thoroughfare between the Northwest Side and Downtown.
Smith said the city has tracked more than 100 drivers per day on Grand going over 70 mph and hundreds more going over 50 mph. The city has also recorded more than 650 crashes in the past five years along the street, according to data shared at the meeting.
"We want people to be able to ride a bike, to walk, to take transit, to drive to the corridor," Smith said. "We just want to rebalance the street so that everybody has a better experience, no matter how you're getting around."
The infrastructure changes would be installed over two phases, Smith said. Work from Chicago Avenue to Damen Avenue would be completed by the end of the summer, with construction on the Damen to Ogden Avenue stretch to begin later this year or in early 2024.

Under the plan, bike lanes going in both directions on Grand would run next to the sidewalk. Street parking would be moved between the bike lane and the traffic lane, or in some sections removed from one side of the street, officials said.
The proposal also includes 20 raised sidewalks that would be installed along most of the residential streets intersecting with Grand, as well as signal improvements at stop lights, hundreds of new trees and upgraded lighting.
The city's full outline for improving the street is online.
At Tuesday's meeting, transportation officials said they're still trying to get input from neighbors on the proposal, although sidewalk reconstruction and other street upgrades have been underway on Grand for more than a year.
Asked during the meeting if the overhaul was a done deal, Smith said the department is looking for feedback on a "block-by-block level."
"We feel really good about what we're talking about here in terms of addressing longstanding issues along the corridor," he said. "If there are just adjustments that need to be made, we really will take all the feedback seriously."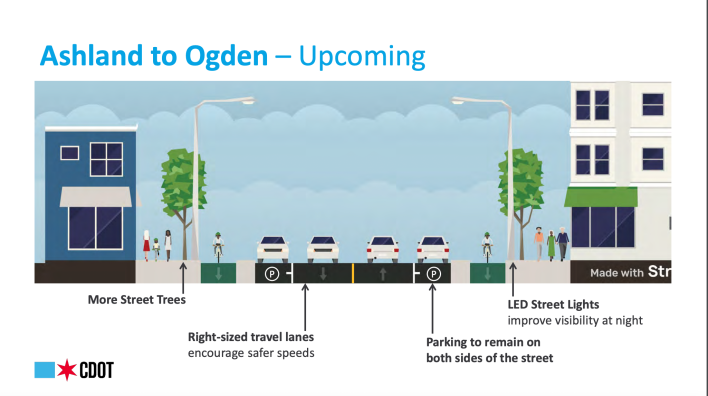 Reactions to the proposal were mixed.
Neighbor Kyle Bardo said he was really excited about the changes, especially for commuters taking Grand to get to the Western Avenue Metra station.
"Grand Avenue has always sucked, for everyone, even drivers. This is incredible. I love it. I really hope they can get this thing done," he said.
Kevin Kleih, a bicyclist who lives in Ukrainian Village, also praised the plan, but he said he thinks the transportation department could have gone even further in its designs.
"I think it still focuses too much on cars," he said. "The bike lanes don't go all the way to the intersection, so cars can pull right in front of people who are on their bikes and block the bike lanes. I think it's mostly great."
But other neighbors and business owners along Grand raised concerns.
Dennis Xenos, who owns a building on the street near Damen Avenue, said he is worried reduced parking could hurt businesses' bottom lines.
Xenos has started a petition opposing the city's proposal, and he showed a Block Club reporter dozens of signatures he's gathered in recent days.
"We need our parking," Xenos said. "There's a lot of small businesses. A lot of FedEx, Amazon trucks stop. If they've blocked the lane, where are the drivers are going to go? They're going to get upset or go around; a lot of accidents are going to happen."
Under the plan, street parking would be kept on both sides of Grand from Ogden to Ashland, where officials said it is most used. From Damen to Chicago, parking would be reduced to only one side of the street, according to the proposal.
Smith cited data Tuesday showing street parking has been "underutilized" between Ashland and Western and severely underused from Western to Chicago, when Grand starts to bend diagonally along Smith Park. That data was collected 10 a.m.-8 p.m. weekdays and Saturdays.
Part of the city's plan would allow for 24-hour street parking on the impacted stretch of Grand and do away with current rush hour prohibitions.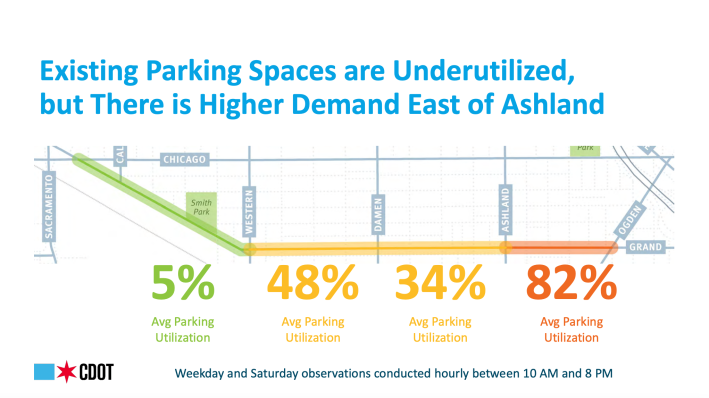 Tom Swiatkiewicz, Albany Steel and Brass Corporation president, is also against the proposal. He has concerns about removing parking, but he said his primary worry was that under the overhaul, trucks supplying his company's headquarters at 1900 W. Grand Ave. would no longer be able to back up to the building.
"With the new, narrow streets, we're not going to be able to back into our docks to unload trucks. To get around that, we're going to have to unload them on the street. And that's going to cause a nightmare," he said.
Ethan Saltzberg, who said he regularly drives along Grand Avenue and occasionally bikes on the street, heralded the potential upgrades and ultimately dismissed some of the concerns raised Tuesday.
"I get people's concerns about parking. But I saw the stat where half the parking isn't utilized. And I think if it's not utilized, you can replace it with something that keeps people safe," he said. "If there's one thing that drives where I feel about this — you cannot compromise on safety. … If you're talking about downgrading safety to add back parking, that's not acceptable."
Alds. Daniel La Spata (1st), Walter Burnett (27th) and Gil Villegas (36th) were in attendance Tuesday. The proposed changes to Grand Avenue run through their wards.
Burnett neither endorsed nor shot down the plan, but he reassured meeting attendees nothing was set in stone.
"I want you to know, [Department of] Transportation may think this is a done deal, but nothing is a done deal as far as I'm concerned," Burnett said. "We'll see what comes out of these meetings. We'll see how we deal with it after this."
Villegas said he plans to push the city to hold another community meeting about the proposal so neighbors can learn how their feedback is incorporated.
"We want to hear what CDOT's thinking based on the responses, so that they can put forward a product that takes into account what the community wants," he said. "It has to be give and take. Similar to legislation, you introduce an ordinance, it's the alderman's first approach at trying to deal with an issue. … There needs to be compromise."
Neighbors can email additional feedback to info@chicagocompletestreets.org.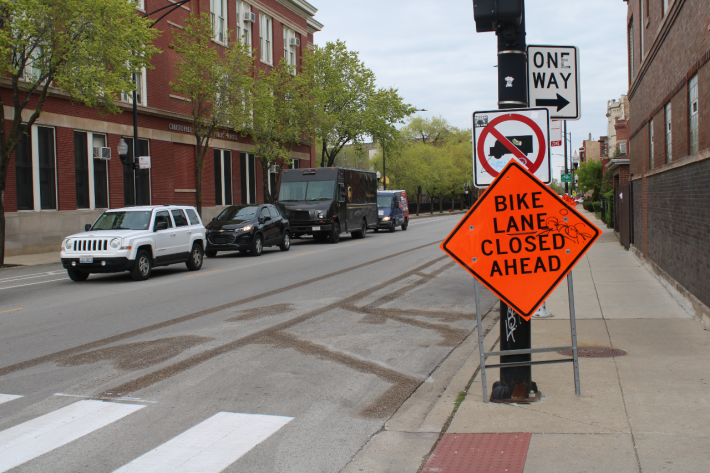 The Grand Avenue proposal comes as crews began work this week on a similar plan along a 1.3-mile stretch of Augusta Boulevard between Milwaukee and Western avenues.
Protected bike lanes on Augusta will be separated from parking and car traffic by concrete curbs and will be installed next to the sidewalk on either side of the street, with parking moved outside the bike lanes next to car traffic, according to the plans.
The city will also add shortened pedestrian crossings at intersections and reduce the speed limit to 20 mph.
The Augusta project is expected to be completed in June, a CDOT spokesperson said Tuesday.
As for a proposed protected bike lane on a stretch of Wood Street in the neighborhood, transportation and West Town leaders have provided few updates over the past year.
Approved by only 67 votes through the 1st Ward's participatory budgeting process in 2021, the proposal would turn Wood from Grand Avenue to Ellen Street into a northbound one-way to accommodate the bike lanes.
Some neighbors have been sharply critical of the plan, which would create three one-ways in row: Honore Street, Wood Street and Hermitage Avenue. Others have praised the proposal, saying it would make biking and driving safer along Wood Street.
Last week, Nicholas Zettel, 1st Ward chief of staff, said the project remains under consideration, and a community meeting to discuss it will be held soon.
Listen to "It's All Good: A Block Club Chicago Podcast":