UPTOWN — The Uptown Chamber of Commerce has helped steer the neighborhood from its Roaring Twenties heyday to its current development boom.
Now, the chamber is throwing a party to mark 100 years in existence and to celebrate Uptown's achievements — and neighbors are invited.
The Uptown Chamber of Commerce is hosting "Be Bold and Prosper!" from 5:30 to 8 p.m. Friday at the Riviera Theatre, 4746 N. Racine Ave. It is free and open to the public, though reservations are encouraged.
The event will celebrate the chamber's 100th anniversary by retelling Uptown's history, highlighting its status as an entertainment district and showcasing its diverse array of food and cultural offerings, said John Blick, the chamber's director of business services.
"The neighborhood is dripping with history," Blick said. "It's super inspiring to be a part of an organization that has that history and that consistency of support" for the community.
The chamber was formed in May 1923. It is one of the oldest local chambers in the city, possibly the second oldest behind the Hyde Park Chamber of Commerce, which turned 100 in 2020.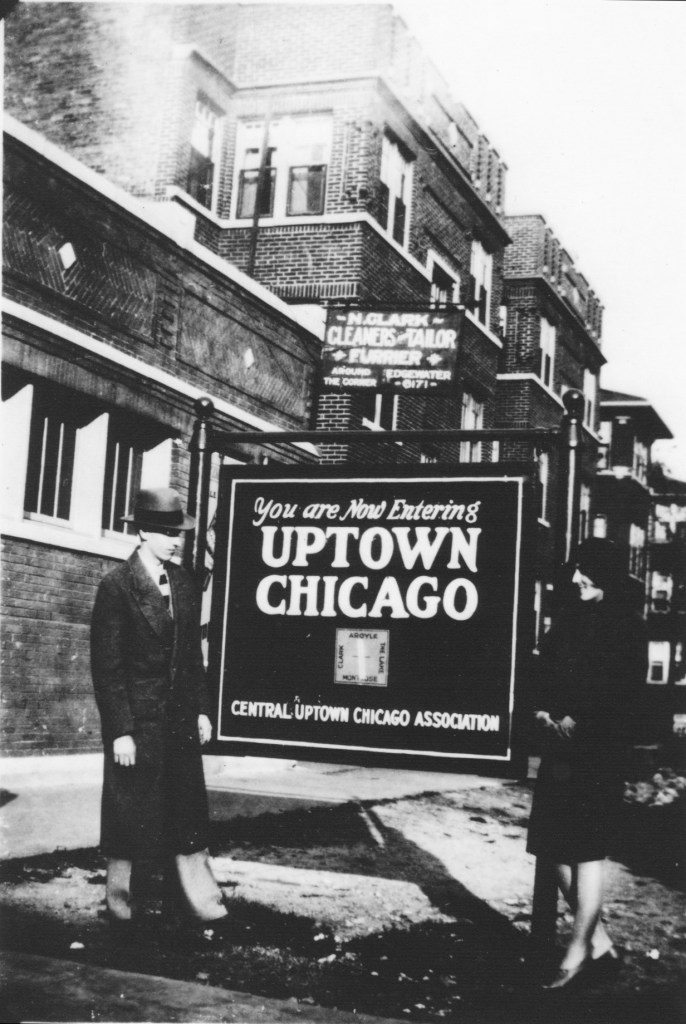 Originally named the Central Uptown Improvement Association, the group was formed by early neighborhood merchants including department store owner Loren Miller, who coined the term "Uptown" for the area.
The group advocated for the business community in the neighborhood that once rivaled some Downtown districts for its array of theaters, jazz clubs and hotels, according to a program from the chambers 85th anniversary.
Its name was changed to the Uptown Chamber of Commerce in 1955. The organization has grown since then, undergoing several name changes and spinning off affiliated groups including Uptown United, an economic development partner.
As an organization dedicated to boosting Uptown's businesses and destinations, Uptown United produces some of the neighborhood's biggest events, including the Uptown art walk and Argyle Night Market. The chamber also became a lifeline for businesses during the pandemic, helping establish outdoor dining options in the neighborhood.
Occasionally, the group hosts holiday parties, fundraisers and milestone celebrations, which help to foster community collaboration, Blick said. The 100th anniversary party will build off previous events' successes.
"We're thinking of this as a celebration," Blick said. "We've been doing research, going through our archives, to try to capture all the elements of Uptown to present."
The centennial celebration will include performances from groups including Uptown-based Kuumba Lynx, a youth development organization. Timeline Theater, a history-focused theater group that's moving to Uptown, will help dramatize portions of the neighborhood's history.
There will also be a museum-style storyboard and exhibits highlighting Uptown's history as well as a short speaking program from neighborhood leaders, Blick said.
Small bites will be served from nine Uptown dining institutions, including Demera, Immm Rice & Beyond and Fiesta Mexicana.
A time capsule will also be filled with historical and modern-day Uptown artifacts, Blick said. The capsule will then be buried in a to-be-determined location.
For a $20 donation to the chamber, guests can go on a behind-the-scenes tour of the recently renovated Riviera Theatre. A $100 donation includes a commemorative stainless steel wine tumbler set.
For more on the chamber's 100th anniversary party, click here.
Listen to "It's All Good: A Block Club Chicago Podcast":