LAKEVIEW — A sixth-grade teacher who left personalized chalk messages outside her students' houses during the pandemic lockdown was honored with a Golden Apple Award.
Students at St. Andrew School, 1710 W. Addison St., erupted in excited cheers, waved pom poms and stomped their feet on the bleachers to celebrate Rachel Werderits as she was surprised with her award Tuesday afternoon. 
"The energy was palpable," Werderits said. "The students were so excited, they were jumping and cheering. My heart was pounding. That was a very emotional and wonderful moment, one that I won't forget. It was indescribable."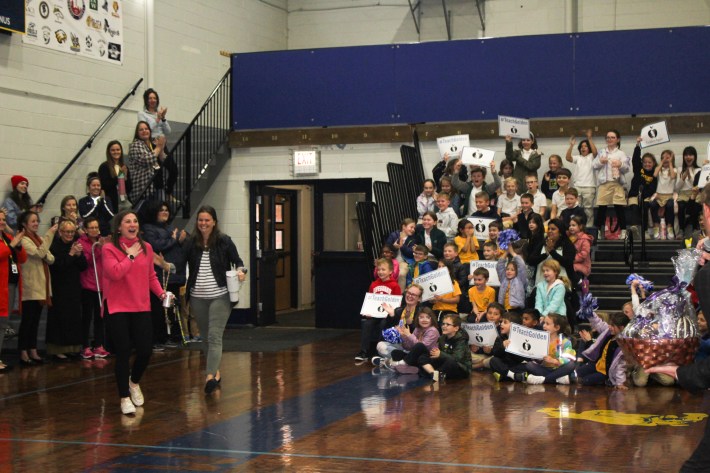 Werderits is one of 10 teachers in Illinois to receive the honor, which is awarded to educators who have shown dedication to their students and school communities. 
Part of what made Werderits' application stand out to the Golden Apple judges was how she maintained connections with her students while they were sheltering at home in the early days of the pandemic, said Alan Mather, president of The Golden Apple Foundation. 
Werderits would run or bike to her students' houses each day and write messages in chalk outside their homes, she said. As an avid runner, writing out affirmations and questions about the lessons she was teaching online started as a way for her to add "purpose" to her daily runs. 
"I wanted them to know that I was thinking of them, and I wanted to bring the content to them, too," Werderits said. "The students felt special, their parents loved it. It was just a way for us to stay connected when we couldn't really see each other." 
Winners receive a $5,000 cash prize and a spring sabbatical at Northwestern University where they can take courses for free, according to the Golden Apple Foundation. They're also inducted into the Golden Apple Academy of Educators, an organization that mentors the next generation of teachers. 
More than 570 4th-8th grade teachers were nominated for the prize, according to the Golden Apple Foundation. 
After teachers are nominated for the award, Golden Apple sends a team of judges to the school to observe the classroom and conduct interviews with the teacher, students, parents and administrators, Mather said. 
"When they interviewed me initially, I didn't know what to say to them," Werderits said. "They asked me what makes me so special, and I said that I just come in and do what I love each day, and I'm motivated by the kids and I'm invested in them and they know that." 
Werderits deserved the award because of her commitment to her students and the school community as a whole, as well as her ability to engage with her students about complex topics, Mather said. 
"Part of what really stood out about Rachel was not just her concern for her students, but the way in which she engages them at a high level," Mather said. "Her colleagues said she knows her students' data, what their strengths are, what their weaknesses are, and her students talked about how fun the class is."
"Other teachers go to her to learn from her and her students are engaged by her, what more could you want?"
For the past 14 years, Werderits has worked at St. Andrew where she teaches sixth-grade religion, language arts, science and math. Werderits decided she wanted to be a teacher in the 5th grade and would act out imaginary lessons, using her bedroom door as a makeshift chalkboard, she said. 
Principal Sarah Cassavechia said Werderits is "a treasure" who "sets the bar really high for all of her students and does everything to get them to where they need to be."
Werderits' students adore her — they made signs to celebrate her Golden Apple nomination in March and organized a surprise party for her birthday in December. 
On "Dress Like a Teacher Day," her students went all out to imitate Werderits, she said. They painted their nails with pink glitter polish, wore wigs, put on glitter eyeshadow and dressed like her.  
"I had no idea they'd make signs or decorate my classroom," Werderits said in March. "They pick up on these teeny things and notice everything about you, and you're like a rockstar to them. It's so flattering to know how much of an impact you have on kids."
Will Shaffer, an 11-year-old in Werderits' class, said he appreciates his teacher because she's helped him appreciate new subjects.
"She keeps me engaged with subjects that I wasn't really engaged in before," Shaffer said in March. "I did not really like science last year, but this year we're getting into groups and doing experiments. Science is fun."
Werderits said she's looking forward to taking classes at Northwestern University and is eager to share her experiences in the classroom with the next generation of teachers. 
"I graduated 16 years ago and a lot has changed in education. I love to stay up to date with best practices and current trends. I'm excited to learn," Werderits said. "I love working with people and I love coaching, so I'm also super excited to be able to mentor teachers, in any capacity I can." 
Listen to "It's All Good: A Block Club Chicago Podcast":