LINCOLN PARK — With help from a massive crane, chainsaw-wielding crews took down one of Chicago's oldest trees Tuesday at Lincoln Park Zoo.
At 70 feet tall, the bur oak tree is estimated to be 250-300 years old and believed to predate the city's 1837 founding. But the tree has reached the end of its life cycle and was cut down Tuesday morning for safety reasons.
The crews started by dismantling the tree branch by branch, revealing some hollow spots where the inside of the tree had completely deteriorated. Whether or not the tree's base is hollow will determine whether its rings can be counted for a proper age estimate or how much of its wood can be used for other projects.
"It's emotional," Katrina Quint, the zoo's director of horticulture, said Friday before the tree's removal. "It's going to be tough walking past here as we move forward after the tree has been removed."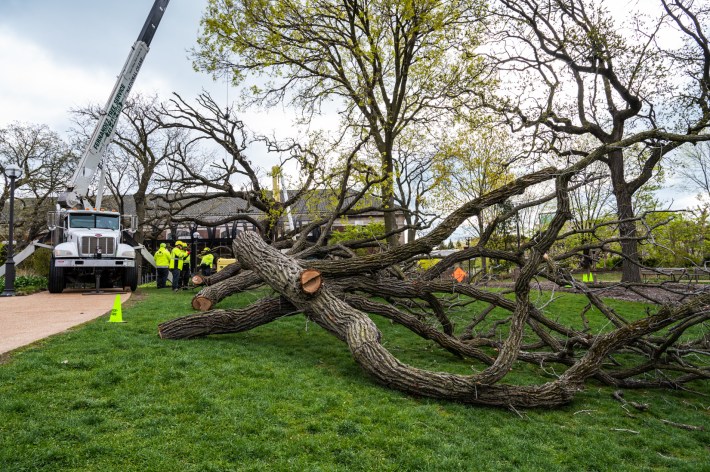 The zoo, 2001 N. Clark St., invited people to say farewell to the tree during its Arbor Day celebration Friday. Dozens of people came out to write "thank you" letters, draw sketches and take selfies with the tree.
"I'm thinking about the influence this tree has had over the space," said Pablo Rodriguez, who drew the tree for a class at Northwestern University. "A lot of times, we think that humans have the power over nature, but this tree has been controlling this space for centuries. We had to build the zoo and this city around it."
Bur oak trees are native to Illinois, Quint said. If growing in a field or savannah environment, the trees can reach up to 400 years old. But urban pressure has shortened this tree's lifespan.
Quint estimated last fall the bur oak was about 80 percent dead. Its removal is necessary given its proximity to a large sidewalk.
The tree's legacy will live on through a partnership with the Morton Arboretum, where 36 of its scions were grafted onto rootstock for propagation to preserve its genetics, Quint said. Slices of the tree will also be given to the Illinois State Archaeological Survey to support dendrological and climate studies in Cook County and with the Forest Preserve.
But the tree's ability to live on in other ways will depend on the level of degradation within its trunk, Quint said. Officials hope to dry, mill and preserve slices of the tree for memorials, educational tools and play spaces at the zoo.
Local woodworkers and artisans have expressed interest in using the tree's remnants to create other products and artwork, zoo leaders said.
"We're not chipping a single piece of this tree," Quint said. "It's all being reused."
Listen to "It's All Good: A Block Club Chicago Podcast":