LINCOLN PARK — Pablo Rodriguez, a Northwestern University student, spent Friday morning in the grass at Lincoln Park Zoo, staring up at a centuries-old bur oak tree slated to be cut down Monday and sketching its every detail.
At 70 feet tall, the tree is estimated to be 250-300 years old and believed to be one of the oldest trees in Chicago, even predating the city's 1837 founding. Sadly, the tree has reached the end of its life cycle and needs to be cut down for safety reasons.
"I'm thinking about the influence this tree has had over the space," Rodriguez said. "A lot of times, we think that humans have the power over nature, but this tree has been controlling this space for centuries. We had to build the zoo and this city around it."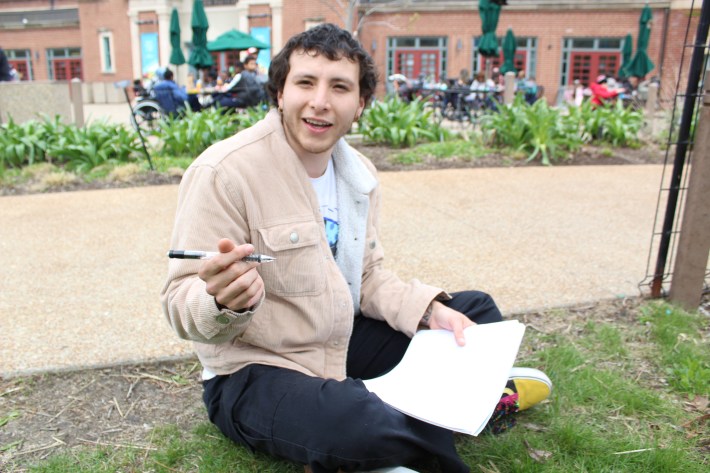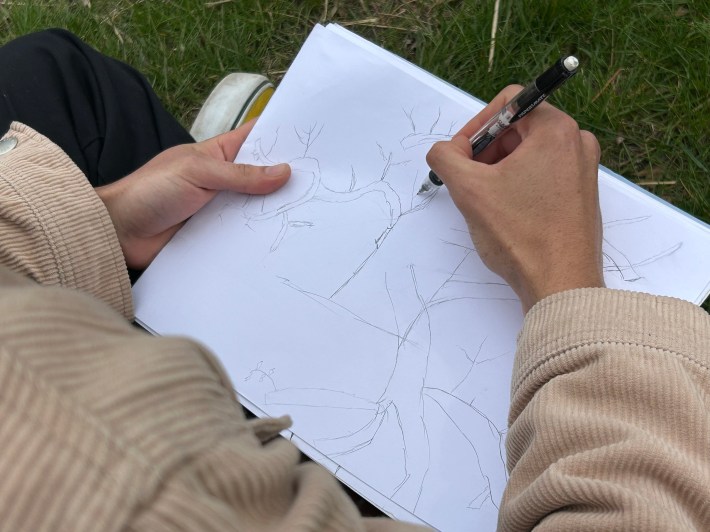 Rodriguez was one of dozens of the tree's admirers to visit on Friday, when the zoo was encouraging people to pay their respects by writing "thank you" letters before the tree is removed Monday, weather permitting.
"It's emotional," said Katrina Quint, the zoo's director of horticulture. "It's going to be tough walking past here as we move forward after the tree has been removed."
By noon, the zoo had received over a dozen letters, which included drawings made by children and heartfelt messages giving it nicknames like "ol' lady bur oak" or "Mr. Oak."
"Thank you for all your strength and support throughout history," one admirer, Maureen, wrote. "Oh' the stories you could tell!"
Another writer told the tree they were "sad to see you leaf."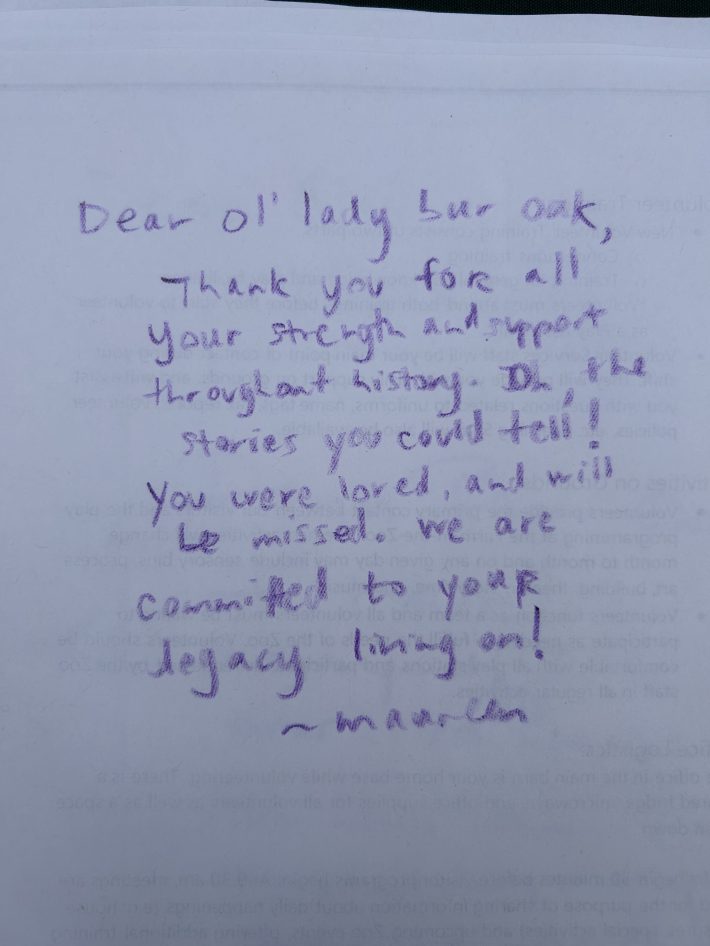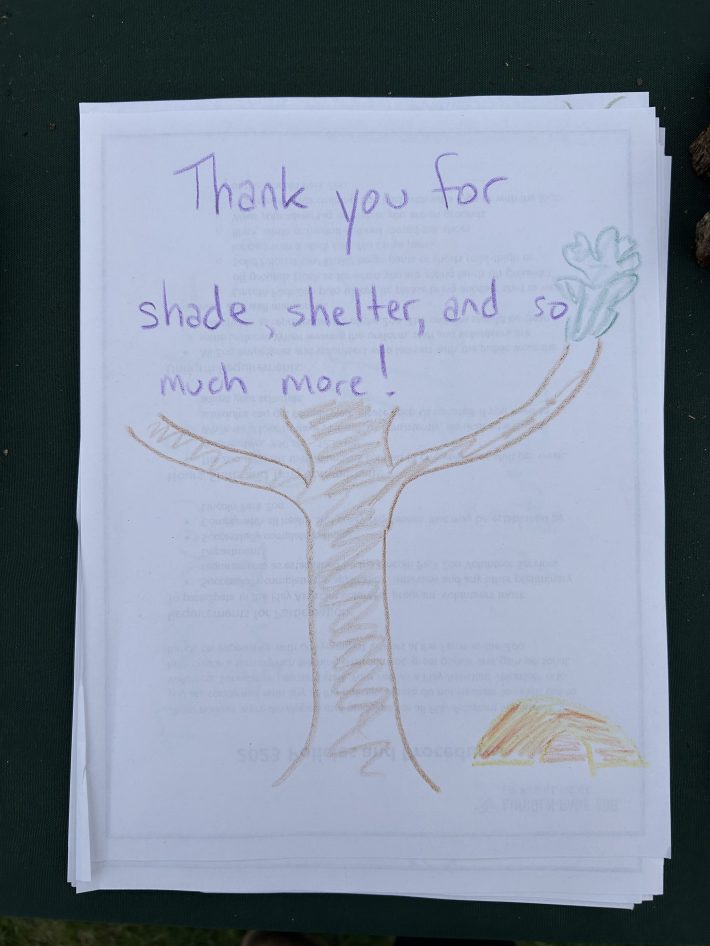 Beck Damron, who visited the tree with his friend Kayci Johnston, wished the tree a happy retirement.
"Congrats on a wonderful run," Damron wrote. "You made so many people happy."
Johnston said she was in awe at the amount of history the tree has lived through. She also admired its aesthetic beauty.
"Artistically, the tree is perfectly laid out," Johnston said. "The way its branches twist and align themselves in interesting ways is so beautiful."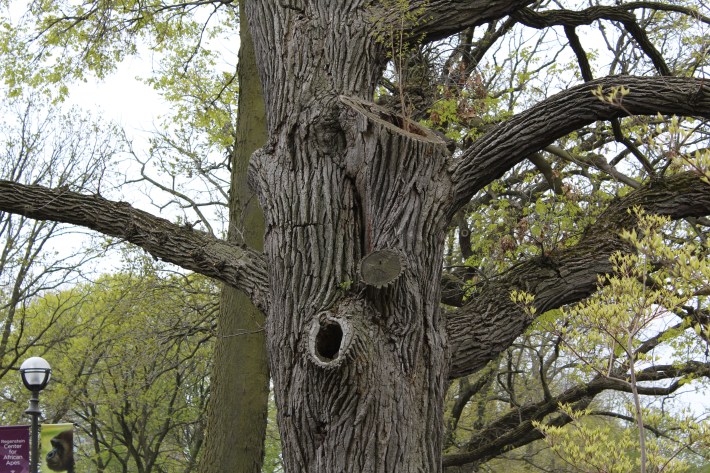 Damron said he wanted to see the tree himself after learning how old it was from an Instagram post.
"It's older than Chicago, which is crazy," Damron said. "It survived the Great Chicago Fire. It's also cool to think that people 300 years ago saw this same tree we're looking at today."
Bur oak trees are native to Illinois, Quint said. If growing in a field or savannah environment, the trees can reach up to 400 years old. But urban pressure has shortened this tree's lifespan.
Quint estimated last fall the bur oak was about 80 percent dead. Its removal is necessary given its proximity to a large sidewalk.
This tree's age was estimated by measuring the diameter of the tree at 4 feet off the ground. This tree's diameter came in at 46 inches.
"The only way we could tell how old it actually is is to take a core sample of the tree," Quint said. "That's when you drill into the tree with a special tool that brings out a whole cross section of the tree. You then count the rings to get the exact age."
The tree's legacy will live on through a partnership with the Morton Arboretum, where 36 of its scions were grafted onto rootstock for propagation to preserve its genetics, according to zoo leaders. Slices of the tree will also be given to the Illinois State Archaeological Survey to support dendrological and climate studies in Cook County and with the Forest Preserve.
But the tree's ability to live on in other ways will depend on the level of degradation within its trunk, Quint said. Officials hope to dry, mill and preserve slices of the tree for memorials, educational tools and play spaces at the zoo.
Local woodworkers and artisans have expressed interest in using the tree's remnants to create other products and artwork, zoo leaders said.
"We're not chipping a single piece of this tree," Quint said. "It's all being reused."
Listen to "It's All Good: A Block Club Chicago Podcast":